Industry Insights
The global bio-butanol market size was valued USD 7.86 billion in 2014. Increasing environmental concerns regarding the release of excessive greenhouse gasses (GHG) over the past few years has resulted in increasing demand for bio-based products. Thus, governments across the globe are undertaking numerous initiatives to reduce carbon footprint.
Rising demand for alternative fuels and renewable energy owing to the harmful effects of synthetic fuels on the environment including global warming is expected to boost bio-butanol growth over the next seven years. It also acts as a precursor in manufacturing acetates, acrylates, glycol ethers, and solvents.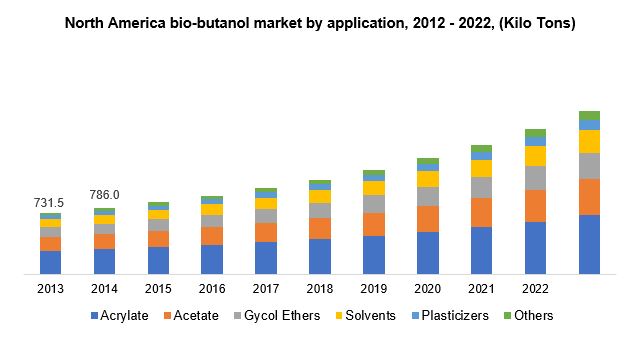 Bio-butanol is used as a key raw material in the production of paints, coatings, plasticizers, and adhesives. It is used as a drop-in replacement of petroleum based butanol in almost all applications. Its ability to be used as an additive has resulted in an increasing need from the pharmaceutical industry.
It can be blended into gasoline and acts as bio-fuel which is expected to be one of its most popular commercial applications in the near future. Its ability to provide high energy content without compromising on fuel economy is a key feature, which is responsible for encouraging various automobile manufacturers to explore this option. Growing demand for green paints & coatings is expected to boost demand over the forecast period. Depleting petroleum resources coupled with volatile oil prices has contributed towards its increasing need.
Latin America and North America are expected to be important regions on account of various upcoming projects. In March 2014, Cobalt Technologies Inc. built a bioreactor in Brazil which has a non-genetically modified organism as a bio-catalyst which helps in increasing the yield of bio-butanol and the result is of high quality and efficiency. China, India, and Brazil are expected to be fastest growing markets on account of growing textile and cosmetics industry. Increasing need from various end-use industries including textiles, sealants, and adhesives, polishes, adhesives, and cleaners is projected to expand the market in the near future.
The majority of global production of bio-butanol is from sugarcane and starch and the remaining from sugar beet, wheat, cellulosic sugars, and sweet sorghum juice. Tight supply of sugarcane feedstock in the past few years, owing to its primary use in food consumption has led to uncertainty in sugarcane availability. This is expected to be an important factor in determining growth.
Application Insights
In terms of application segment, the acrylates segment dominated the global market where the segment generated revenues worth USD 2.97 billion in 2014. Growing demand for the product from various applications in the coatings industry including paper coatings, leather coatings, and water-based coatings is expected to stimulate growth over the forecast period. In addition, increasing R&D on bio-butanol as a motor fuel to replace gasoline on account of its superior physical properties and cost effectiveness is expected to open new opportunities for the market in the near future.
Increasing use of acrylate polymer and co- polymer as an adhesive in construction and pressure sensitive applications is expected to drive market growth over the forecast period. Acrylate is used as chemical intermediates on account of its chemical structure and functionalities are is anticipated to drive market.
Plasticizers are expected to grow at a CAGR of over 11% regarding revenue from 2015 to 2022. Growing need for plasticizers with superior characteristics including solubility, resin mobility, thermal stability, and molecular mobility has resulted in the expansion of the product.
Regional Insights
Asia Pacific market contributed over 40% of the global demand in 2014. Asia Pacific is expected showcase significant prominent market growth during the forecast period owing to the government support for R&D and robust manufacturing base.
The presence of strong environmental regulations and government regulations in North America will lead to an above average development of the market over the forecast period. Rebounding manufacturing sector in the region is likely to result in supporting market development. The market is expected to generate revenues exceeding USD 4.00 billion by 2022.
Rapid urbanization in emerging markets including India and China are driving demand from the construction industry which is contributing towards growth. Other key sectors in this region are cosmetics and textiles which have witnessed an increasing need for bio-butanol owing to their enhanced properties.
Bio-butanol Market Share Insights
Gevo, Cobalt Technologies, Green Biologics, Butamax, Cathay Industrial Biotech, Solvay dominated the global bio-butanol company market share in 2014. Strong alliances and joint ventures among various market players is a key feature of this market.
Cathay Industrial Biotech produces bio-butanol with the help of anaerobic fermentation of biomass or corn. The company is in the process of commercializing biomass for a feedstock purpose. Butamax is another key player in the global market, which has developed a fermentation technology and is in the process of commercializing it for the purpose of vehicular fuel.