Industry Insights
The global bioactive ingredients market size exceeded USD 27.0 billion in 2015. Growing health awareness coupled with increasing health concern among consumers is expected to drive the sales of the overall industry. Nowadays, people are very conscious about maintaining a balanced diet with a proper content of essential nutrients. Consumers are also becoming aware of their health, treatment, and prevention of diseases.
Bioactive compounds are widely used owing to their superior quality required for the treatment of diseases. These compounds can easily cure chronic or incurable diseases such as arthritis, initial cancer stage or diabetes. Medicinal plants primarily derived from indigenous pharmacopeias are regarded as a perfect source for healing a wide variety of diseases. These therapeutic drugs are not only available in ethnic & health food stores, but can be easily found in grocery stores and pharmacies.
However, a lot of considerations are taken into account in deciding the phytomedicines, extracted from plant material derivatives. These factors mostly include soil quality, nutrients, air pollution, induction by mechanic stimuli, and an attack by pathogens. Effective encapsulation methods are in high demand for preservation of these compounds until it is reached to the physiological action site. Bioactive food categories have been gaining significant interest owing to its potential health benefit propositions. They are useful for improving endothelial function, increasing the gut microbial diversity, reducing bone loss, and for the overall improvement of cognitive body function.
Despite these above recommendations, the recovery and revaluation process of these medicinal herbs are demanding a certain worry since these phytomedicinal plants are disappearing gradually from scrublands and forests. Moreover, aquacultural techniques adopted to extract important carotenoids and antioxidants from marine creatures is also expected to pose a threat to the marine organisms in future. This is in turn anticipated to critically affect the overall market over the next eight years.
Steps are being taken by government agencies to avoid prevent urban sprawling from causing the destruction of green areas which is considered a rich source of medicinal herbs. In the recent past, it was reported that allopathic treatment is carried with a lot of side effects, which all the more increases the risk associated with a person's life.
As a result, doctors prefer recommending ayurvedic medicines for curing diseases. The ease of access, low cost, and compatibility with cultural traditions are additional factors, which assisted the industry in the recent past and are expected to continue the same trend over the forecast period.
U.S. bioactive ingredients market revenue by product, 2014 - 2024 (USD Billion)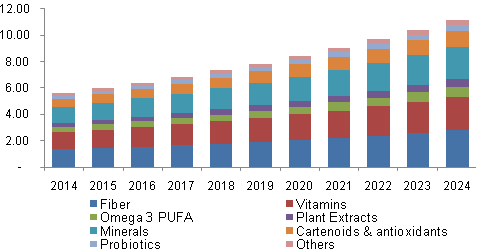 There have been innovations undertaken by scientists and researchers for the emergence of bioactive component from epigenetic modifications, microRNA transfer from a person's diet routine, which could help in the regulation of human genes expression.
Product Insights
This segment includes vitamins, fiber, plant extracts, minerals, carotenoids & antioxidants, probiotics, omega 3 PUFA, and other items. Another segment essentially includes prebiotics, amino acids, proteins, peptides, and structured lipids.
Fibers segment emerged as the leading product segment and accounted for over 20% of the total industry in 2015. Fiber intake has exhibited chemoprotective effects for cancer proliferation applications. They also help in combating cardiovascular diseases, obesity, and diabetes. These factors are expected to cater to the overall demand over the forecast period.
Application Insights
Products include functional food & beverages, dietary supplements, clinical nutrition, personal care, and other products. Others segment mostly include animal nutrition. Functional food & beverages accounted for more than 25% of the overall market in 2015 and are expected to continue the same trend from 2016 to 2024.
Functional food & beverage are considered to provide health benefits above the potential value. Regulatory authorities such as FDA and GRAS monitor the ingredients before added to these food & beverage group. They are considered to have antioxidant characteristics, which are mostly consumed by people in the form of tablets, capsule formulations, juice, and concentrated powders.
Regional Insights
Asia Pacific bioactive ingredients market led the global industry and is expected to witness the highest growth at a CAGR of 7.5% over the next eight years. Increasing disposable income coupled with demand for dietary supplements & functional food and beverages is expected to aid the market growth. Recent advancements are also carried out in the biosynthesis of bioactive ingredients for Chinese medicinal plants. Plants have been a rich source for drug discoveries and cosmetics applications.
Competitive Insights
The global bioactive ingredients market is highly competitive in nature with the presence of both national and international industry participants. Participants include BASF, Cargill Inc., DuPont, Archer Daniels Misland Company, Ajinomoto Co. Inc., Ingredion Incorporated, and Owen Biosciences Inc.