Industry Insights
The global biodetectors and accessories market size was valued at USD 4.63 billion in 2014 and is anticipated to grow at a CAGR of over 14% in the coming years. Rising prevalence of airborne diseases and increasing pollution levels are the key growth drivers of the biodetectors and accessories market. According to the World Health Organization (WHO), 2.7 million air-pollution-related deaths occurred as a result of air pollution driving the need for biodetectors in 2012.
U.S. biodetectors and accessories market, by end-use 2012-2022 (USD Million)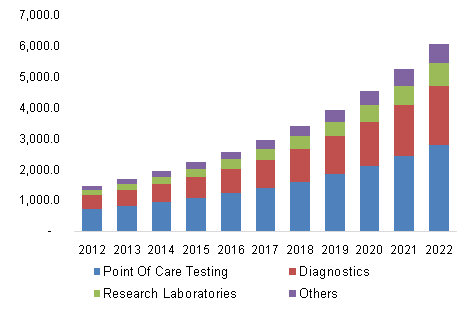 The biodetectors and accessories market is anticipated to exhibit incremental growth as a consequence of rising need to curb bio-terrorism involving hazardous chemical warfare agents and pathogens released by terrorist's groups. For instance, Anthrax pathogen attacks in 2001 in the U.S. on government officials. Moreover, widespread outbreak of diseases such as Zika virus and Ebola drives the clinical urgency to develop biodefense systems, thereby inducing the demand for the biodetectors and accessories market.
Growing demand for technologically advanced instruments for enhanced and early detection of bio threats is anticipated to boost market growth over the forecast period.These advancements include microfluidics-based detectors, micro arrays, and electrochemiluminescence-based biodetectors. Potential benefits associated include low level agent detection ability, enhanced response, and multiple agent detection. The aforementioned factors are anticipated to contribute towards industry growth in the foreseeable future.
Product Insights
The product segment of the market comprises biodetection instruments, reagents & media, and accessories & consumables. Instruments held the largest share of the product segment and accounted over 38% owing to incorporation of biodetection instruments in various applications such as air & water monitoring, explosives & chemical detection, and pathogen testing devices. These devices primarily include biosensor-based systems, Gas Chromatographs-Mass Spectrometers (GC-MS systems), gas analyzers, PCD-based assays, and next generation sequencing devices. Moreover, high cost associated with these devices is also the key attributing factor towards the substantial share in terms of revenue.
Furthermore, associated benefits include wide range detection limits, low level detection ability, and quick response pertaining to biothreats. These are the key drivers attributing to industry growth. Reagents &media segment is anticipated to witness lucrative growth as a consequence of high usage in conjunction with biodetection instruments, frequent replacements, and low associated costs.
Application Insights
On the basis of application, the market is segmented into clinical, food & environmental, and defense. Clinical application dominated the application segment and accounted for over 43% of overall industry as of 2014. Increasing DNA analysis, detection of biomarkers, illicit drugs, toxins, and pathogens are key contributing growth factors for this segment. Defense segment is anticipated to exhibit fastest growth owing to rising number of terrorist engineered threats driving the demand for overall industry over the forecast period.
End-use Insights
Point of care testing held the substantial share of the end-use segment owing to rising incorporation in medical diagnostics, drug toxicology studies, and in rapid diagnosis. Others sub-segment that includes biodefense is expected to grow at a lucrative rate as a consequence of increasing R&D investments in CBRNE threat detection systems due to rising bioterrorism threat levels and pathogen outbreaks. This is anticipated to drive biodetectors and accessories market growth over the forecast period.
Regional Insights
North America held the largest revenue share of overall biodetectors and accessories market in 2014 at over 50.0%. Increasing prevalence of contact diseases such as Ebola and rising government initiatives to strengthen homeland security and counter-terrorism are attributing towards market growth over this region.
Moreover, high R&D investment and frequent product approvals are key drivers responsible for the substantial share of the market in this region. It is followed by Europe in terms of revenue share owing to the presence of favorable government initiatives such as Emergency Use Authorization (EUA), which involved marketing of biodefense products without approval. The Asia Pacific region is expected to witness lucrative growth opportunities in future due to increasing outsourcing activities and improving healthcare infrastructure.
Competitive Market Share Insights
Some key players in this industry include BioDetection Instruments, Inc., PositiveID Corporation, BioDetection Systems, Bertin Technologies, BBI Detection,Smith Detection, MSA the Safety Company, Research International, Shimadzu Corporation, Agilent Technologies, Bio Rad Laboratories, Thermo Fisher Scientific, Response BioMedical, Corp.,Physical Sciences, Inc., NetBio, Inc., and MBio Diagnostics, Inc.
The industry is highly competitive in nature and companies are employing strategies such as merger & acquisition, collaborations and technological advancements for sustaining the competition, and better market penetration. For instance, in 2015, Bertin Technologies acquired Saphymo, Chemical, Biological, Radiological, and Nuclear (CBRN) threat detection device to develop advanced CBRN threat detection systems for capturing the market share of defense and security sectors. Presence of a competitive environment is a consequence of increasing R&D investments, participating in government programs, and increasing product, raw material supply & distribution agreements, and contracts.