Industry Insights
The global biometric sensor market size was valued at USD 810.9 million in 2015. Technological advancements and increasing applications for biometric sensors across various end-use segments are expected to drive market growth over the forecast period. An exponential increase in the adoption of such advanced verification and recognition systems in smartphones and tablets has led to the proliferation of its demand in the consumer electronics end-use segment.
North America Biometric Sensor Market revenue by end-use, 2015 - 2024, (Revenue, USD Million)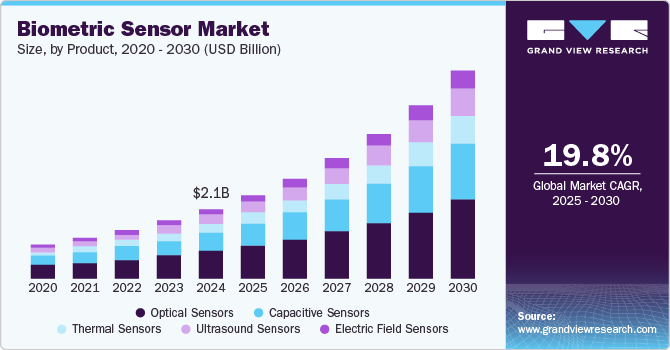 The biometrics-based identity and authentication methods that are extensively based on the physical characteristics and behavior of an individual have been developing incessantly and have witnessed a noteworthy development in the performance and robustness over the years. The innovative multimodal or multi-factor authentication that involves verification using several biometric parameters is expected to bolster its application across various industry verticals.
Stringent government regulations and concerns regarding the biometric data privacy are anticipated to pose a challenge to industry growth over the next decade. Moreover, issues pertaining to cultural barriers and disputes involved in the implementation of biometric sensing technologies have raised serious concerns amongst its end-users, thus impacting the industry growth.
End-use Insights
The commercial buildings segment is a key end-use segment in the biometric sensor industry. It accounted for over 30% of the market revenue share and is expected to grow steadily over the forecast period. Companies and offices across the globe are increasingly adopting such modern access control systems for the recognition and authentication of their workforce, owing to their benefits such as accuracy, efficiency, and a significant reduction in the paperwork and log management.
The consumer electronics segment holds a key share in the end-use industry, owing to the enhanced security features it provides. Motorola Mobility LLC was one of the first companies to introduce fingerprint access in its flagship smartphones. However, the fingerprint recognition technology became a mainstream awareness when Apple Inc. made its distinguished feature on its iPhone 5S, followed by a range of companies including HTC Corporation, LG Corporation, and Huawei Technologies.
Product Insights
Based on sensor types, the biometric sensor market has been categorized into capacitive, electric field, optical, ultrasound, and thermal sensors that are used to capture the biometrics of an individual. Such sensing components are widely used in applications such as hand scan, iris scan, and finger scan where it compares the captured image to the standard image for authentication and verification.
The optical sensor product segment contributed to more than 40% of the market share by volume and is expected to presume its dominance over the next eight years. The increasing use of optical sensor enabled fingerprint scanners in commercial buildings, workspaces, and offices for the management of workforce and personnel drives the demand for such sensing devices over the forecast period.
Application Insights
Finger scan, hand scan, facial scan, voice scan, iris scan, and vein scan are the key application segments for such sensing devices. Other applications, such as retinal scan, ear lobe scan, and DNA scan, are increasingly being introduced across various end-use segments, owing to their high degree of accuracy and sensitivity. However, high initial and implementation costs have restrained its adoption in the recent years.
The finger scan application segment accounted for a major market share by volume in 2015, accounting for over 40% of the overall application segment. Surging demand for finger scan integrated smartphones, tablets, and laptop devices that ensure enhanced data security has, in turn, led to an increase in the demand for advanced finger scanners.
Regional Insights
Asia Pacific constituted close to 50% of the global industry volume share in 2015 and is expected to gradually increase over the next decade. The presence of key component manufacturers in countries from Asia Pacific, such as Taiwan and China, has led the region to dominate the global biometric sensing industry.
Governments from several countries and states have ordained regulations governing the gathering, usage, and discarding of such intimate information by entities, but the substance of these laws varies widely over regions. Laws imposed in the U.S. states of Texas and Illinois sternly regulate the use, revelation, and final destruction of the biometric data by a private entity.
Biometric Sensor Market Share Insights
Key industry participants include 3M Company, Crossmatch, Fulcrum Biometrics LLC, NEC Corporation, Precise Biometrics AB, IDEX ASA, Suprema Inc., and ZKTeco Inc. Technological and product innovations by key companies in the market drive the industry demand. Vendors are increasingly focused on the adoption of modern day distribution channels, such as e-commerce and e-procurement, to reduce the buy and lead time for users, thus providing an enhanced buying experience.