Industry Insights
The global blood gas and electrolyte analyzers market size is anticipated to reach USD 653.5 million by 2022. Factors that are driving the growth include an increase in the number of patients in intensive care units, emergency departments, and operation rooms, rising demand for high throughput and integrated systems, consolidation of diagnostic facilities, awareness about accreditation, and increasing affordability of patients.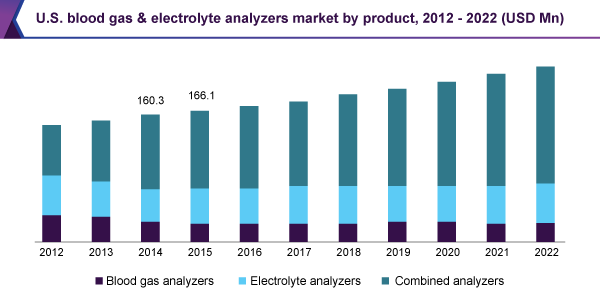 In recent years, the geriatric population has been on a rise which has led to an increase in the number of patients in emergency departments, critical care units and operating rooms receiving critical care. This, in turn, fuels the market potential for blood gas and electrolyte analyzers. According to WHO the global population of the age group 65 years and above is estimated to increase from 7% in 2000 to 16% in 2050. Aging is considered one of the greatest risk factors for the development of cancer and therefore, the fact that the geriatric population is expected to grow over the next six years is one of the factors that will drive growth.
Portable blood gas and electrolyte analyzers market is marked by continuous innovations and technology improvements which are amongst key factors attributing to the growth of the market. Innovation and technological advancements has resulted in the development of novel devices from bench-top to more compact, handheld, and sleek point-of-care devices. Point-of-care devices offer rapid analysis at the point of need due to its ease-of-use, accuracy, short turnaround time, and portability.
The need for expanded test menus is additionally integrating the functionalities of both blood gas and electrolyte analysis to offer multiple testing of electrolytes, bilirubin, creatinine, and blood urea nitrogen from a single sample. For instance, Sphere medical Ltd, located in Cambridge, UK designed a blood chemical analyzer which includes a disposable sensor and an application-specific integrated circuit (ASIC). The device can measure single or some multiple components in a given blood sample simultaneously.
The demand for high throughput and integrated systems is on the rise. Appropriate treatment in trauma centers and ICU are majorly based on blood gas and electrolyte values. This depends on convenience and high turnaround time to produce quick and accurate results. Moreover, capability of blood gas and electrolyte analyzers to integrate with EHRs/EMRs in many situations has resulted in improved workflow and has also reduced manual errors.
Owing to aforementioned factors, the market is expected to witness lucrative growth over the forecast period. Decentralization of healthcare establishments as a cost-effective tool is a major trend observed in the overall diagnostics market. Divisions such as ICU, operating room, cath labs, neonatal intensive care units and, emergency room require a point of care diagnostic solutions in order to implement effective and rapid patient care.
Increasing healthcare expenditure for the treatment of chronic diseases such as cancer and diabetes is expected to drive market growth over the forecast period. This increase clearly indicates a rise in the number of patients in critical care units and emergency departments which has led to an increase in the need for blood gas and electrolyte analysis. Pertinent organizations and governments are constantly engaging in programs to reduce the healthcare expenditure related to by encouraging patients to undergo regular diagnostic examinations.
According to WHO, in 2012 the global incidence of cancer (excluding non-melanoma skin cancer) was 14.1 million and by 2030 it is expected to reach 23.6 million. The rise in the number of cancer cases will accelerate the growth of blood gas and electrolyte analyzers market. High unmet clinical needs pertaining to cancer and the subsequent rise observed in patient's awareness levels are some of the factors that will boost the demand for blood gas and electrolyte analyzers.
Product & Application Insights
Portable analyzers held the largest share in the market in 2015 owing to its ability to render instantaneous test results and faster turnaround time. Growing demand for point-of-care blood gas and electrolyte analyzers is one of the main reasons for their continued dominance. The market share of the portable analyzers segment is expected to increase over the forecast period.
In 2015, combined analyzers testing dominated the market due to an extensive portfolio of commercialized products compared to blood gas analyzers and the presence of a large number of tests. Combined analyzers segment is also the fastest growing and is expected to outgrow the others in terms of growth rate by 2022.
The combined analyzers market is marked by the presence of need for analyzers, which require less service and maintenance. The market shares of combined analyzers are expected to increase over the forecast period. Blood gas testing market accounted for 15.3% share. Its growth is attributed to the fact that genetic testing is carried out for almost all patients in emergency department and critical care units in hospitals.
End-use Insights
In terms of revenue share, clinical laboratories dominated the market in 2015. One of the factors for their continued dominance is the presence of high number of diagnostic tests.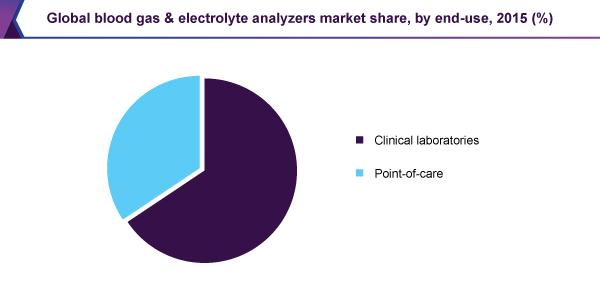 However, the point of care market is expected to show the fastest rate over the forecast period owing to factors such as rising demand for rapid diagnosis near patient site and increasing initiatives to reduce hospital stays to control healthcare spending.
Regional Insights
North America dominated the market in 2015, with revenue estimated at USD 190.5 million. The presence of high practitioner and patient awareness levels, well-established healthcare infrastructure, and government support for research and development exercises are some of the drivers of this market.
The Asia Pacific is expected to witness the fastest growth rate over the forecast period due to the presence of high unmet clinical needs coupled with rapidly rising healthcare expenditures and patient awareness levels in countries such as India and China.
Competitive Insights
Key players for this market include Siemens, Medica, Roche, Erba, Nova stat, Bayer, Radiometer Medical, Samsung Medison, Edan Instruments, OPTI Medical systems Inc., Convergent Technologies, Alere Medical, Accurex, and Dalko Diagnostics.
Key players are focusing on expanding their product portfolio to increase their market share. For Instance, Universal Biosensors announced launch of Siemens new product the Xprecia Stride, coagulation analyzer in Europe. The product launch has triggered the milestone payment of USD 1 million to Universal Biosensors from Siemens.
Universal Biosensor is currently the exclusive manufacturer of PT-INR strips for Siemens. Companies are also engaging in mergers and acquisitions to expand their business in different regions. For example, in 2014, Medica corp. and HORIBA medical entered into an agreement for global distribution of EasyCell digital hematology cell imaging system for use in clinical laboratories and hospitals.
Segments Covered in the Report
For the purpose of this study, Grand View Research has segmented the blood gas and electrolyte analyzers market on the basis of products, application, end-use, and region:
Product Outlook (Revenue, USD Million, 2012 - 2022)

Application Outlook (Revenue, USD Million, 2012 - 2022)

Blood gas analyzers

Electrolyte analyzers

Combined analyzers

End-use Outlook (Revenue, USD Million, 2012 - 2022)

Clinical laboratories

Point-of-care

Regional Outlook (Revenue, USD Million, 2012 - 2022)