Industry Insights
The global blood pressure monitoring devices market was valued at USD 2.08 billion in 2014 and is expected to grow at CAGR of over 11.0% over the forecast period. Increasing incidences of hypertension due to changing lifestyle is the key factor attributing towards the growth of the market over the forecast period. In addition, growing awareness and demand for home use BP monitors are expected to drive the industry growth in coming years.
Furthermore, technological advancement such as mobile-based BP monitoring systems is anticipated to drive the industry growth. The demand for BP monitors is very high on account of growing geriatric population base and increasing the risk of high blood pressure among wide population base due to rising incidences of obesity & sedentary lifestyle. According to the statistics published by the WHO, blood pressure was leading cause for 7.5 million deaths in 2008 and was anticipated to be a major risk factor for hemorrhagic stroke and coronary heart diseases in this decade. All the aforementioned facts are expected to propel industry growth in near future.
North America blood pressure monitoring devices market, by product, 2012-2022 (USD Million)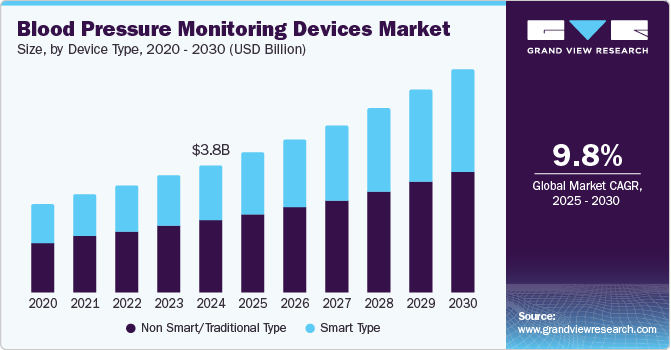 The industry growth is directly associated with the rising investments by manufacturers for the development of cost-effective, innovative and easy to use products. Similarly, initiatives taken by the government such as public blood pressure monitoring program is expected to propel the further growth during the forecast period.
Product Insights
On the basis of product, the blood pressure monitoring devices market is segmented into sphygmomanometer, automated BP monitors, ambulatory BP monitors, BP transducers, and BP instrument accessories. In 2014, Sphygmomanometer segment dominated the product segment in terms of revenue share at over 54.0% owing to its wide applications and associated benefits.
This segment is further classified into mercury, aneroid, and digital sphygmomanometer. Amongst the three segments, digital sphygmomanometer is expected to grow at lucrative CAGR of over 11.0% over the forecast due to associated advantages such as accurate results and ease of use. In addition, technological advancement in healthcare such as mHealth is responsible for the market growth.
Increasing demand for faster & accurate diagnostics and the need for preventive treatments are expected to fuel the market demand in coming years. Portable devices & mobiles are gaining popularity during the forecast period owing to associated benefits such as wireless transmission of patient's information and easy handling.
Regional Insights
North America dominated the overall industry in 2014 at over 40.0%. A higher level of awareness pertaining to blood pressure monitoring products, increasing demand for the same, well-established healthcare facilities and growing disease population due to changing lifestyle, are the factors contributing to the growth.
According to estimates published by the Center for Disease Control and Prevention (CDC), nearly 70 million Americans suffered from high blood pressure as of 2014, and it costs the nation around USD 46 billion every year including healthcare cost, medication and missed workdays.
Asia-Pacific, on the other hand, is expected to grow at a rapid pace over the forecast period to reach around USD 900.0 million in 2022 owing to the presence of untapped opportunities, increasing investments by manufacturers, growing awareness levels and rising incidences of hypertension. Rapidly improving healthcare facilities and rising number of undiagnosed & untreated cases of high BP are key factors attributing to this regional market growth.
Competitive Insights
Key players operating in blood pressure monitoring devices market include GE Healthcare, Welch Allyn, Inc., A&D Medical Inc., SunTech Medical, Inc., American Diagnostics Corporation, Withings, Briggs Healthcare, Kaz Inc., Microlife AG, Rossmax International Ltd., GF Health Products Inc., Spacelabs Healthcare Inc., Omron Healthcare and Philips Healthcare.
The companies are adopting competitive strategies such as merger & acquisitions, strategic alliances, collaborative agreements, and partnership to sustain in the competition as the market is highly competitive in nature.