Industry Insights
The global blood testing market size was valued at USD 51.5 billion in 2015. The need for reducing length of stay at hospitals and reduction in durations of contact between patients and concerned physicians coupled with the rise in demand for outpatient services have increased the demand for blood testing services.
Shift in focus of healthcare providers from therapy towards early detection of diseases, especially in fields of cardiovascular and endocrinology medicine, has poised the industry to witness lucrative growth during the forecast period. Other notable drivers include the introduction of various innovative solutions that enable faster and accurate diagnosis by using plasma or serum screening methods. Furthermore, rising inclination of the physicians towards blood-based diagnosis in order to provide rapid and reliable results is also anticipated to influence growth through to 2024
U.S. Blood Testing Market, By Type, 2013 - 2024 (USD Million)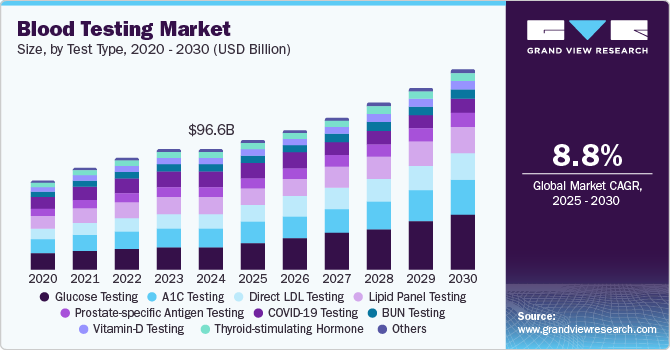 Increasing levels of patient awareness about self-testing and home diagnostic tests are expected to enhance market adoption of relevant products in the aforementioned settings, especially with patients who have chronic diseases such as diabetes have a long term need for portable and reliable self-diagnostic capabilities.
Moreover, healthcare practitioners have been observed to be increasingly more reliant on point of care diagnostics enabled medical devices and consumables owing to the reduced turnaround times and comparable testing accuracy as that of laboratory tests. Consequent growth in demand for these tests is expected to provide lucrative avenues for growth over the forecast period. Industry participants are also involved in the provision of online results via e-mail and facilitation of disease diagnosis through reduction in the number of visits to the pathology laboratory
Type Insights
Glucose testing accounted for the largest share of revenue and volume owing to the higher sale of these tests amongst the other segments of plasma testing. Higher incidence rate of Type I as well as Type II Diabetes coupled with rise in chances of development of hereditary diabetes are key factors attributive for comparatively higher sales associated with the segment. Furthermore, diabetes monitoring is also carried out prior to any surgical intervention in the patient undergoing surgery and suffering with diabetes which consequently influences demand for these products.
Availability of glucose monitoring meters produced by established as well as local players of the industry with user-friendly diagnostics and reusability features is anticipated to remain supportive for high market demand in the segment.
Blood glucose testing was followed by segment of lipid panel testing with respect to revenue, accounting for share of over 15% in 2015. Factors attributive for larger share of this segment include growing geriatric population that are more prone to blood-cholesterol associated ailments coupled with lifestyle changes that pronounce rise in incidences of associated cardiovascular diseases.
Glycated hemoglobin (aka A1C testing) is anticipated to witness significant growth through to 2024 owing to developments in this segment for assessment of glucose levels using this method. Additionally, as this test does not require fasting and sample can be drawn for the test at any time of the day, it is relatively more convenient for patients thereby resulting in progressively growing prescription rates from clinicians and pathologists.
Regional Insights
In 2015, North America was dominant in the regional blood testing industry with a share of over 40% of total revenue. The rapidly growing adoption of self-diagnostic tests and increased incidence of chronic conditions among the population as a consequence of disease inducing lifestyle habits are high impact rendering drivers for the industry.
Additionally, the diagnostic labs and health care organizations trends in this region are supporting the shift of patient care away from the hospital setting thereby, influencing the demand for point-of-care based plasma tests and online diagnostic services.
Asia Pacific is expected to register the fastest growth with CAGR of over 4.0% from 2016 to 2024 due to the presence of high unmet diagnostic needs coupled with rising patient awareness regarding point-of-care diagnostic technologies as well as rising healthcare expenditures in developing economies.
Medical tourism which facilitates the surgical practices in this region for treatment of different diseases that demand disease monitoring using blood testing services is anticipated to impact the growth of industry positively through to 2024.
Competitive Insights
Major entities operating in this sector include Abbott diagnostics, Roche Diagnostics, Alere, Bio-Rad Laboratories, Becton Dickinson & Company, Beckman Coulter, Siemens Healthcare, Trinity Biotech PLC, Nipro Diagnostics, BioMerieux SA, and Biomerica Inc.
These participants are involved in strategic collaborations in order to enhance their market presence. For instance, in January 2015, Qualcomm Incorporated, a subsidiary of Qualcomm Life Inc. entered into collaboration with Roche Diagnostics in order to innovate the remote patient monitoring solutions.
In June 2013, Quest diagnostics, acquired lab-related clinical outreach operations of Dignity Health. This acquisition provided Quest with patient service centers and associated business of Dignity Health in parts of California and Nevada, thereby enhancing regional presence of Quest Diagnostics in the sector.
Analyst Perspective
This study consists of different tests used for diagnosis and screening for presence of chronic and acute deficiencies and disorders employing plasma and serum. These tests hold a significant potential for diagnosis of various chronic diseases as they are applicable in monitoring the disease progression rate and determine the line of treatment.
Owing to the usefulness of these tests in health care, they are expected to witness significant growth as a consequence of development with respect to introduction of point of care and rapid portable diagnostic tests. The shift to patient-centric health care is rapidly gaining focus of the medical fraternity. Sales volume for different countries has been estimated in the study with the bifurcation of the volume into lab and POC based tests in an attempt to better understand testing needs prevalent in the market.
Market estimates and revenue generated is calculated on the basis of activities carried out by the prominent players, presence of research programs and prices of products in a particular segment of interest. Participants are adopting sustainability strategies such as merger & acquisitions, novel product development, venture capital investments, owing to changing economic conditions worldwide.