Industry Insights
The global brain computer interface (BCI) market was valued at USD 723.64 million in 2014 and is expected to grow at a CAGR of over 10.0% over the forecast period. The technology is a combination of software and hardware forming the communication system between the brain and its external environment. Rising occurrence of target disorders and neurodegenerative conditions are expected to propel market growth over the forecast period. R&D efforts have led to pioneering in the engineering of headset development, which provides treatment for impaired cognitive function. However, recent technology innovation in the industry such as Puzzlebox's "Orbit", an organ controlled helicopter and iWinks' "Aurora" a dreaming headband elucidating dreaming patterns and sign of individuals are anticipated to augment the global market growth. Ongoing projects by research institutes with government collaboration such as TOBI (Tools for Brain Computer Interaction) and Mind Walker are anticipated to spur the market growth. TOBI is a European integrated project including research institutes and companies working to develop assistive and practical technology for brain computer interface market.
Global brain computer interface market, by application, 2012 - 2022 (USD Million)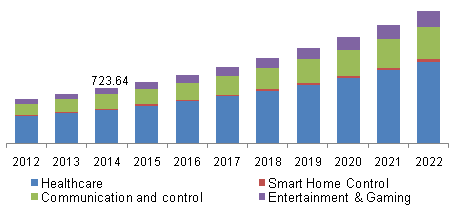 Product Insights
Key brain computer interface market products include invasive, partially invasive and non-invasive technique. Non-invasive BCI products held the largest share of the market in 2014, due to its increasing popularity triggered by features such as ease of use and minimal scaring. EEG-based non-invasive Interface recording is anticipated to witness a rise in popularity with the introduction of dry electrodes and high frequency based BCI paradigms during the forecast period. These models enable larger integration of electrodes into cap/helmet along with the elimination of the cumbersome process. Invasive products find more utility in neuroprosthetics and their dominance in the healthcare industry is anticipated to sustain during the forecast period.
Application Insights
The brain computer interface industry finds applicability in the areas of healthcare, smart home control, communication and control and entertainment and gaming. Healthcare applications accounted for over 50% of the market share in 2014, with high R&D in patients with diseases such as Parkinsonism's, epilepsy, paralysis and Alzheimer's being key growth drivers. The market is anticipated to witness rising healthcare applicability due to escalating R&D and usage of the technology in assisting movement impaired people to carry out activities independently such operating wheelchairs, prosthetics, and various other instruments. Along with these patients, the market caters to cognitive needs of healthy individuals and geriatric population. Communication and control along with gaming segment are anticipated to witness the introduction of various new products during the forecast period.
End-use Insights
Medical applications of this technology were the largest end-use segment in 2014. The U.S. Department of Defense (DOD) is increasing its funding towards military R&D, thereby promoting segment growth. Few pipeline projects such as the development of mobile robots that can function as weapon equipped drones in war zone areas, advancing communication systems by use of DARPA's (The U.S. Defense Advanced Research Projects Agency) "Silent Talk" that would enable soldiers and military personnel to give commands via telepathic communication. BCI promises a wide array of applicability over time in disciplines such as home controlling, dream analysis and others.
Regional Insights
The North American brain computer interface market held the largest share globally, with rising occurrence of neurodegenerative diseases, rising popularity of virtual gaming and diversification of its applications driving regional growth. The European market is also expected to grow substantially over the forecast period majorly due to increasing R&D spending. Active research projects along with European Commission's 7th framework program is dedicated to dealing with the results and analysis of non-invasive BCI such as TOBI, Decoder project, Mind Walker and BrainAble. Asia Pacific brain computer interface market is likely to witness significant gains during the forecast period with special emphasis on India, China, and Japan. Japan's BCI Lab Group, a research institute won the BCI Research award in 2014 emphasizing its role as a pioneer and innovator of the region.
Competitive Insights
InteraXon, Guger Technologies OG, Mind Solutions Corp., Natus Medical, Compumedics Ltd., Interactive Productline, iWinks, Emotiv Corp., NeuroSky, ANT Neuro, Neuroelectrics, Ripple, Puzzlebox, Brain Products GmbH dominated global brain computer interface market in 2014. The players actively participate in conferences and exhibitions globally to increase the awareness level of people towards the market. Research and government agencies work in collaboration with these companies to facilitate the growth of the market and simultaneous R&D efforts. Clinical trials are routinely sponsored and conducted by various market players to validate product applicability.