Industry Insights
The global camera module market size was estimated at USD 17.84 billion in 2014. Technological advancements in such modules components and architecture and exponential growth in smartphones and tablet PC market are expected to drive industry growth. In addition, increasing applications in the automotive sector and medical sciences are anticipated to fuel demand for such electronic devices.
Manufacturers offer image sensors based on two different sensing technologies. CMOS image sensors are primarily being used for the manufacturing of such devices at present and are expected to replace the majority of the CCD modules in the near future.
North America camera module market by application, 2012 - 2022, (USD Million)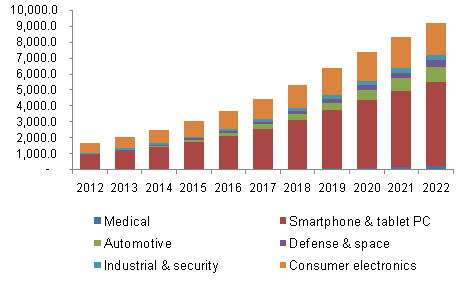 Increasing demand for smartphones and tablet PCs, combined with the growing preference for high-resolution smartphones is expected to play a significant role in propelling camera module industry growth. Consumers have readily accepted mobile imaging through smartphones, which is evident from the increasing demand for devices by Apple and Samsung that offer high definition picture quality as compared to other devices. Additionally, increasing use of smartphone applications for photo sharing and social networking has positively impacted camera module market growth.
The advent of new technologies for distant communication (such as online video calling) in smartphones has increased. Online video chatting, video calling, video conferencing, and online learning through video lectures have gained popularity in recent years.
Application Insights
These products are primarily used in electronic devices such as digital cameras, smartphones, tablet PCs, webcams, and surveillance systems. Among the different electronic devices, smartphones, and tablet PC is the major segment and is expected to acquire over 75% of the global market in terms of shipments in 2022. High-resolution cameras installed in smartphones play a key role in the sales of smartphones.
Camera module market finds application in many medical devices such as radiography, Magnetic Resonance Imaging (MRI), nuclear medicine, ultrasound, elastography, tactile imaging, photoacoustic imaging, thermography, tomography, and echocardiography.
The automotive sector is one of the rapidly growing markets for these devices. Various initiatives are being taken by governments and car manufacturers in many regions to ensure driver safety and reduce the number of on-road accidents.
For instance, Audi's range of car models such as A6 and A8 come equipped with rearview and forward-collision warning systems for better vision and safety, thus increasing the scope for such image sensors in automotive applications.
Technology Insights
CMOS and CCD are two types of image sensors used in the packaging of these devices, where CMOS is majorly used at present as compared to CCD. CMOS sensors are produced in bulk for many low-end applications, and their price depends on its application.
CCD image sensors require a specialized manufacturing process and are used in professional, high-end consumer electronic products and high-end scientific applications. However, the cost-effectiveness of CMOS image sensors as compared to CCD sensors has reduced the price of the overall device.
Regional Insights
Asia Pacific accounted for close to 60% of the global demand in 2014 by revenue owing to the presence of major electronic components and smartphone manufacturers in the region. Europe and North America are expected to be fast-growing regions, which can be attributed to the presence of tech-savvy consumers with high disposable incomes.
Growing legislation related to the use of automotive cameras in Europe and North America is expected to support the industry. In addition, improved health infrastructure in developed economies coupled with increasing adoption in emerging economies has contributed to the product demand.
Competitive Insights
The industry is highly fragmented with no dominant player. LG-Innotek led the industry and occupied a major share of the global market in 2014. Major players in the industry are focusing on product differentiation through technological advancements and the addition of innovative products.
Industry leaders in the mobile phone market such as Samsung have started producing such modules for themselves providing them an advantage over the other vendors. Key industry participants include Foxconn Technology Ltd., LG Innotek Company Ltd., Samsung Electro-Mechanics Ltd, Sharp Corp., STMicroelectronics N.V., and Toshiba Corp.