Industry Insights
Growing number of road accidents are expected to favorably impact the growth of the car DVR market, as these devices assist in collecting valid evidence against culprits. The U.S. Senate passed a bill in 2012 for the mandatory installation of black boxes in cars, for recording crucial data including air bag deployment, brake position, seat belt buckling, throttle position, and vehicle speed. The implementation of this bill is expected to be a significant driver for the growth of the car DVR market as the video feed provided by DVRs can supplement data recorded by the black boxes.

North America Car DVR Market Revenue, 2012-2016, (USD Million)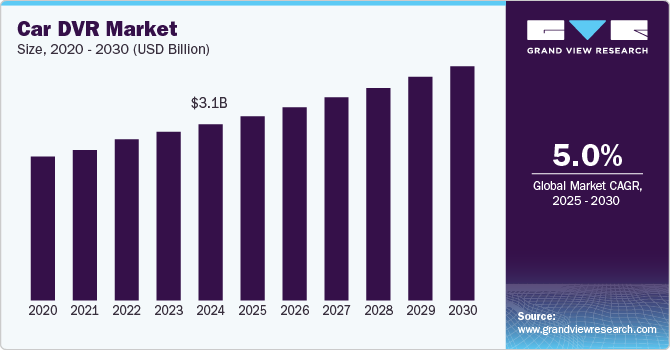 A car DVR, also called as dashboard camera or dashcam, is an onboard camera that is mounted on or attached to a car's interior windscreen for continuously recording the road ahead while the car is in motion. Increased instances of car thefts and vandalism are expected to drive car DVR market growth, as the cameras provide surveillance in the parking mode of operation when the driver is away from his/her vehicle. Invasion of privacy, particularly in the U.S., is expected to be a challenge for market participants. Trained hackers can compromise the security of these systems by accessing wireless data exchanges among vehicles.
Product Insights
The car DVR market has been segmented on the basis of product type into two categories, namely single channel, and dual channel systems. Single channels DVRs record the view of the road ahead through the windshield, whereas dual-channel DVRs are capable of recording incidents that take place in the passenger room of the car, as well as through the rear window. The resolution of front camera typically varies from 2 Mega Pixels (MP) to 5 MP, whereas that of the rear camera is typically limited to 2MP. The single channel car DVR market is expected to witness steady growth over the forecast period. The dual channel car DVR market has high growth potential owing to a surge in marketing activities expected over the next six years, thereby increasing the level of awareness among people. Installation of DVRs is projected to be a one-time activity to avoid frequent replacement as people look to invest a little extra to avail additional features. Leading manufacturers have incorporated several technologies in their DVRs such as GPS, Wi-Fi connectivity, Advanced Driver Assistance Systems (ADAS), and accelerometers to enhance utility.
Regional Insights
The North American car DVR market is still in the emerging stage owing to the absence of strong marketing campaigns. Dashcams are primarily used in police patrol cars in the U.S., which constitutes a major chunk of the end users. This is primarily owing to the 'In-Car Camera Incentive Program' by the Department of Justice's Office of Community Oriented Policing Services (COPS), which provided financial aid to state police and highway patrol agencies for installing DVR systems. The rate of adoption in civilian cars is still subdued owing to privacy concerns and lack of awareness about the potential benefits. However, the market has an enormous potential for growth over the next six years as users are expected to incorporate these systems owing to increased accidents in the U.S. and Canada.
Competitive Insights
The market is characterized by the presence of a large number of manufacturers from Asia Pacific, especially South Korea, China, and Japan. Additionally, some small and unknown manufacturers sell sub-standard cameras which are priced unusually lower than the ones offered by reputed manufacturers. These manufacturers distribute their products in North America through online e-commerce portals such as Amazon and eBay. Leading manufacturers have integrated SONY EXMOR sensors in their dashcams to enhance performance and increase reliability, especially in low light. Key manufacturers in the car DVR market include Pittasoft (BlackVue), Cobra Electronics Corporation, Fine Digital Inc. (FineVu), Garmin, Itronics, and Lukas (Qrontech Co., Ltd). Other manufacturers include ABEO Co. Ltd, Honeywell, and Panasonic.