Industry Insights
Global carbon nanotubes (CNT) market is anticipated to witness growth due to growing application scope of nanomaterials in electronics, plastics and energy storage applications. Favorable regulatory support intended for promoting nanotechnology at domestic level by governments of the U.S., Japan and countries of European Union has played an important role in increasing importance of nanomaterials over the past few years. CNT is majorly used as composite fiber in polymers for improving thermal, electrical and mechanical properties of bulk products. Growing polymer production on account of increasing application scope in construction and automotive industries in emerging economies including China, India, Brazil and the Middle East is anticipated to augment carbon nanotubes market over the forecast period.
Global Carbon Nanotubes Market Estimates and Forecast, by Application, 2012 - 2022 (Tons)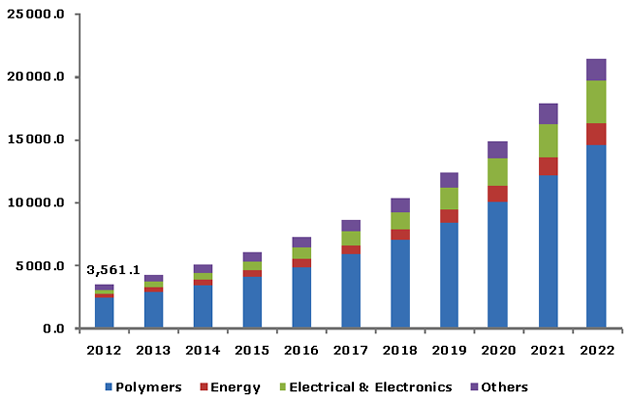 CNT is coated with silicon and used in the production of lithium-ion batteries for increasing the battery's' efficiency up to ten times. Application growth of lithium-ion battery in the grid and renewable energy storage is likely to fuel CNT market demand. Governments of China, Australia, Mexico, and India have increased funding for enhancing domestic production output of solar power. Increasing production output of solar power in aforementioned countries is anticipated to fuel CNT demand over the forecast period. Growing demand for inorganic and boron nitride nanotubes due to high crystalline nature as compared to carbon counterparts is anticipated to pose a credible threat to market growth. Regulatory inclination towards restricting volatile organic compounds (VOCs) emissions coupled with adoption of Clean Development
The mechanism (CDM) at the global level is anticipated to be a challenging factor for CNT market over the forecast period.
Application Insights
CNT was majorly used in polymers, accounting for over 60% of market share in 2014. Application growth of engineered polymers in construction and automotive industries is expected to fuel CNT demand. Gaining popularity of composites on account of its lightweight property is expected to augment CNT market demand in polymers. CNT exhibits good conductivity and excellent optoelectronic properties, which is anticipated to promote its demand in electrical & electronics applications. Rising importance towards energy generation through alternate sources such as solar and wind energy is anticipated to promote the role of solar cells and wind turbines. Growing demand for solar cells and wind turbines is expected to promote CNT market growth over the forecast period.
Product Insights
Multi-walled carbon nanotubes (MWCNT) was the largest product consumed in 2014. The high molecular complexity of graphene in MWCNT increases tensile strength, which has paved its way for use in polymers, electronics and energy applications. MWCNT is increasingly fortified in engineered polymers such as polyetherimide (PEI), polycarbonate (PC) and polyetheretherketone (PEEK) on account of dissipating static electricity and increasing repellency towards airborne contamination. High production cost associated with single-walled carbon nanotubes (SWCNT) is anticipated to be a challenging factor for market growth over the next seven years.
Regional Insights
Asia-Pacific is expected to remain one of the largest markets in 2014 on account of growing polymer industry in China and India. Increasing electronics manufacturing in China, Singapore, Japan and South Korea is expected to have a positive impact on CNT market over the forecast period. The government of India announced National Solar Mission, intended for increasing production output of solar power and promoting new investments in the manufacturing of solar cells. This move is anticipated to fuel the demand for CNT in India for the production of solar cells over the forecast period. North America is anticipated to be a promising market on account of robust manufacturing of engineered polymers such as PEEK in the U.S. Mexico Government announced National Infrastructure Plan (NIP), for boosting energy and electronics sectors at a domestic level, which is likely to have a positive impact on CNT market.
Competitive Insights
Global CNT market is majorly dominated by three companies namely Showa Denko, CNano Technology and Nanocyl S.A. Low business feasibility due to high manufacturing cost is expected to be concerning factor for market players. Rising penetration of a large number of companies in China and Russia for the production of CNT at low prices is expected to increase market competitiveness.