Industry Insights
The global carcinoembryonic antigen market is expected to witness lucrative growth over the forecast period owing to factors such as rising prevalence of cancer and the development of novel biomarkers. Estimates published by the WHO, suggest that in 2012, the worldwide cancer incidences (cases per year) were nearly 14.1 Million, which included 7.4 million male and 6.7 million female patients. The world Age-Standardized (AS) incidence rate suggests that there are nearly 205 new cancer cases for every 100,000 men in the world, and 165 for every 100,000 females.
Carcinoembryonic antigen market, by application, 2012 - 2022 (USD Million)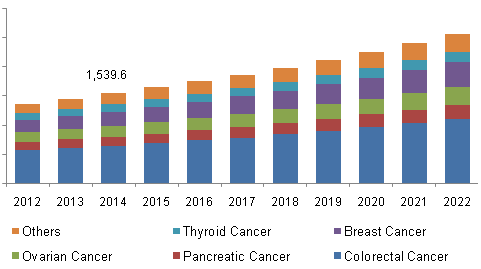 Furthermore, presence of favorable government initiatives pertaining to cancer awareness and control by organizations such as the Cancer Prevention and Control Research Network (CPCRN), and the National Cancer Institute is expected to positively reinforce market growth. The development of novel biomarkers that can be used in combination with other biomarkers is likely to play an imperative role in driving market growth over the forecast period. For example, carcinoembryonic antigen in combination with mucin tumor markers CA19-9, CA242 can be used in preoperative staging and thereby, can provide assistance in the planning of the type of surgery required and future management options. Rapidly increasing geriatric population base prone to chronic medical conditions including cancer is likely to expand the consumer base. Technological advances in proteomics including mass spectrometry, protein labeling, array-based approaches, imaging, and protein bioinformatics, have allowed researchers to rapidly discover more biomarkers and to better understand their roles. Additionally, introduction and constant development of novel immunological techniques such as the radioimmunoassay is expected to heighten the demand for carcinoembryonic antigen tests over the forecast period.
Application Insights
Key application areas of the carcinoembryonic antigen market include colorectal cancer, pancreatic cancer, ovarian cancer, breast cancer, thyroid cancer, and others. Carcinoembryonic antigen application in colorectal cancer dominated the overall market in 2014 in terms of revenue share. Key factors attributing to its large share include increasing demand for minimally invasive diagnostic procedures, growing geriatric population base, and the increasing prevalence of unhealthy lifestyles such as irregular dietary habits and exposure to carcinogenic elements. Furthermore, increasing consumption of alcohol and sedentary lifestyle might also attribute to the growth of colorectal cancer over the next seven years. Breast cancer is expected to be the fastest-growing application segment and is expected to grow at a lucrative CAGR of 7.3% by 2022. The segment is driven by factors such as growing number of female population above 50 years, rising demand for Hormone Replacement Therapy (HRT), and cosmetic surgeries.
Regional Insights
Key regional segments of the carcinoembryonic antigen market include Europe, North America, Asia Pacific, MEA, and Latin America. North America dominated the overall market in terms of revenue share in 2014 at over 46.3% owing to the high incidence rates of cancers, presence of sophisticated healthcare infrastructure, and high patient awareness levels coupled with relatively higher healthcare expenditure levels in the region. Asia Pacific carcinoembryonic antigen market is expected to grow from 12.7% in 2014 to 13.6% in 2022. The presence of untapped opportunities, constantly improving healthcare infrastructure, economic development, and increasing patient awareness levels are some factors accounting for this rapid growth. Furthermore, annual incidence rates of colorectal cancer globally are more than 1 million and this rate is further expected to grow. The mortality rate recorded was about 490,000 in 1990 and 715,000 in 2010. Asia Pacific holds the highest mortality rate, accompanied by North America. According to the data published by the American Cancer Society in 2013, it has been estimated that the mortality rate of all cancers has continued to decline which started in the early 1990s. Regionally, Asia Pacific has highly influenced the market in terms of cancer incidence rate affecting a large population at a changeable rate in 2012. Favorable government initiatives pertaining to curb cancer are among the critical success factors expected to boost the carcinoembryonic antigen market over the forecast period.
Competitive Insights
Key players operating in the carcinoembryonic antigen market include Roche Diagnostics, Abbott Diagnostics, and Quest Diagnostics. Industry rivalry levels for this market are expected to remain at a moderately high level during the forecast period. The market is consolidated in nature and is, therefore, marked by an extensive presence of mergers and acquisitions. These initiatives are expected to elevate competitive rivalry levels. Manufacturers face rigorous price-based competition and are also under constant pressure to introduce new and technologically advanced products.