Industry Insights
The global cell surface marker detection market size was valued at USD 2.86 billion in 2014. This market is expected to register significant growth over the forecast period owing to the advancements in high-throughput tools and techniques used for cytological analysis.
Incorporation of additional parameters to conventional instruments that can aid different applications and provide robust analysis in biotechnology R&D is anticipated to fuel sector growth in future. Investments by the industry players for the development of instruments with automated solutions and techniques are also expected to attribute towards growth.
North America cell surface marker detection market, by application, 2012 to 2022 (USD Million)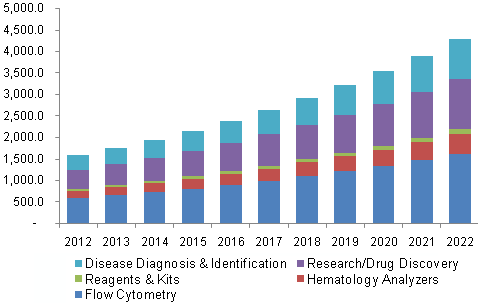 The increase in a number of research projects for cell biology and molecular biology techniques is attributed to the anticipated growth in this sector. Rising incidence of different cell-associated and oncology diseases also propel the in vitro diagnostics demand relying on the principle of cell analysis and quantification.
Advancements in monoclonal antibody production and generation of cell-specific antibodies for diagnostic and prognostic usage are expected to fuel growth. Moreover, availability of reagents and staining dyes that are useful in specific cytological protocols are also attributed to this anticipated growth over the forecast period.
Continued development of analytical techniques and their applicability in disease progression has poised this market to expect a steady and substantial growth throughout 2022. The global market is expected to grow at a CAGR of over 10% over the forecast period to reach over USD 5 billion in 2022.
Product Insights
Based on product segments the market includes flow cytometry, hematology analyzers, and reagents & kits. Flow cytometry accounts for the largest share of the market, owing to the benefits associated with the usage of the technique. These benefits include the provision of multi-parameter and quantitative analysis of lymphocytes, cell counting, and sorting simultaneously.
Moreover, the introduction of Fluorescence-Activated Cell Sorting (FACS) for rapid and quantitative individual sorting of varied biological cells on the basis of light scattering and fluorescent characteristics of an individual cell is projected to increase the usage and adoption rates of these techniques, thereby driving market growth.
The introduction of multiple lasers and fluorescent detectors to enhance quantification of cell parameters is expected to strengthen the scope of usage of these techniques in cytological research and other disease etiology-based studies, thereby influencing segment growth in future.
Applications Insights
Cell surface markers serve as the prime component in identification and classification of cells with similar characteristics. Applications for these techniques include disease diagnosis, diseases identification, research for drug discovery, and cytological academic research.
The increase in research incentives and grants for drug discovery and disease diagnosis in these applications are expected to generate considerable revenue to propel industrial growth till 2022. Clinical research on lymphocytes, which are known to express cell surface markers, has become a prominent and active area of research in immunology, thereby producing a significant potential for growth.
Characteristics associated with the use of cell surface markers such as quantification of novel drug targets for diseases and alteration in the pathophysiological mechanism are anticipated to attribute to their demand in R&D, thus, driving growth in future. Furthermore, disease diagnosis by application of this technology provides specific and early disease diagnosis, thus, leading to a consequent rise in research in this segment.
Regional Insights
North America cell surface marker detection market accounted for the largest share of over 30% in 2014, owing to a large number of research projects carried out in this region pertaining to the cell and molecular biology. The higher incidence rate of cancer and other chronic diseases that augment in vitro diagnostics demand is also attributed to this large market share.
In addition, a significant number of market players in the U.S. are involved in technological advances, eventually introducing new devices and products, thus, attributing towards large revenue generation from this region in this industry.
Asia Pacific is expected to register a lucrative growth at a CAGR of over 11% in the market over the forecast period on account of rapid increase in geriatric population base and enhancements in healthcare infrastructure.
Moreover, the rise in government, as well as private investments in the biotechnology sector, are attributed to the lucrative growth pattern in this region. Supportive government incentives and research grants in the developing economies, such as India and China, are expected to increase the demand for reagents and equipment useful in cell surface markers technology, thus propelling regional industry growth.
Competitive Insights
Major participants in this market include Thermo Fisher Scientific, Sartorius, Janssen Diagnostics Inc., Grifols SA, Nihon Kohden Corporation, Siemens Healthcare, BioRad Laboratories Inc., and F. Hoffman La Roche Ltd.
Due to the technical developments in fluorescence technology, these companies are also involved in the enhancement of cytometric techniques. Introduction of fluorescence-activated cell sorting (FACS) algorithms for rapid and quantitative analysis of cells is anticipated to fuel industry growth in future.