"Growing use of coal as an energy source is expected to drive antiscalant market in China"
The China antiscalant market size was estimated at USD 309.8 million in 2015 and is projected to witness significant growth over the forecast period on account of its increasing consumption in chemical, power and coal gasification manufacturing units. Antiscalant is a chemical that is injected into the feed water before the water enters into the system. The chemical delays the reaction time between the bicarbonate and calcium magnesium, which controls the formation of scales on the surface.
Expansion of numerous sectors including coal gasification, power, and the chemical is expected to augment market growth over the forecast period. China was the largest manufacturer and consumer for antiscalants globally, and the demand is expected to increase tremendously over the next eight years owing to its growing use in the oil & gas industry.
China antiscalant market volume, by application, 2013 - 2024 (Kilo Tons)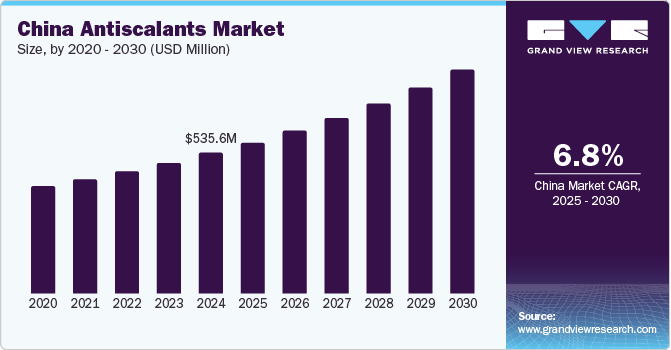 High adoption of these products in the chemical industry on account of better performance and reduced operating costs is expected to fuel the market growth over the next eight years. Growing demand for quality water from these end-use industries owing to comprehensive cost savings and superior properties will promote market expansion over the forecast period.
Increasing demand for antiscalants in power and mining industries is expected to propel demand. Technological advancements including minimization of costs are expected to drive the market growth over the forecast period. However, environmental concerns resulted by high dosage of chemicals is projected to restrain industry expansion over the forecast period.
"Phosphonates were the most widely used antiscalants in 2015"
China antiscalant market is segmented into four major types namely carboxylates, phosphonates, sulfonates, fluorides and others. Phosphonates type segment is expected to account for a significant market share over the forecast period as it is commonly used for water treatment formulations using corrosion and scale inhibitors as well as iron sequestrants. They can also be used in membranes systems acting as super-threshold agents.
Carboxylates accounted for 23.6% of the global volume in 2015. Its ability to act as a curing agent and withstand extreme pressure is expected to result in its increasing penetration in numerous end-use industries over the forecast period. Carboxylates are widely used in the mining sector for the purpose of removing heavy metals from wastewater.
Sulfonates generated revenue worth USD 41.6 million in 2015 and will witness high gains owing to its increasing penetration in the seawater treatment sector. Sulfonates are widely used for the desalination of seawater that leads to precipitation. It has also witnessed a rise in demand for offshore oil and gas facilities that require antiscalants for desalination of seawater.
Fluorides are used in reverse osmosis plants. Stringent government regulations for treating industrial wastewater is expected to be a primary cause for rising demand for fluorides in the industrial waste water treatment. These products are supposed to witness significant growth on account of strong initiatives taken by the Chinese government to reduce water pollution and protect the environment.
"Power is projected to be the fastest growing application of antiscalants"
The power industry is anticipated to show rapid volume growth at a 6.8% CAGR from 2016 to 2024 as a result of growing need for electricity and availability of low-cost labor in the region. Furthermore, power plant cooling tower demands large quantities of low-quality water in comparison to other uses of water such as food production and drinking. Low-quality water constitutes mineral scaling and impurities. Therefore, to mitigate the mineral scaling to use recirculated water for cooling the boilers of the thermal power plant, antiscalants are used.
Demand for antiscalants was highest in chemicals contributing to 45.9% of the overall volume in 2015, as they help in removing the scales formed in the water and thereby streamlining the operation. Furthermore, these products are used extensively in desalination process, membrane treatments, pipeline transportation, and for water processing application.
Coal gasification is the process of producing a mixture of carbon monoxide (CO), methane (CH4), hydrogen (H2), water vapor (H2O) and carbon dioxide (CO2) with the help of oxygen or air, water, and coal. Currently, coal gasification is primarily used for electricity generation in large scales such as for production of chemical feedstock, synthetic natural gas and integrated gasification combined cycle power plants. Growing use of coal as an energy source is anticipated to fuel the growth of the market over the forecast period.
"Kemira, Henan Yuguan Chemical Technology hold significant position in the Chinese antiscalant market"
Key players in the China antiscalant market include Kemira, Henan Yuguan Chemical Technology, Zaozhuang Kerui Chemicals Co., Ltd, BASF SE, Shandong Great Lake New Material Co. Ltd., Nalco Water, and Avista Technologies.