Industry Insights
The China antiscalants market size was valued at USD 309.8 million in 2015. It is expected to grow with a CAGR of 6.8% from 2016 to 2024. Globally, scaling of water during water treatment is one of the major problems faced by the companies. Thus, in order to counter this problem, water treatment plants use antiscalants during pipeline transportation, membrane treatment, and desalination process.
Antiscalant is a chemical injected into the feedwater before the water is entered into the system. The chemical delays the reaction time between the bicarbonate and calcium magnesium, thereby controlling the formation of scales. Carbonates, phosphates, sulfates, and fluorides are the major products used in various water treatment applications on account of their superior antiscalant properties.
China is the largest manufacturer and consumer of antiscalants owing to extensive product usage in the oil and gas industry. Expansion of various application sectors such as power and coal gasification will enhance the industry growth over the next few years.
Investment in the development of new products and technology for water treatment, such as sequencing batch reactors and oxidation ditch, will remain a crucial factor for the market growth over the forecast period. Increasing penetration of phosphonate-based products over the past few years in scaling and membrane systems will have a positive impact on the growth of the wastewater treatment market.
Rapid urbanization and growing industrialization have resulted in an increased need for energy and cost-effective solutions for clean water supply. This will drive the product demand further since antiscalants serve as a cost-effective solution for wastewater treatments and coal gasification plants.
Product Type Insights
Phosphonates segment will account for a significant share over the forecast period as it is commonly used for water treatment formulations using corrosion and scale inhibitors, as well as iron sequestrants. Phosphonates provide effectiveness at low concentrations by combining different functions in one molecule. These are also used as a stabilizer in the manufacturing of bleaching agents. Phosphonate antiscalants are oxidized by hydrogen peroxide and ozone. The coordination of the phosphonate with dissolved calcium ions results in higher phosphonate oxidation.
Carboxylates are widely used in the mining sector for the purpose of removing heavy metals from wastewater. The growing demand from the mining sector in China is expected to be a critical factor contributing towards growth of these products. It is expected to increase its penetration in the mining sector owing to its excellent ability to act as a curing agent and withstand extreme pressure over the forecast period.
Sulfonates generated revenue worth USD 41.6 million in 2015 and will witness high gains in the future owing to their increasing usage in the seawater treatment sector. Sulfonates are widely used for the desalination of seawater that leads to precipitation. This has led to its increasing penetration in the seawater treatment sector. It has also witnessed a rise in demand from offshore oil and gas facilities that require antiscalants for desalination of seawater.
Application Insights
The market is expected to grow owing to the rising demand for high-quality antiscalant chemicals from various end-use industries. The chemical segment led the market accounting for 48.5% of the overall revenue in 2015. Anticsalants are used in the chemicals sector as they help remove scale formations from the water, thereby streamlining the process.
Most of the refineries and chemical companies use antiscalants as specialty chemical. Antiscalants are used extensively in pipeline transportation, desalination process, membrane treatments, and water processing application. Owing to assistance of carbonates, phosphates, sulfates, fluorides affluent membranes at less cost for cleaning, and reduced necessity to grip sulfuric acid is expected to drive the regional antiscalants market growth over the forecast period.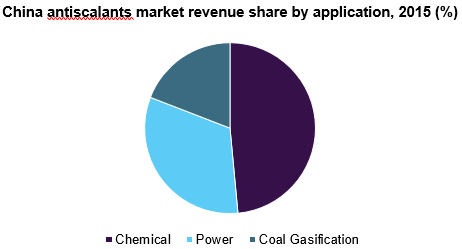 In terms of revenue, the power industry segment will grow rapidly registering a CAGR of 7.2% over the next few years. This growth attributed to the growing need for electricity and availability of low-cost labor in the region. Investments in the regional power sector are expected to be approximately USD 3,000 billion by 2050. China was the world's largest electricity consumer in 2011. Most of the electricity comes from coal that accounted for more than 70% of the production in 2014.
Coal-fired power generation accounts for a significant portion of the total power generated in China. Thus, growing use of coal as an energy source will also fuel the industry growth in the coming years.
China Antiscalants Market Share Insights
The industry is highly competitive in nature with presence of large number of industry participants. Increasing demand for antiscalants from various sectors such as water treatment, power, and coal among others has resulted in the improvement of market dynamics in recent years. Increasing number of private holding companies in seawater treatment and industrial wastewater treatment market is projected to increase competitive rivalry.
Key companies in the market include Avista Technologies, Inc.; BASF SE; Kemira Oyj; Henan Yuguan Chemical Technology Co. Ltd.; Nalco Water; Shangdong Great Lake New Material Co. Ltd.; and ZaozhungKerui Chemicals Co. Ltd. Most of these key market players are involved in the R&D activities in order to gain the