Industry Insights
The circuit breaker and fuse market was estimated to exceed USD 12.0 billion in 2014. Growing need for upgrading to new efficient networks coupled with renewable energy connectivity is expected to contribute to industry growth over the forecast period. Circuit breakers are electrical switching devices used on transmission and distribution networks for the safety of the devices and equipment. These devices play a vital role in managing electrical loads. It protects electronic and electrical components from unexpected power fluctuations resulting due to short circuits, ground faults, overload, and overvoltage.
Increasing concern for safety across electrical, telecommunication and automotive equipment has significantly increased the need for advanced devices which is projected to accentuate the industry demand. Further, the expanded usage of these products in automotive electronics and rising energy consumption are expected to trigger the demand over the forecast period.
Asia Pacific circuit breaker and fuse market by application, 2012-2022, (USD Million)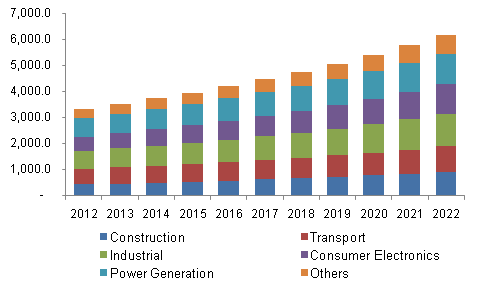 Rising prominence of power system management and engineering against a backdrop of increased use of electronic devices is estimated to offer prominent opportunities for growth by 2022.
Replacement of electro-mechanical and mechanical devices with electronic equipment across industrial and manufacturing sectors is anticipated to drive the circuit breaker and fuse market. Stringent environmental regulations mandating the need for advanced transmission and distribution equipment is projected to accentuate circuit breaker and fuse market growth over the next seven years.
Application Insights
The circuit breaker and fuse industry can be classified by the application into industrial, transport, consumer electronics, construction, power generation and other sectors. Other applications comprise military, healthcare, etc. The power generation segment accounted for over 20% of the overall market in 2014 and is expected to grow at a CAGR of over 4.5% from 2014 to 2022.
Construction segment includes products used in residential and non-residential buildings whereas transport includes automotive and non-automotive applications. Urbanization and considerate expansion in residential and commercial building units is estimated to spur demand.
The construction segment is estimated to grow at a CAGR of over 7% by 2022. It is witnessing strong growth in developing countries including India, Indonesia and others owing to the significant spending on rail transports, roads, airport development, and water supply.
The proliferation of IT technologies is estimated to drive increased need for power management in server farms and computer systems, thus offering significant growth opportunities. The rise in demand for smart and efficient power generation is required for addressing the future demand for electricity. Thus, as power generation increases, the industry for protection devices is estimated to witness strong growth.
Product Insights
The circuit breaker and fuse market on the basis of the voltage level of installation can be further categorized into low, medium, and high voltage products. Low voltage products had significant penetration in 2014 and are estimated to grow at a CAGR of over 7% by 2022.
The arc quenching media type can be sub-segmented into air, vacuum, oil, SF6 and other media breakers. The vacuum technology segment is estimated to exceed over USD 3.5 billion by 2022. Other media products comprise disconnecting, CO2, and hybrid.
Regional Insights
North America circuit breaker and fuse market is estimated to be the prominent region for growth owing to its rapidly expanding manufacturing base and thriving economies. New power generation sources including the wind and solar requiring distribution and transmission investment, enhancing growth opportunities in this region.
Substantial growth in key end-use sectors including oil & gas, petrochemicals, steel and cement is estimated to drive the Asia Pacific region over the forecast period. The Asia-Pacific market is estimated to grow at a CAGR of over 6.5% by 2022. The European government has undertaken varied initiatives such as the European Electricity Grid Initiative (EEGI), for accelerating innovation and development of electricity networks, which is anticipated to boost volume demand in this region.
Competitive Insights
Circuit breaker and fuse manufacturers include Eaton Corporation, Alstom SA, ABB Ltd, Schneider Electric, General Electric, Maxwell Technologies, Pennsylvania Breaker LLC, Mitsubishi Electric, and G&W Electric Company. The industry is expected to remain innovation-led, with frequent acquisitions and strategic alliances adopted as the key strategies by the players to increase their industry presence.