Industry Insights
The global CMOS image sensor market size was estimated at USD 7.21 billion in 2013. The proliferation of handheld devices such as smartphones and tablets has led to the development of smart sensing techniques with remote monitoring and diagnostic ability, which has considerably widened the application scope.
North America CMOS image sensor market revenue by application, 2012 - 2020 (USD Million)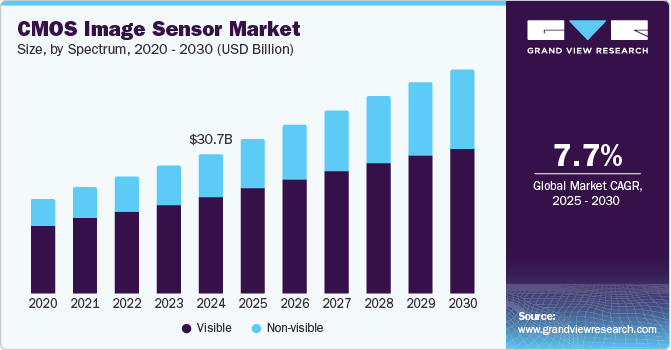 The industry has witnessed a steep growth in the past few years owing to growing number of application segments and technological advancements leading to the development of sophisticated sensing technology.
The principal factor responsible for this technology's success is the ability to make smaller pixels and provide more resolution with low cost. With the integration of these devices with communication and computation devices, there is an increasing need to develop improved processes for better optical performance.
The requirements for focal plane processing and on-chip integration are still unfulfilled. The industry is pushed towards having higher number of pixels along with better picture quality. The CMOS image sensor market has witnessed intense competition and significant price slash in recent years.
The industry is characterized by a large number of players offering differentiated and low-cost solutions. Their prices are significantly declining, which has negatively impacted the revenue and this trend is expected to continue over the forecast period.
Application Insights
Key application segments include consumer electronics, automobile, industrial, aerospace, defense, surveillance, and medical. Consumer electronics is expected to be the key application segment having the highest penetration and accounted for over 50% of the overall revenue share in 2013.
Its revenue growth is also expected to be at a CAGR of 3.3% from 2014 to 2020. These devices are widely deployed in consumer electronics, for example, in smartphones or cameras. They are also used in communication products, entertainment devices, information technology, and home appliances.
Owing to the increased R&D, sensing devices have become cheaper, smaller in size, and consume less power, which serves as a captivating opportunity for industry participants. Consumer preference towards wearable devices is expected to boost the CMOS image sensor market over the forecast period. Increasing preference for multimedia devices is rapidly supported by growth in mobile devices.
Multimedia-enabled devices provide more features with more data security over the Internet. These devices are strongly supported by sensing technology in the U.S. along with developing regions such as India, Latin America, and China. The use of sensing products for health monitoring, indoor navigation, and related niche applications is expected to offer significant growth opportunity for growth of this market.
Regional Insights
North America market was the largest regional segment accounting for over 33% of the overall revenue share in 2013 and is expected to grow at a CAGR of 4.1% from 2014 to 2020. North America was closely followed by Asia Pacific, which accounted for over 32% of the revenue share in 2013. The region was valued at USD 2,366.7 million in 2012 and is expected to reach USD 3,949.5 million growing at a CAGR of 6.6% from 2014 to 2020.
The presence of a large number of semiconductor manufacturers in Asia Pacific, particularly in China, Korea, and Japan, is expected to boost market growth in this region. Availability of low-cost labor and establishment of manufacturing facilities by foreign corporations are expected to stimulate productivity in this region. Rising demand for automobiles and consumer electronics is also expected to favorably impact industry growth in this region.
CMOS Image Sensor Market Share Insights
Leading players include Sony Corporation, Samsung Electronics, Canon Inc., and OmniVission Technologies, Inc. Samsung Electronics and Sony Corporation are expected to dominate the market share over the forecast period.
In March 2015, Samsung Electronics Co., Ltd. announced its new 8-megapixel Red-White-Blue sensing device based on NFC integrated circuit and ISOCELL technology with improved radio frequency performance.
In September 2014, Samsung Electronics Co., Ltd. launched 280-megapixel APC-C CMOS sensor, which utilizes advanced back-side illuminated pixel technology and 65-nonmeter technology to provide better picture quality and energy-efficiency.
In June 2013, OmniVission Technologies, Inc. introduced the OV8865, a CMOS image sensor based on OmniBSI-2 pixel architecture. It can operate at 30 FPS for high-speed photography and is capable of capturing 1080p high-definition video with electronic picture stabilization. OV8865 is designed for mobile devices that require small package and low power consumption including advanced smartphones and tablets.
Vertical integration in the industry has been contributory towards its consolidation and enhancing the individual share. Manufacturers may acquire raw material suppliers, technology providers, system integrators, and distributors for transition towards becoming sole suppliers of a system or module.
Recent Industry Developments
In August 2019, SmartSens, the CMOS Imaging systems provider, has reached an agreement with MEMS Drive, an innovator in image stabilization with plans to explore chip-level stabilization technology potential, moving beyond DSLR cameras. SmartSens, through this partnership, aims to introduce chip-level antivibration technology into the CMOS image sensors, so that nonmobile applications such as security and machine vision are armed with this technology.
In September 2019, ON Semiconductor will be featuring an in-cabin monitoring system at the AutoSens Conference in Belgium, which will be able to perform driver and occupancy monitoring, object detection, and passenger activity monitoring.
Panasonic displayed its prototype 8K camera system at the IBC 2019 this September. The camera is lightweight, compact, and is equipped with the world's first 8K organic CMOS image sensor. The camera will be highly useful in a range of applications, covering video production and broadcasting.