Industry Insights
The global connected car market size was estimated at over USD 24 billion in 2014 and is expected to grow at a CAGR of approximately 28% over the forecast period. Technological proliferation and an increase in disposable incomes across regions are expected to drive the global market for the next seven years. There have been significant advances in telecommunication technology over the past few years. These advances have offered the population with a new level of connectedness. With the development of connected car concepts, vehicle telematics and infotainment technology have progressed to offer HD touch screens, navigation tools, varied applications, and high-speed internet on-the-go.
North America connected car market by application, 2012 - 2022, (USD Billion)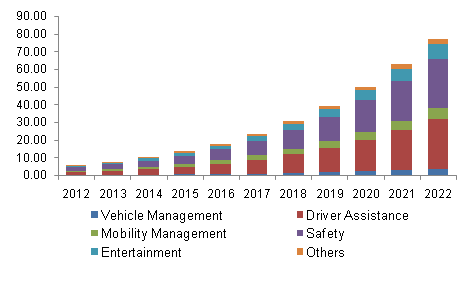 The industry is expected to get a major push from the governments across the nations. The U.S. Department of Transportation in association with the National Highway Traffic Safety Administration has announced plans for a regulatory proposal that would make it mandatory for auto manufacturers for the installation of vehicle-to-vehicle communication devices in every automobile they produce in the coming years.
Issues pertaining to safety and security such as unauthorized access to multiple automobile applications or breaking into the in-vehicle connectivity system can act as a restraint for the connected car market. Moreover, the unavailability of seamless internet connectivity across regions may pose a challenge to connected car industry growth.
Application Insights
Driver assistance includes a number of advanced technologies that help improve the actual performance of the vehicle. Systems such as parking assist and cruise control autonomously steer the vehicle are increasingly being introduced across all car segments thus ensuring driver comfort and convenience.
Mobility management is comprised of systems that enable drivers to reach their destination in the least possible time, safely, at a reasonable cost, and with optimal fuel consumption. Safety technologies include external danger warnings for drivers regarding severe weather and road conditions along with the vehicle's own internal autonomous collision protection and emergency functions. The safety systems segment accounted for over 35% of the revenue share in 2014 and is projected for growth owing to increasing government and transport authority mandates across the globe in recent times.
Entertainment has been a basic need in virtually every vehicle since its introduction. Auto manufacturers are increasingly installing features such as smartphone interfaces, Wi-Fi hot spots, internet, and social media access, along with advanced mobile office platforms.
Vehicle management systems perform a variety of functions that enable automobile owners to reduce running costs and increase ease of use and maintenance, such as keyless unlocking and ignition, onboard information about vehicle conditions, and service scheduling and updates.
Regional Insights
The presence of major automobile manufacturers and technology providers has led North America to dominate the industry. With the entry of technological giants such as Google Inc and Apple Inc into the connected and autonomous car segment, automobile manufacturers are forced to develop innovative capabilities and cultural changes in order to compete with them.
Asia Pacific connected car market accounted for over 23% of the global share in 2014 and is projected to grow at a CAGR close to 29% from 2015 to 2022. Increasing smartphone penetration, deployment of high-speed internet services and declining average selling price in the region are expected to push the sales for such smart vehicles.
Increasing government regulations across the globe are expected to positively impact the connected automobile industry worldwide. Mandates such as the eCall System in the European Union, GLONASS in Russia, and the Stolen Vehicle Tracker (SVT) in Brazil require the installation of advanced telematics systems for safety purposes in all new vehicles in the European Union from 2015 and in other countries from 2016.
Competitive Market Share Insights
Major industry participants include Alcatel Lucent, Apple Inc., AT&T Inc., Audi AG, BMW, Delphi Automotive, Ford Motor, General Motors Company, Google Inc., and NXP Semiconductors N.V. The industry is highly competitive and is driven by technological and product innovations.
Recent advances in driver assistance systems include BMW's autonomous parking valet that automatically parks the car even after the passengers' exit, and Volkswagen's Emergency Assist, stops the vehicle in case of an emergency are expected to provide these manufactures a competitive advantage over other industry players.
Backward integration and technology licensing are expected to be commonly adopted strategies by industry participants. With high production capabilities, it becomes easier and profitable for automobile manufacturers to perform backward integration and produce their own connected vehicle devices and applications. Manufacturers resort to mergers, acquisitions, and strategic alliances with technology providers as their key growth strategy to make their presence felt in the industry.