Technological innovation, aging population, and rising demand for minimally invasive procedures can be attributed toward the lucrative growth of coronary stent market.
The coronary stent market was valued at USD 8.8 billion in 2015 and is expected to witness a CAGR of 6.2% over the forecast period. The increase in cardiovascular disorders is a prime reason for increasing demand for coronary stents.
One of the major causes behind increasing cardiovascular conditions is the increased adoption of unhealthy lifestyle. Changing lifestyle, such as smoking, physical inactivity, and unhealthy diet is hampering the health of the heart. These factors are leading to possibility of hypertension, obesity, and blockages in arteries. As per the CDC, more than one-third population in the U.S. is obese, which is causing vascular disorders and, thus boosting the demand for these products.
Signs of aging such as decreased elasticity of cardiac muscles, high blood pressure, and blocking of arteries due to cholesterol or blood clots forming between 25 and 54 years of age, which become more prominent from 55 to 65 years of age, are also promoting market growth. This results in rising number of chest pain (Angina) and heart attack cases. Thus, the presence of population prone to have signs of aging is pushing the demand for coronary repair solutions globally. Hence, aging population is another factor that is driving the growth of these products at a significant rate.
Global coronary stent market, 2014 - 2024 (USD Million)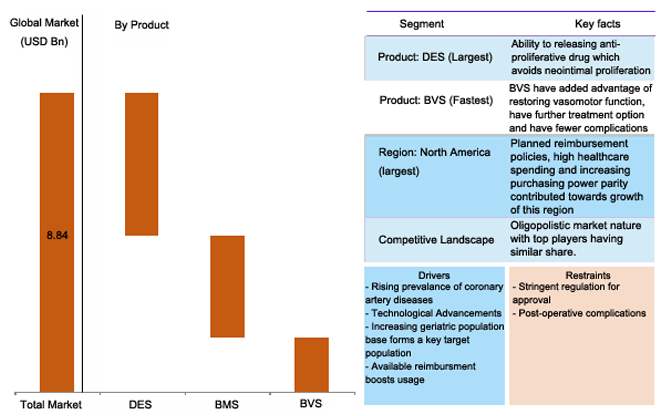 The emergence of newer trends, such as bioresorbable stents, scaffolds, biodegradable polymer, and bifurcation stent with an adoption of newer techniques and minimally invasive procedures are trending in this industry. These products are alternative for invasive bypass surgery. In addition, when used in minimally invasive procedures, they offer certain advantages over conventional surgeries, such as shorter scars, shorter recovery time, less physical trauma and less bleeding & risk of infection.
Drug-eluting stents led the market in 2015, however, bioresorbable vascular scaffold are anticipated to be on the forefront.
The coronary stent market is segmented on the basis of products into bare metal stents, Drug-Eluting Stents (DES), and Bioresorbable Vascular Scaffold (BVS). DES consisting biodegradable and nonbiodegradable DES led the product segment.
One of the benefits offered by DES is the ability to release antiproliferative drug that avoids neointimal proliferation, ultimately reducing the incidence of stent restenosis. In addition, the noninvasive procedure offered by DES is gaining popularity. These benefits contributed toward dominion of DES in 2015.
On the other hand, BVS is anticipated to grow exponentially over the forecast period. In July 2016, the U.S. FDA approved first absorbable stent Absorb GT1 BVS for arterial disorder. This is manufactured with biodegradable polymer poly(L-lactide). BVS has added advantages of restoring vasomotor function, expanding future treatment options, and helping avoid future complications with permanent devices.
North America dominated the coronary stent market in 2015 due to extensive distribution channel and large pool of target population
North America held commanding share in 2015. Increasing prevalence of coronary arterial diseases, hypertension, and blockage of vessels is driving the growth of this market. For instance, as per the CDC, a total of 395,000 coronary artery bypass grafting procedures were performed in the U.S. in 2015. The market is driven by growing geriatric population and sedentary lifestyle. Development of innovative and improved bioengineered absorbable products is also a key factor triggering industry growth.
On the contrary, Asia Pacific is anticipated to be fastest growing region in the world in this vertical. Ease of doing business in this region, huge population, economic developments, and faster adoption rate of latest technologies governed the growth of this region.
Technological innovation and regional expansion are the key strategies adopted by players in the coronary stent market
Some key players in the market include Abbott; Boston Scientific Corporation; Medtronic; B. Braun Melsungen AG; Terumo Corporation; Biotronik SE & Co. KG: Stentys SA; MicroPort Scientific Corporation; C. R. Bard, Inc.; and Cook Medical. New product launches, collaboration, mergers & acquisitions, and regional expansion are the key strategic initiatives undertaken by these industry companies.
For instance, in July 2016, Abbott Vascular launched world's first biodegradable stent Absorb GT1 BVS. This initiative is anticipated to increase market penetration in this vertical and help the company become a leader in coronary stent market.