Industry Insights
The global corrosion inhibitors market size was USD 5.99 billion in 2015 and is expected to show significant growth over the forecast period owing to rising metal processing, power generation, and construction sector.
Corrosion inhibitors have been gaining popularity over the past few years, as it increases the service life of equipment by forming a protective layer on the surface. Increasing application in water treatment, power generation, refining, construction and mining industries will stimulate product demand over the next eight years.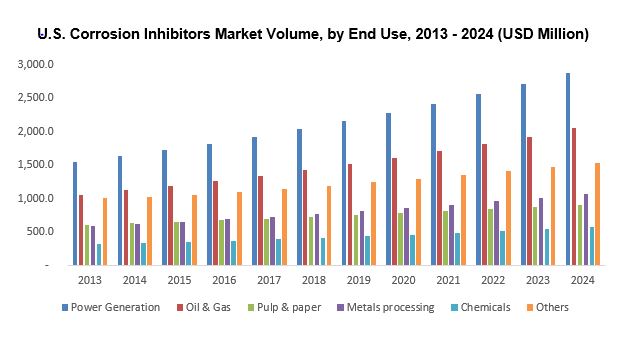 Rapid urbanization along with industrialization in various countries including India, China, Malaysia, Thailand, Saudi Arabia, UAE, and Mexico will fuel construction industry, which will spur product demand over the forecast period. Growing use of corrosion inhibitors as they reduce maintenance costs of the equipment will create immense potential for growth.
The increasing requirement for industrial and domestic water in various sectors including chemicals, medical, and electronics is expected to drive industry development. Increasing product usage by water treatment plants as they utilize a large amount of machinery that is constantly exposed to various corroding or oxidizing chemicals, in order to maintain heat exchange areas and efficiencies will spur market growth.
Toxic effects of traditional inhibitors on human, plant and marine biology along with increasing disposal issues will restrain industry expansion soon. However, constant product innovation for manufacturing several herb and plant extracts as green corrosion inhibitors is anticipated to yield opportunities for market development.
End Use Insights
Power generation was the dominant sector accounting for 29.8% of the overall volume in 2015.Growing government investments for power generation projects to satisfy growing energy needs is expected drive demand. Moreover, generation of energy by consuming renewable sources including wind, solar, and hydro is expected to act as a key factor for the industry expansion.
Oil & gas is expected to be the fastest growing end-user segment as a result of rising product demand in pipelines as they reduce the losses incurred during refinement processes. In addition, the presence of enormous technically recoverable shale gas reserves in U.S. will propel market growth over the forecast period.
The pulp & paper industry is an upcoming segment in terms of the global economy, accounting for over 11% of the corrosion inhibitors market as of 2016. Provisions of a more durable solution to the global packaging problems and challenges in accordance with the future environmental standards is expected to boost the corrosion inhibitors market growth.
Corrosion inhibitors have a wide array of applications to protect against corrosion in pipelines, turbines, equipment, machines are utilized in power plants. Increasing energy demand coupled with growing population is expected to boost the need for more power plants and operate for longer hours, in turn spurring the demand for corrosion inhibitors. Additionally, increasing investments in the renewable energy sector is also projected to enhance the demand for corrosion inhibitors by 2024. Rising produced water generation along with increasing exploration activity of conventional and non-conventional oil and gas reserves are expected to augment the growth of oil & gas application segment by 2024.
Product Insights
Organic inhibitors were extensively used accounting for 72.7% of the overall volume in 2015. They include Benzotriazole, Tolyltriazole, Organic Amines, Phosphonates, and Mercaptobenzothiazole and are expected to show high gains considering its wide usage in manufacturing applications as they eliminate toxicity as well as decreases the probability of unwanted reactions.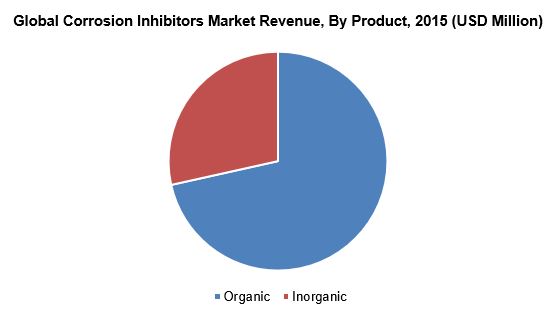 Supporting environmental regulations on inorganic inhibitors in the U.S., Germany and UK are likely to increase their demand and boost sales over the next eight years. Rising application in water treatment applications owing to improve functionality over a wide range of temperatures and pH levels will fuel its demand over the forecast period.
Application Insights
Water-based corrosion inhibitor was the largest application, valued at USD 4.49 billion in 2015 and will witness significant gains over the next eight years particularly in water treatment on account of lower volatile organic content (VOC) emissions as compared to solvent-based applications. In addition, they are economical; turn transparent on drying; can be applied using a variety of methods including brush, spray, or immersion; and can be easily removed using water-based cleaners before subsequent operations.
The oil-based application will witness measured growth on account of its high flammability, limited application scope, and safety hazards. However, consistent performance of oil-based inhibitors over a long period is expected to drive its demand over the forecast period.
Regional Insights
Asia Pacific corrosion inhibitors market accounted for 35.7% of the global revenue in 2015 and is expected to witness significant growth on account of the industrial and urban development in China and India. In addition, product innovation coupled with the expanding steel manufacturing along with rising oil & gas sector in India, China, and Australia will drive product demand in the near future.
Increasing construction spending along with rapid economic development in China, India, Indonesia, South Korea and Thailand is expected to create immense market potential over the forecast period.
Europe was the second largest market and is expected to witness below-average growth at a CAGR of 4.2% from 2016 to 2022 in terms of volume owing to stringent environmental regulations on the discharge of toxic chemicals. However, increasing electricity generation in Germany and UK along with rising numbers of nuclear power plants in the UK, Poland, and Sweden will open new growth opportunities for corrosion inhibitors in the region.
Corrosion Inhibitors Market Share Insights
Corrosion inhibitors market is characterized by product innovation through continuous R&D by key players to improve the performance of their offerings. Key industry participants include Ashland Inc., AkzoNobel N.V., BASF SE, GE Water and Process Technologies, DuPont, Champion Technology Services, Inc., Renewable Lubricants, Inc., Ecolab Inc., Cytec Industries, Inc., Cortec Corporation, and the Lubrizol Corporation.
AkzoNobel, Cortec, and Renewable Chemicals have developed green corrosion inhibitors from natural ingredients such as corn, orange peels, and soy to manufacture biodegradable and safe products.