Report Overview
The global COVID-19 diagnostics market size is valued at USD 19.8 billion in 2020 and is expected to grow at a compound annual growth rate (CAGR) of 3.1% from 2021 to 2027. These tests are critical in the management of the ongoing COVID-19 pandemic for accurate diagnosis as well as for tackling the spread of the infection. Over 600 SARS-CoV-2 diagnostic tests are either approved or are in the development phase for clinical use. Therefore, an increase in the need for developing diagnostic tests is anticipated to drive the market growth. The current status of lead COVID tests is toward rising capacity but mixed accuracy. For efficient and accurate COVID-19 diagnosis, clinicians need a portable or an on-site diagnostic test for real-time management of patients in minimal time. This has encouraged the adoption of Point-of-Care (POC) testing for diagnosis, primarily aimed at reducing the assay duration from hours to a few minutes.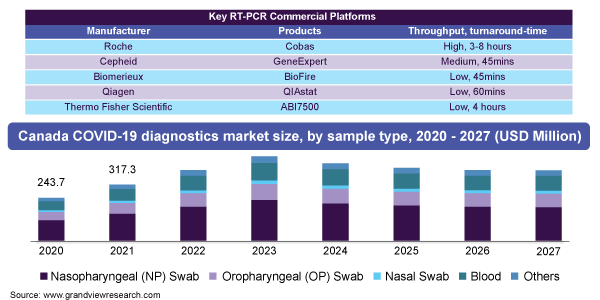 In July 2020, Becton, Dickinson and Company launched a point-of-care SARS-CoV-2 diagnostic test as a response to the growing need for rapid testing. This test enables real-time testing of patients using an easy-to-use, highly portable instrument. COVID-19 has driven the life sciences tools market although it has affected the supply chain in the pharmaceutical industry. As a result of the continued efforts made by Qiagen to capitalize on the COVID-19 demand Qiagen's acquisition by ThermoFisher Scientific has been terminated. Qiagen strategized by ramping up production of viral RNA extraction kits, developing several PCR tests for the NeuMoDx and QIAstat-Dx that enable detection if respiratory infections inclusive of CoVID-19. Moreover, the company also targeted the researchers by providing gene panels integrated with bioinformatics solutions for the analysis of SARS-CoV-2.
In addition, the integration of novel technologies and software solutions with COVID-19 testing is expected to open new avenues for market expansion. For instance, the market participants are inclined toward incorporating Artificial Intelligence (AI) algorithms in the COVID-19 tests for rapid and efficient diagnosis. In August 2020, BMC, an Indian civic body, announced to assess the efficacy of AI-based COVID-19 tests. Also, in July 2020, the University of Oxford published results of using AI algorithms for the screening of patients.
Robust funding and investments by the public as well as private agencies are expected to propel molecular diagnostic companies to develop COVID-19 diagnostic products, thereby driving the market. For instance, in June 2020, NIH has announced to release four funding opportunities to accelerate research on SARS-COV-2 screening for vulnerable and underserved populations to decipher and address the disparity gap.
CRISPR-based nucleic acid detection serves as a reliable, sensitive, and specific approach. In addition, the method enables testing at a constant temperature eliminating the need for an expensive thermal cycler or PCR platform. The University of Connecticut Health Center has developed an All-In-One Dual assay method based on CRISPR-Cas12a (AIOD-CRISPR) for detection of SARS-CoV-2 in 20 minutes. The one-pot reaction system principle implemented in this assay reduces the risk of cross-contamination and minimizes the turnaround time significantly by the elimination of manual steps. Ongoing efforts by the research center to integrate the aforementioned CRISPR technology into microfluidic diagnostic chips are expected to help introduce a novel POC product for diagnosis of SARS CoV-2 and are currently in clinical settings.
Product & Service Insights
Being critical components in the testing of coronavirus infection, the reagents and kits segment is estimated to account for the revenue share of 34.8% in 2020. The World Health Organization (WHO) has urged nations to ramp up their diagnostics capacities, which is expected to boost the uptake of reagents and kits at a large scale. Several regulatory bodies have issued mass testing; however, laboratories are facing a shortage of reagents required for large batches of testing.
The Centers of Disease Control and Prevention (CDC) and the Food and Drug Administration (FDA) are addressing the challenges surfacing due to the recent shortage of reagents in the U.S. To combat any hindrance caused by shortages of pivotal testing reagents and kits in the U.S., the FDA has granted an Emergency Use Authorization (EUA) to various COVID-19 detection tests. This strategy is aimed at relaxing various ordinary standards enabling the market players to seek easy and rapid approval for their kits as well as reagents. This is expected to increase the supply of kits and reagents, contributing to the segment growth.
The portable handheld instruments are gaining immense popularity for their use in controlling coronavirus cases hence; the segment is anticipated to witness lucrative growth over the forecast period. These portable instruments accelerate clinical decision-making in decentralized settings. Thus, increasing usage of rapid antigen tests is anticipated to boost the revenue of instrument segments. While supply issues have been a well-publicized factor for rtPCR testing, supply issues can or cannot become an issue in PoC testing.
Sample Type Insights
The oropharyngeal and nasopharyngeal swabs segment is estimated to account for the maximum revenue share of nearly 70% in 2020. Nasopharyngeal swabs are the preferred choice for sample collection as recommended by the CDC. In case of unavailability of nasal swabs, oropharyngeal swabs are also acceptable. The combinatorial use of both swabs in a single tube maximizes the test sensitivity and limits the usage of testing resources, which drives their adoption rate in COVID-19 sample collection.
In addition, the FDA has recently allowed using a wide range of swabs, especially polyester swabs, for diagnosis of this infection. These synthetic swabs are easier to manufacture and address the challenges pertaining to a shortage of swabs. In response, in April 2020, the FDA announced that U.S. Cotton has planned to manufacture polyester-based swabs in large quantities that can also be put to use in sample collection for coronavirus testing. These initiatives are expected to further accelerate the adoption rate of swabs at a lucrative rate.
Blood sample-based tests are largely employed in antibody detection tests along with rapid detection tests. This sample type provides an assessment of both short- and long-term trajectories of antibody response, abundance, and diversity in the affected patients, which is difficult in viral RNA detection tests. Thus, the blood sample type is expected to gain traction across research and molecular studies.
Test Type Insights
The Molecular (PCR) testing is projected to dominate the market in 2020 with a 67% revenue share. A majority of the COVID-19 detection tests rely on Reverse Transcriptase Polymerase Chain Reaction (RT-PCR) for quantification of RNA in the samples of coronavirus patients. Large-scale employment of PCR across the CDC, commercial laboratories, hospitals, and public health laboratories have made significant contributions to the revenue generated by this technology in the global market.
Continuous approval of RT-PCR-based molecular diagnostic tests for early detection of the infection is anticipated to drive the segment. In March 2020, Roche's Cobas SARS-CoV-2 test was the first test to receive EUA. Subsequently, the TaqPath COVID-19 Combo Kit of Thermo Fisher received EUA in March 2020. Other available tests are Lyra SARS-CoV-2 Assay by Quidel, SARS-CoV-2 Qualitative Real-Time RT-PCR by Quest, COVID-19 RT-PCR Test by LabCorp, and others.
Mode Insights
With 55% revenue share, the non-POC (centralized) tests segment is anticipated to dominate the market in 2020, owing to the low sensitivity of rapid tests that has boosted the adoption of non-POC tests by the end-users. As a result, in several countries, the government bodies have advised the healthcare settings to conduct RT-PCR test for symptomatic individuals to confirm the diagnosis, if the rapid antigen test results are negative.
Furthermore, conventional laboratory testing remains the primary testing mode owing to its ability to conduct a high volume of tests at a given point in time. These factors are key driving forces for this segment. On the other hand, companies are validating and developing rapid POC immunodiagnostic tests to facilitate decentralized testing.
For instance, in August 2020, Abbott announced EAU authorization for its COVID-19 antigen test that delivers results in 15 minutes. The company has planned the commencement of product shipping in early October with 50 million kits per month. Prior to this approval, BD and Quidel have already secured regulatory approval for their antigen tests making mass testing more feasible.
End-use Insights
The laboratories segment is estimated to account for the largest revenue share of 40% in 2020. The laboratories are constantly increasing their testing capacities to address the rising demand for COVID-19 testing. Moreover, private laboratories are also inclined toward coronavirus testing. As reported in April 2020, Orchard Laboratories is the first private laboratory in Michigan, U.S., to offer rapid COVID-19 testing by using RT-PCR technology. Initially, it would conduct 400 tests per day.
Moreover, laboratories have leveraged high-throughput technologies to process a large volume of coronavirus tests accurately and rapidly. This is propelled by robust reimbursement policies implemented effectively in the developed economies. For instance, the Centers for Medicare & Medicaid Services (CMS) has doubled the Medicare reimbursement rate for high-molecular tests pertaining to COVID-19 detection.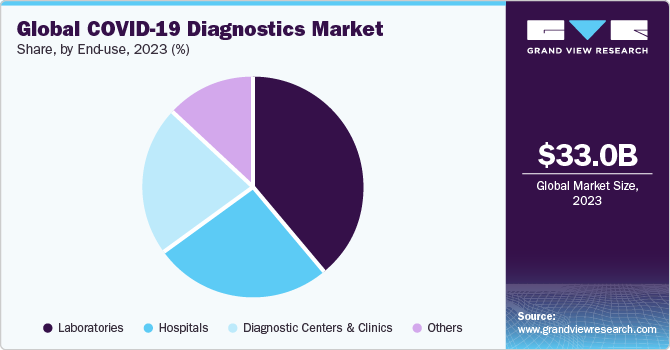 Government authorities and companies are undertaking efforts to develop tests that can be specifically deployed in diagnostics centers, clinics, or physician's offices. The FDA has recently approved decentralized testing platforms to diversify testing capabilities across clinics. For instance, Abbott's ID NOW platform is highly implemented in urgent-care clinics and doctors' offices in the U.S. The small size makes it portable and, thus, its use would not be limited to only hospital settings.
Regional Insights
Asia Pacific is estimated to dominate the market with a revenue share of nearly 36.9% in 2020. High awareness levels about the spread, diagnosis, and effective management of coronavirus infection have been encouraged by the regional government and regulatory authorities. This has ultimately accelerated the diagnostic product approvals and testing process across the Asian countries. For instance, in July 2020, Singapore-based Lucence collaborated with Akribis Systems on the COVID-19 saliva processing automated platform to scale up mass testing.
This initiative is anticipated to greatly impact the company's presence in the market. Also, the region is anticipated to witness the fastest growth rate during the forecast period. This region is witnessing an increase in the number of new entrants that provide COVID-19 diagnostic solutions. Mylab Discovery Solutions is the first India-based company to receive approval for its Mylab PathoDetect COVID-19 qualitative PCR kit in March 2020.
Similarly, in May 2020, Fujirebio, Inc. received approval for its SARS-CoV-2 antigen test kit from the Japanese authorities. Besides, profitable partnership initiatives between the Asia-based companies are expected to propel the penetration of COVID-19 diagnostic products throughout the region. For instance, in April 2020, Serum Institute and MylabDiscovery Solutions Pvt Ltd collaborated to scale up test production. Such a partnership is expected to effectively address the rising regional demand.
Key Companies & Market Share Insights
Key players are constantly accelerating the production and supply of diagnostic tests to keep pace with the increasing need for disease containment. For instance, in March 2020, Roche initiated shipment of the first allotment of the Cobas SARS-CoV-2 test for COVID-19 diagnosis. Approximately, 400,000 tests were shipped to a targeted network of reference laboratories as well as hospitals across the U.S. The company further planned for a shipment of 400,000 additional tests to the laboratory testing facilities every week in the country. Companies such as Quest Diagnostics and Labcorp are focusing on the aggressive expansion of capacity and are also working towards the return-to-work testing market through employer-focused COVID testing offerings. In May 2020, Quest Diagnostics announced its collaboration with Ortho Clinical Diagnostics aimed at the expansion of COVID-19 antibody testing across more than 20 laboratories of Quest throughout the U.S. The company applied VITROS Immunodiagnostic Products Anti-SARS-CoV-2 IgG Test of Ortho to ramp up the coronavirus testing in patients. Some of the prominent players in the COVID-19 diagnostics market include:
F. Hoffman-La Roche Ltd.

Thermo Fisher Scientific, Inc.

Perkin Elmer, Inc.

Neuberg Diagnostics

1drop Inc.

Veredus Laboratories

ADT Biotech Sdn Bhd

altona Diagnostics GmbH

bioMérieux SA

Danaher

Mylab Discovery Solutions Pvt Ltd.

ALDATU BIOSCIENCES

Quidel

Quest Diagnostics

Hologic Inc

Laboratory Corporation of America Holdings

Luminex Corporation

Cepheid

Abbott
COVID-19 Diagnostics Market Report Scope
| | |
| --- | --- |
| Report Attribute | Details |
| Market size value in 2020 | 19.8 billion |
| Revenue forecast in 2027 | 24.6 billion |
| Growth Rate | CAGR of 3.1% from 2020 to 2027 |
| Base year for estimation | 2020 |
| Historical data | 2020 |
| Forecast period | 2021 - 2027 |
| Quantitative units | Revenue in USD million and CAGR from 2021 to 2027 |
| Report coverage | Revenue forecast, company ranking, competitive landscape, growth factors, and trends |
| Segments covered | Product & service, sample type, test type, mode, end-use, region |
| Regional scope | North America; Europe; Asia Pacific; Latin America; Middle East & Africa |
| Country scope | The U.S.; Canada; Germany; The U.K.; France; Spain; Italy; Russia; Japan; China; India; South Korea; Australia; Brazil; Mexico; South Africa; Saudi Arabia |
| Key companies provided | Thermo Fisher Scientific, Inc.; F. Hoffman-La Roche Ltd.; Perkin Elmer, Inc.; Neuberg Diagnostics; 1drop Inc.; Veredus Laboratories; ADT Biotech Sdn Bhd; Altona Diagnostics GmbH; bioMérieux SA; Danaher; Mylab Discovery Solutions Pvt Ltd.; ALDATU BIOSCIENCES; Quidel Corporation; Quest Diagnostics; Hologic Inc.; Laboratory Corporation of America Holdings; Luminex Corporation; Cepheid; Abbott |
| Customization scope | Free report customization (equivalent up to 8 analysts' working days) with purchase. Addition or alteration to country, regional & segment scope. |
| Pricing and purchase options | Avail customized purchase options to meet your exact research needs. Explore purchase options |

Segments Covered in the Report
This report forecasts revenue growth at global, regional, and country levels and provides an analysis of the latest industry trends in each of the sub-segments from 2020 to 2027. For the purpose of this study, Grand View Research has segmented the global COVID-19 diagnostics market report on the basis of product and service, sample type, test type, mode, end-use, and region:
Product & Service Outlook (Revenue, USD Million, 2020 - 2027)

Instruments

Reagents & Kits

Services

Sample Type Outlook (Revenue, USD Million, 2020 - 2027)

Nasopharyngeal (NP) Swab

Oropharyngeal (OP) Swab

Nasal Swab

Blood

Others

Test Type Outlook (Revenue, USD Million, 2020 - 2027)

Mode Outlook (Revenue, USD Million, 2020 - 2027)

End-use Outlook (Revenue, USD Million, 2020 - 2027)

Regional Outlook (Revenue, USD Million, 2020 - 2027)
Frequently Asked Questions About This Report