Industry Insights
The global cryogenic equipment market is expected to reach USD 25.05 billion by 2022. Surging demand across the power & energy sector coupled with rapid industrialization is anticipated to be an important factor catalyzing growth over the next seven years. Advancement in the power & energy sector has led to the improvement of HTS cables and energy storage. Substantial investments in numerous developing countries, including India, to construct smart cities and high-speed trains are estimated to offer growth prospects to the industry partakers.

Asia Pacific cryogenic equipment market by end-use, 2012 - 2022 (USD Million)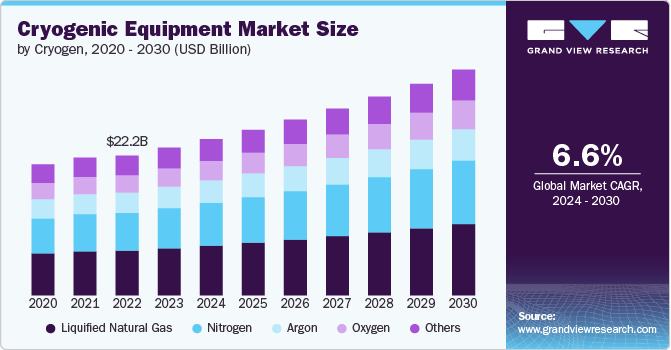 The need for liquefied gases in industrial processes is critical. For example, conventional cooling lubricants (CLFs) are not useful in certain machining operations, in comparison to certain proposed alternatives, for reducing the cutting temperature while improving environmental sustainability. In a few cases, CLFs are unable to fulfill the exact application requirements and have a direct impact on the environment, and this is where cryogenics pose to be a viable alternative.
End-use Insights
Cryogenic equipment, finds application in several industries including oil & gas, metallurgy, electronics, power & energy, food & beverage. The power & energy segment accounted for over 20% of the revenue in 2014. Rise in investments across the power sector, particularly in the developing regions provides avenues for growth.
The food and beverage applications surpassed USD one billion in 2014. Chilling and freezing is an essential aspect of the industry, and trends in this segment indicate a rise in demand for frozen foods, which is expected to continue over the next seven years.
Further, factors such as awareness regarding energy usage or waste, the impact of manufacturing on carbon emissions and legislations governing the food & beverage manufacturing segment has considerably influenced the choice of freezing technology.
Application Insights
Storage emerged as the leading segment in 2014 and accounted for over 60% of the overall market share in the same year. It may be attributed to the rising need for sourcing, stocking, handling, and transferring liquefied gases such as oxygen, nitrogen, natural gas, and argon.
The apparatus is utilized for creating low-temperature conditions for storing these gases. Gases within the container, provide insulation, preventing alteration of temperature with variations in external temperature.
The distribution segment was valued over USD 3.5 billion in 2014. The segment is estimated to witness a growth at a CAGR exceeding 7% from 2015 to 2022. Although distribution holds less market share, it is highly important in industries such as oil & gas, food & beverage, and marine.
Gas Insights
Natural Gas emerged as the dominant segment in 2014 and accounted for over 40% of the overall revenue share in the same year. Shale revolution initiated by the U.S. government has led to high natural gas production, subsequently intensifying industry demand in the oil & gas sector. Increased trade of natural gas is expected to offer tremendous growth opportunities to the industry.
Oxygen gas is projected to witness a growth at CAGR exceeding 7.0% over the forecast period. Oxygen being a strong oxidizer and the second largest component of the earth's atmosphere is necessary to support life. Several crucial applications of oxygen as a cryogenic liquid impels the end-use industries to maintain a temperature difference between a product and the environment, keeping oxygen insulated through cryogenic equipment.
Product Insights
Tanks segment was valued over USD 6.5 billion in 2014 and is expected to gain share over the forecast period. LNG carriers carry an enormous amount of LNG in the cargo tanks, and therefore, maintaining the tank pressure is of paramount importance. Tanks provide several benefits including high-quality insulation, extended service life, and lower maintenance cost.
Vacuum jacketed piped (VJP) is a high performance, and low heat leak vacuum insulated pipe specifically designed to transport cryogenic liquids. They are employed in labs, where rerouting of the pipeline system is essential. Extensive usage of vacuum jacketed pipes in thermal vacuum chambers (space simulation testing) and rubber flashing is projected to fuel demand over the forecast period. The segment is expected to surpass USD 1.5 billion by 2022.
Regional Insights
The Asia Pacific emerged dominant market in 2014 and accounted for over 30% of the revenue in the same year. LNG is stored in tanks and distributed accordingly in the absence of pipelines. Development in Asian countries has led to increased investment in LNG transportation as energy and fuel source, thereby driving the demand. Healthcare facilities in Asia store & preserve certain rare blood groups that require temperature as low as −165 °C.
Europe is estimated to capture a sizeable market share over the forecast period owing to substantial application across the food & beverage, healthcare and electronics industries to store materials at minimal temperature requirements. LNG being a low emission fuel is favored by the European government, as it addresses the environmental concerns. An enormous amount of LNG is transported to major European countries, thereby driving the demand for tanks that store these gases.
Competitive Market Share Insights
The market is embodied by severe competition owing to the presence of few well-established players. The market competes based on performance, price, technical knowledge, and the ability to design & manufacture the equipment.
Existing players such as Charts Industries, Linde Group, and Herose GmbH have undertaken extensive research & development activities to overcome the hazards associated with this equipment. Further, growing need for on-site gas supply across numerous industries is instigating manufacturers to improve technology and undergo aggressive management in all aspects of production and distribution.
Notable companies in the sector include Chart Industries, Herose GmbH, Linde Group, and Cryogenic Systems Equipment, Inc. A key business strategy adopted by leading purveyors is the acquisition of companies that complement their existing products and services.