Industry Insights
Global dental equipment market size was estimated at USD 6,081.4 million in 2013. Rising geriatric population has led to the high prevalence of age-related dental disorders, hence propelling the growth of this industry. Moreover, the global dental equipment industry is expected to witness lucrative growth owing to growing risk factors for oral diseases including tobacco use, unhealthy diet, poor oral hygiene, and consumption of harmful alcohol. Rising incidence of periodontal disease and oral cancer are expected to further boost market growth over the forecast period.
North America dental equipment market revenue by product, 2012-2020, (USD Million)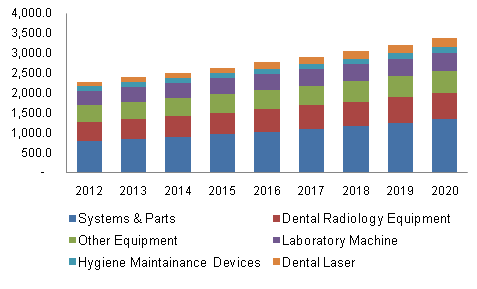 Rising demand for aesthetic treatments is also expected to fuel the demand for cosmetic dentistry, which is expected to further boost this market growth. Furthermore, increasing dental tourism has led to increased demand for sophisticated and advanced equipment.
As per the 2012 statistics of the World Health Organization (WHO), around 60–90% of school-going children and around 100% of adults suffer from dental problems. As a result, the WHO has undertaken various strategies to increase the awareness about oral disease prevention and promotion. These strategies include enforcing the use of health services and create awareness about risk behaviors such as unhealthy diet, consumption of tobacco and alcohol, which are responsible for the deterioration of oral health. Hence, these WHO initiatives for oral hygiene are leading to increased number of people opting for early disease diagnosis and treatment.
Product Insights
On the basis of products, the market is divided into radiology equipment, lasers, systems & parts, laboratory machines, hygiene maintenance device, and other equipment. Systems & parts held the largest share in the product segment and accounted for USD 2,206.2 million in the overall market in 2013. Wide applications of systems & parts conducting any procedures attributed to the dominance of systems & parts segment.
Dental lasers are expected to grow at a CAGR of over 8.2% from 2013 to 2020. Growth in demand for cosmetic dentistry and minimally invasive procedures is expected to boost the growth in this segment over the forecast period. Furthermore, the benefits associated with these lasers are also expected to contribute towards the lucrative growth of the dental lasers segment. The benefits include higher accuracy, precision in procedures such as removal of the enamel decay without affecting bone and gum tissue, and lower chances of hairline cracks and fractures caused due to traditionally used high-speed drills.
In addition, laser procedures provide patient's compliance by avoiding bleeding and swelling, hence are being considered as an efficient alternative. Laser treatments do not require a high dose of local anesthesia and provide faster recovery, hence, enhancing the patient's comfort. Thereby, the aforementioned benefits are expected to contribute to the growth of this segment.
Regional Insights
In 2013, North America held the most lucrative share geographically owing to the highest incidence of oral health problems in this region, hence, leading to high demand for dental procedures, which thereby, boosted the demand for this equipment. Europe dental equipment market was valued at USD 2,156 million in 2013 and is expected to grow on account of high awareness among people about oral health.
Europe was followed by Asia Pacific, which accounted for over 18.2% in 2013. Asia-Pacific is expected to show lucrative growth over the forecast period owing to increased demand as a consequence of large population base with high unmet medical needs. Adoption of innovative instruments and techniques is expected to further propel the growth of this region. Furthermore, improving healthcare infrastructure as a result of government initiatives is expected to fuel growth of Asia Pacific region.
Competitive Insights
Danaher Corporation dominated the global dental equipment market share, accounting for over 25% demand in 2013. The company offers a variety of products, which cater to numerous applications such as tests, measurements, dental diagnostics, and industrial diagnostics. In 2011, Danaher Corporation acquired 13 companies.
In September 2012, Danaher Corporation announced the definitive agreement with IRIS International Inc. Under this agreement, the company announced that it will acquire IRIS International Inc. for approximately USD 338 million. This acquisition was expected to help Danaher Corporation to broaden its portfolio of in vitro dental diagnostics and consumables.
Hence, mergers & acquisitions and collaborations are prevailing market trends observed in the dental equipment market. Some of the other key players in the equipment industry include Planmeca Oy, A-Dec Inc., Sirona Dental Systems, Carestream Health, and Dentsply International.