Industry Insights
The global dental equipment market size was valued at USD 6.08 billion in 2013 and is projected to grow at a CAGR 4.9% during the forecast period. The market growth can be attributed to key factors such as rising demand for dental procedures, increasing prevalence of dental disorders, and rise in medical tourism activities pertaining to these procedures. Furthermore, rising geriatric population and their demand for preventive, restorative and surgical services for dental care is likely to boost the market growth in the coming years.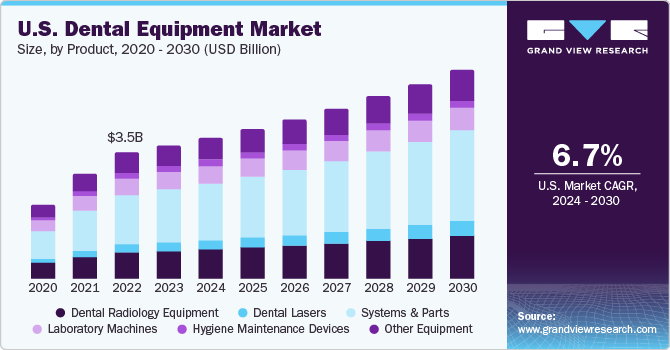 Favorable government initiatives pertaining to dental hygiene is another factor propelling the growth of the market. In the recent years, governments of many countries are initiating reforms for development of dental health of their country. For instance, in the Australian 2016-17 Budget was framed to deliver a reform through a Single National Child and Adult Public Dental Scheme and allocated nearly USD 1.29 billion (AUD 1.7 billion) towards public services for dental care. Furthermore, according to Germany's healthcare policies 87.5% of its total population is a member of "sick funds"- a not-for-profit organization. It provides free basic dental services accompanied with several advanced options such as orthodontics, and crowns and bridges.
High treatment cost for orthodontic procedures in North America and Europe and associated dentist consultation charges, the x-rays, scans and other tests, are the key factors for increasing medial tourism in low cost countries. To offset these high out of pocket costs, more number of people are opting for tourism in emerging healthcare destinations such as India, Turkey, Hungary and others. Dental tourism in above mentioned countries is witnessing lucrative growth owing to factors such as low labor costs, low fixed costs and minimum government intervention. For instance, Hungary has emerged as the top destination in Europe for dental tourism with approximately 7,000 visitors every year. Low price of these procedures is the key factor attributing to the growing medical tourism in Hungary. For instance, root canal treatment in the U.S. starts from USD 550 while it is only USD 69 in Hungary. Zirconium crowns cost over USD 1,250 in the U.S. while it costs only USD 440 in Hungary.
Product Insights
On the basis of product the market is segmented into dental radiology, lasers, systems & parts, laboratory machines, hygiene equipment, other equipment. In 2013, systems and parts segment accounted for the majority share of 35.83%. However, dental lasers equipment is expected to be the fastest growing segment with a CAGR of 8.4% over the forecast period
The systems & parts segment is further segmented into instrument delivery systems, vacuums & compressors, cone beam CT systems, cast machines, furnace and ovens, electrosurgical equipment, and CAD/CAM, among others. The CAD/CAM segment held the largest share of the systems & parts segment in 2013. CAD/CAM techniques are rapidly substituting die casting techniques in terms of technological superiority and this is expected to drive market during the forecast period. However, cone beam CT systems segment is likely to witness the highest growth rate during the forecast period. These systems generate images of tissues and other adjoining parts of tooth, and aid in delivering more precise treatment.
The dental lasers segment is further segmented into diode lasers, carbon dioxide lasers, and yttrium aluminium lasers. They have the application in diagnostic and surgical procedures and significantly reduce treatment time. Key advantages associated with these devices include regeneration of ligament tissues and bones, elimination of bleeding and surgery discomforts. Owing to the aforementioned factors these lasers are expected to witness lucrative growth in coming few years.
Moreover, technological advancements have further increased its market revenue enabling professionals to make use of portable lasers in home care settings thus inhancing patient comfort. Increasing adoption rate of lasers among dentists and general practitioners, technological advancements pertaining to develop cost effective diodes, and low operational cost & high accuracy of these devices are the other factors that are likely to boost the market growth in the coming years.
In 2013, the yttrium aluminium garnet lasers segment held the dominant share of the dental lasers segment. This segment is also anticipated to grow at the highest rate during the forecast period. Low penetration and rapid healing of the scars are among the key benefits associated with these lasers as compared to other lasers. Additionally, these lasers minimize the post-operative pain and elimination of sutures in many complicated cases.
Regional Insights
North America dominated the global market in 2013 with a highest share. The key contributors for the large share include technological advancements, rising demand for cosmetic surgeries, growing geriatric population and rising numbers of dentists & dental clinics. Furthermore, increasing number of collaborations between healthcare providers and research organizations backed by research grants can be the other factors contributing the largest share of this region in the global market.
In 2013, the U.S. held the largest share of market owing to increasing geriatric population prone to tooth problems and presence of sophisticated infrastructure. Furthermore, technological advancement pertaining to development of novel equipment such as digital X-rays for tooth cavity detection and high resolution screening systems, are expected to upsurge the market growth over the forecast period.
Europe is anticipated to witness the fastest growth over the forecast period with a growth rate of 5.3%. Increasing adoption rate among dentists for advanced treatment options for orthodontic applications; favorable government initiatives; increasing investments for the development of novel equipment; and high prevalence of oral cancer are amongstfew factors that are expected to drive the market during the forecast period.
Asia Pacific is another significant market for dental equipment. Growing penetration of cosmetic implants is one of the significant factors propelling the growth of these products in this region. Furthermore, introduction of novel technologies such as advanced dental anesthesia solutions that include intraligamentary injection anesthesiasystem, to minimize the complications in orthodontic procedures are expected to boost the market growth over the forecast period. Additionally, increasing geriatric population base coupled with the fact that old age increases the susceptibility towards tooth disorders is expected to boost the usage rate of this product over the forecast period. Rapid development in rural healthcare services and presence of high medical unmet needs are some of the factors attributing to the rapid growth of market in this region.
Dental Equipment Market Share Insights
Few significant market players include Denstply International Inc., A-Dec Inc., Planmeca Oy, Sirona Dental Systems Inc., Patterson Companies Inc., Straumann, GC Corporation, Carestream Health Inc., Biolase Inc., Danaher Corporation, and 3M. New product development was the key strategy adopted by players to gain competitive edge. The key players in the market with strong financials, product portfolio and regional presence are Danaher Corporation, Dentsply International Inc, Sirona Dental Systems, and Planmeca Oy
Each of these companies has a strong presence in their target segments, for instance, Danher Corporation has strong portfolio in x-ray systems, Sirona has good market presence in the 2D imaging, 3D imaging, and CAD/CAM segments. Furthermore, Dentsply International has strong presence in the endodontic treatment and implant surgery and Planmeca Oy has robust portfolio in CAD/CAM software solutions and 2D/3D imaging systems.