Industry Insights
The global digital signage market size was estimated at USD 18.55 billion in 2018 and is anticipated to reach USD 31.71 billion by 2025, at a CAGR of 8.0% from 2019 to 2025. This growth is accredited to the increasing demand for digitized promotion of products and services so as to attract the target audience in an effective manner. In terms of shipments, the market was estimated at 3,500 thousand units in 2018 and is expected to reach 6,451 thousand units by 2025.
The evolution of innovative products such as home monitoring systems, leak detector systems, and so on, along with complicated monetary products such as forex cards that need informative and succinct advertisement content are some of the factors predicted to drive the product demand. Moreover, there is a rising demand for advanced products that require digitized information management and guidance that can be accessed from remote locations. This is one of the key drivers anticipated to boost the market over the forecast period.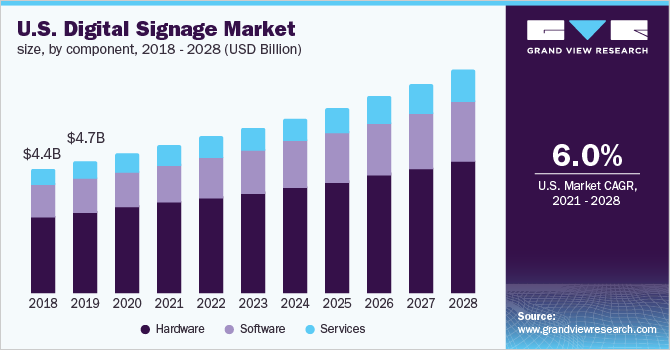 Integration of biometric technology with modern digital signage has developed products such as track heat paths and gaze tracking. Gaze tracking technology helps locate the area which is crowded with a greater number of consumers, thereby helping the companies to track the consumer behavior for effective marketing of products. Thus, the growing use of aforementioned technology is expected to strengthen the demand in the next eight years.
It offers the necessary quality information to a large number of viewers by utilizing large display screens across the location with a concentrated target audience. With digitized display technology, information is provided in a digitized format that includes motion and pictures to attract customers with more impact as compared to the traditional modes of reaching out to customers.
Eventually, growing awareness among consumers regarding the drawbacks and complexity of traditional advertising such as short-lived print marketing and so on is instigating the digitized advertisement adoption. Additionally, the innovative efforts led by the display designers, researchers, and advertisement companies are spending more on the improvement of the product's display technology. As such, all these factors are in turn, expected to catalyze market growth.
With the advancement in display technologies, the evolution of LCD, LED, UHD, OLED, and Super AMOLED is further strengthening the market. These technologies have led to the enhancement of the quality of advertisement content, thus creating a favorable impact on the target audience. The adoption of such advanced technologies in display systems by digital poster providers is anticipated to boost the market.
However, the factors such as software and hardware compatibility, networking, electrical interface, and connectivity are the few prevailing issues likely to hinder smooth growth of the digital signage market. Moreover, the complex taxations levied upon installation of digital signage and screens, coupled with the regulatory processes such as licensing, are projected to hamper the growth.
Type Insights
Based on types, the market has been segmented into video walls, video screens, transparent LED screens, digital posters, kiosks, and others. The video walls segment accounted for the largest market share in 2018 and this trend is expected to continue over the forecast period.
The video walls and kiosks segments gained a high share in 2018 followed by the video screens segment. The adoption of these types of digital posters is greater as compared to the other types owing to the factors such as low price, ease of installation and mounting, and connectivity.
Video walls and screens have captured a major market share across shopping malls and other public places. Kiosks are generally used to provide information and for advertising in institutes and retail verticals.
However, transparent LED screens are predicted to witness the highest CAGR in near future. Transparent LED screens are capable of offering a transparency level beyond 80% coupled with high resolution. Additionally, they are adequately efficient in terms of energy, thus, reducing energy consumption and optimizing the overhead expenditure of users. All these factors are anticipated to catapult the demand for transparent LED screens over the forecast period.
Component Insights
Based on components, the market has been segregated into hardware, software, and services. The hardware components segment held the leading market share in 2018 and is anticipated to maintain its position over the forecast period. Hardware components consist of displays, components required to manufacture a digital panel, displays, and banners, among others. Compared to software, the requirement for hardware is huge, and thus, the segment accounts for a large market share. Growing number of innovative display technologies such as 1080p, 4K, and 8K display is expected to further propel demand for hardware components in the foreseeable period.
Advancement in 3D technology has developed glasses-free 3D displays used in the product. Furthermore, the graphics design agencies are shifting their focus towards 3D holographic display cases. HYPERVSN, a European provider of holographic technology is providing them for numerous applications, from advertising in malls to showpieces at trade shows.
Software segment accounted for a considerable market share and is predicted to exhibit a steady CAGR over the forecast period. The services segment registers a comparatively lower demand owing to fewer maintenance and service issues occurring in product. The installation of a digital display and internet connectivity are the major services involved here. Therefore, the service offerings are quite cheaper as compared to the hardware and software requirements, leading to a lesser market share.
Application Insights
Based on application, the market is segmented into retail, hospitality, entertainment, stadiums and playground, corporate, banking, healthcare, education, and transport. Retail sector accounted for the maximum market share in 2018. It is the most prominent sector demanding digitized advertisements for marketing and promoting products and services. The competition among the retailers owing to the variety of product offerings has led to high awareness regarding effective marketing strategies. Thus, digital posters are adopted largely by the retail sector as digitized advertising is an effective way of marketing a product to attract the attention of consumers.
Banking sector is another prominent application segment for the technology, attributed to the widespread presence of banks, ATMs, and other banking facilities such as e-banking centers. The segment is anticipated to exhibit growth at a steady pace over the forecast period and should keep on contributing consistently to the global share.
The transportation sector includes the application of digitzed promotions and posters at airports, railway stations, metro stations, and bus stands. Additionally, the digital display is also extensively used on the roads over cabs, public transport buses, and other vehicles that advertise products and services. Owing to growing urbanization and development of the transportation sector in emerging countries, the advertisement industry is expected to grow, ultimately boosting the overall market.
Location Insights
Based on location, the market is categorized into in-store locations and out-store locations. In-store locations include the deployment of digital posters within closed premises such as malls, corporate offices, retail shops, banks, and healthcare centers.
In-store location accounted for the largest market share in 2018, attributed to the high demand from retail stores since the retail sector is the most promising application sector of digital displays for advertisement purposes. The segment is predicted to maintain its market position over the forecast period and exhibit growth at a considerable pace due to consistent demand.
However, the demand for out-store locations is expected to exhibit substantial growth over the forecast period. Thus, the segment is predicted to contribute significantly to the overall digital signage industry. The demand at out-store locations is expected to rise owing to the growing transportation sector in developing countries. Additionally, promotion of products effectively and on a large scale along with new trends such as election campaigns campaigning elections, introductory offers on products and services, and increasing number of live concerts and shows are likely to boost the adoption of digital posters in open premises.
Size Insights
Based on size, the market has been segregated into three segments, namely, below 32 inches, 32 to 52 inches, and above 52 inches. The market share for the 32 inches displays segment was greater in 2018 owing to the greater adoption of this type of signage in the retail sector.
Shop dimensions are one of the most important reasons for concern in retail shops. Due to the limitations of area, the adoption of smaller-sized digital advertisement is greater. Thus, the segment accounted for a healthy market share and is anticipated to lead over the forecast period.
Owing to the necessity of enhanced and enlarged advertisement content to have an impact on customers, the industry is changing considerably in terms of the size specifications and demands. The market for 32 to 52 inches digital posters is anticipated to witness the fastest growth, owing to the increasing demand from healthcare, corporate, and retail sectors.
Furthermore, the demand for more than 52 inches posters is also expected to grow notably due to the significantly expanding transportation sector and flourishing advertisement industry. In addition, increasing demand across out-store locations is again fuelling the above 52 inches segment and it is expected to exhibit a steady growth over the forecast period.
Content Category Insights
Based on content category, the market is segmented into news, weather, sports, health and wellness, and vertically-oriented content. The vertically-oriented content category mainly includes safety signs and information, corporate communication, sales dashboards, product information erected vertically, directions, and transport information across the transportation sector. The segment led with an enormous market share of more than 50.0% in 2018. This trend is anticipated to continue with the segment generating the maximum revenue over the forecast period.
Health and wellness and news are likely to account for a considerable market share as well. These segments are anticipated to witness significant growth owing to the rapidly increasing demand from healthcare and corporate sectors, where the product is extensively used for communication purposes.
Weather forecast is displayed majorly in external premises such as roads and transport facilities along with offices. Weather content segment is projected to maintain its share and generate stable revenue. The sports segment is comparatively the lowest among others as the sports content is displayed at a very few select locations such as stadiums and public playgrounds during sports tournaments.
Technology Insights
On the basis of technology, the market has been categorized into LCD, LED, and projection. LCD technology is one of the most extensively adopted technologies in the advertisement and marketing industry. Therefore, it accounted for the largest market share in 2018. The ease of producing LCDs coupled with their lower manufacturing costs are a few factors driving the extensive adoption of LCD technology in digital posters. However, LEDs have successfully made a mark as a standard product with their high-quality display. Manufacturers remain aspirant of the designing of flat-panelled, larger, brighter, and slimmer displays. LEDs are one of the successful achievements in display technology.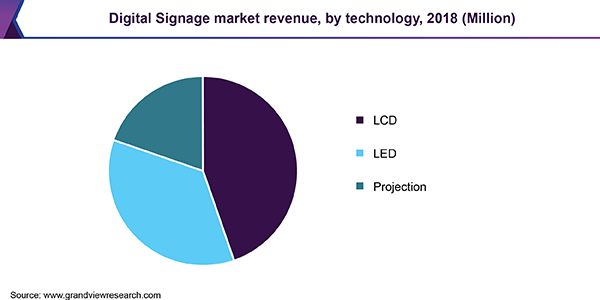 Advancements in LEDs have led to the evolution of OLED displays that are anticipated to propel the overall adoption of LEDs in displays. Superior picture quality offered by the OLED is predicted to be a prominent factor boosting the demand. However, the production costs and complicated manufacturing process, coupled with a shorter lifespan of LED displays could hamper the market growth. Leading companies including Samsung are heavily investing in R&D activities. As such, the emergence of state-of-the-art trends such as nearly bezel-less video walls, UHD, reflective displays, among others are expected to drive the growth over the forecast period.
Projection display could be a rear projection or front projection. Projection display technology is anticipated to exhibit stable adoption and grow at a steady pace over the forecast period. The technology is a bit complex in nature and difficult to install, making it less adaptive. Thus, the market share for projection technology is comparatively less, although the demand for projection technology is increasing and is expected to grow at a considerable pace.
Regional Insights
North America and Europe, together, are likely to lead the global market over the forecast period owing to the growing presence of dedicated product suppliers and rising demand from retail industry. Notably, U.K., Germany, and U.S. are projected to exhibit considerable growth primarily due to rising R&D endeavors by the product manufacturers to enhance quality coupled with government initiatives to install digital signage at various offices for maintaining continuous information flow system.
Asia Pacific is anticipated to overtake Europe, in terms of market share, by 2024 mainly owing to the growing awareness regarding benefits of digital signage. India and China are anticipated to witness significant growth primarily due to the rising application in the retail stores, corporate offices, hospitals, and hotels. Increasing disposable income has surged the visitors in malls and multiplex stores in the emerging countries from Asia Pacific. Enterprise are therefore leveraging this opportunity to promote their offerings through large displays which helps them to attract target audience in a better manner. With increasing number of shopping malls and multiplexes, adoption in the hospitality industry is expected to continue to rise over the forecast period.
Digital Signage Market Share Insights
Key market participants include Omnivex Corporation; Microsoft Corporation; KeyWest Technology, Inc.; ADFlow Networks; NEC Display Solutions, Ltd.; LG Electronics; Winmate Communication, Inc.; Panasonic Corporation; and Samsung Electronics.
Introduction of innovative solutions is anticipated to propel the business over the forecast period. For instance, Intel Corporation introduced Open Pluggable Specification (OPS) that has helped standardize the design of digitized marketing. Also, Nippon Telegraph and Telephone (NTT) Corporation, Japan, created digital signs using aroma-emitting devices. The companies, through R&D efforts and continuous innovation, are also endeavoring to develop premium quality and high-value products at an optimum cost to gain a competitive edge in the price-sensitive market.
Report Scope
Attribute

Details

Base year for estimation

2018

Actual estimates/Historical data

2014 - 2017

Forecast period

2019 - 2025

Market representation

Revenue in USD Million and CAGR from 2019 to 2025

Volume in Thousand Units from 2019 to 2025

Regional scope

North America, Europe, Asia Pacific, South America, and MEA

Country scope

U.S., Canada, Mexico, U.K., Germany, France, China, Japan, India, Brazil

Report coverage

Revenue forecast, company share, competitive landscape, growth factors, and trends

15% free customization scope(equivalent to 5 analyst working days)

If you need specific information, which is not currently within the scope of the report, we will provide it to you as a part of the customization.

Segments Covered in the Report
This report forecasts revenue growth at global, regional, and country & state levels and provides an analysis of the latest industry trends and opportunities in each of the sub-segments from 2014 to 2025. For the purpose of this study, Grand View Research has segmented the global digital signage market report based on type, component, technology, application, location, content category, size, and region:
Type Outlook (Revenue, USD Million, 2014 - 2025)

Video Walls

Video Screen

Transparent LED Screen

Digital Poster

Kiosks

Others

Component Outlook (Revenue, USD Million, 2014 - 2025)

Hardware

Software

Service

Technology Outlook (Revenue, USD Million, 2014 - 2025)

Application Outlook (Revenue, USD Million, 2014 - 2025)

Retail

Hospitality

Entertainment

Stadiums & Playgrounds

Corporate

Banking

Healthcare

Education

Transport

Location Outlook (Revenue, USD Million, 2014 - 2025)

Content Category Outlook (Revenue, USD Million, 2014 - 2025)

Size Outlook (Revenue, USD Million, 2014 - 2025)

Below 32 Inches

32 to 52 Inches

More than 52 Inches

Regional Outlook (Revenue, USD Million, 2014 - 2025)

North America

Europe

Asia Pacific

South America

Middle East & Africa