Industry Insights
Global DNA diagnostics market size was valued at USD 6,206.3 million in 2014. Major factors accounting for this growth include rising incidences of genetic, infectious, and chronic diseases, reduction in prices of genetic sequencing, growing adoption of precision medicine diagnostic techniques.
Primary revenue generating activity in the market revolves DNA profiling aimed at better understanding the predisposition for diseases and possible adverse reactions that may occur with available and/or under clinical development drugs. Rising importance of early infection detection and prevention together with growing demand for DNA tests in pharmacogenomics or cancer genetic testing is a significant factor responsible for the anticipated growth.
U.S. DNA testing market, by application, 2012 - 2022 (USD Million)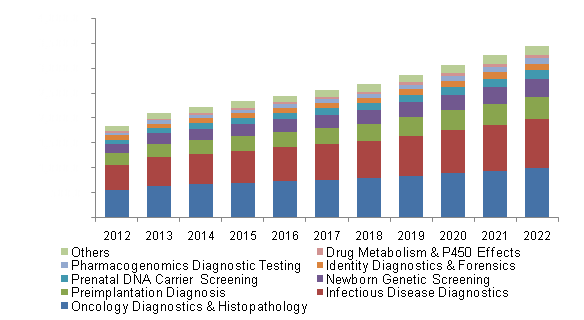 Factors such as rising implementation of personalized medicine applications to treat chronic disorders enhancing the need for HLA typing and DNA identification for therapy are expected to further add to the growing demand for DNA diagnostics. Moreover, hi-tech advancements that result into commercialization of next generation diagnostic and testing solutions making use of genetic analysis are anticipated to positively affect market growth through to 2022.
Rising demands for newborn and pre-natal screening to detect congenital abnormalities, growing application of biobanking services that involve DNA testing as a crucial step for cord blood banking are further attributive for progress in this sector. Physicians' higher inclination towards genetic testing in order to determine patient's health at different stages of disease development is another factor expected to fuel demand in the coming years.
However, high cost involved in R&D pertaining to the introduction of new techniques and their implementation is expected to hamper industry growth to certain extent. Furthermore, stringent government regulations regarding DNA prototyping as well as unclear reimbursement structure is anticipated to act as a hindrance for the entry of new market players.
Technology Insights
Technology wise, DNA diagnostics market can be categorized into microarray, PCR-based diagnostics, ISH diagnostics, and NGS DNA diagnosis.
PCR-based diagnostics accounted for the largest share of revenue in 2014 because of widespread market usage and high availability of products due to the presence of a significant number of market players in this segment.
NGS-based diagnosis is anticipated to witness considerable growth over the forecast period due to innovative and breakthrough developments. Availability of a variety of platforms for sequencing and analysis of DNA data that result in efficient, highly accurate and rapid diagnosis is attributive towards anticipated progress in this segment.
Data analysis & related services for information processing and storage of real-time data obtained from NGS also forms a considerable share of the industry owing to its skilled labor intensive nature and need for long-term data storage facilities.
Rapid DNA analysis is expected to register considerable growth in the coming years owing to the presence of advancements incorporated by prominent players in this segment.
Application Insights
DNA testing finds considerable application for pre-natal DNA carrier screening, pre-implantation diagnosis, newborn genetic screening, infectious disease diagnostics, oncology diagnostics & histopathology, identity diagnostics & forensics, pharmacogenomics diagnostic testing, and drug metabolism & p450 effects.
Use of DNA testing methods in infectious diseases diagnosis and clinical confirmation has resulted in highest revenue generation among the application segments as a number of products are available in the market for diseases such as HBV, HCV, HIV, TB, CT/NG, HPV, and MRSA.
Moreover, rising application of DNA diagnosis in chronic oncology cases and associated deformities are anticipated to drive the respective segment further during the forecast period oncology diagnostics & histopathology segment in the coming years. Application of sequencing technology for tumor detection and biomarker analysis is also expected to contribute significantly over the forecast period.
Regional Insights
North America dominated the market in 2014, with revenue generation estimated well over USD 2,600 million. The presence of sophisticated healthcare infrastructure, strong government initiatives and proactive funding for DNA testing research, and high prevalence of chronic diseases are the major drivers for industrial growth in this region.
Asia-Pacific is expected to witness lucrative growth at over 7% from 2014 to 2022 due to rising research incentives provided by the government in developing economies of this region that enable R&D and commercialization of technologically advanced products. Moreover, higher availability of target population owing to the incidence of chronic diseases in this region is also expected to supplement growth in the coming years.
Competitive Insights
Market participants present in the DNA diagnostics market are involved in R&D for the introduction of rapid DNA testing methods that provide reproducible and accurate results and aid in the diagnosis of genetic abnormalities. Furthermore, these entities are also engaged in development and updating of their databases for mining and comparison of DNA specimens to help law enforcement and solving crimes.
Notable participants in this market are GE Healthcare, 454 Life Sciences, Abbott Laboratories, Beckman Coulter Inc., Bio-Rad Laboratories, Thermo Fisher Scientific, Illumina Inc., Cephide Inc., Hologic, Transgenomic Inc., Siemens Healthcare, Roche Diagnostics, Qiagen, Illumina, Alere Inc, Affymetrix Inc., Agilent Technologies Inc., Dako, and Applied Biosystems Group.