Technological advancements on the grounds of portability, patient comfort, utilities, and cost-effectiveness is projected to fuel market growth
The durable medical equipment market was valued at USD 140.9 billion in 2015 and is expected to witness a CAGR of 6.2% over the forecast period. The prevalence of chronic conditions, such as heart disorders, cancer, gynecological disorders, and neurological disorder is on a rise. Demand of long term care and hospitalization for treatment of these disorders is anticipated to facilitate the demand for durable medical equipment. Additionally, the prevalence of cancer is rising as per the statistics published by the World Health Organization (WHO). Approximately 8.2 million die each year due to cancer, which accounts for 13.0% deaths worldwide. Hence, rising prevalence of cancer is anticipated to boost the demand for DME.
With the rising incidences of stroke, spinal cord injury, and multiple sclerosis, there is a great risk of developing paralysis. According to the report published by the Christopher & Dana Reeve Foundation Paralysis Resource Center in 2012, the leading causes for the increasing occurrence of paralysis were strokes (29%), spinal cord injuries (23%), and multiple sclerosis (17%). The paralysis patients are the key target population for DME, hence accentuating growth.
Durable Medical Equipment (DME) Market, By Region, 2014 - 2024 (USD Million)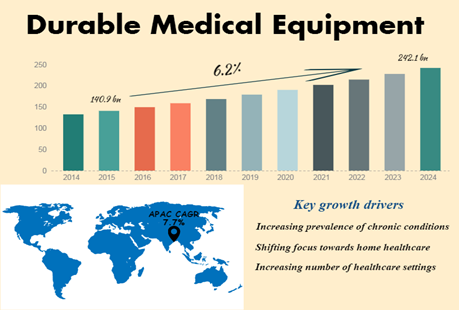 The large presence of geriatric population, with lower immunity levels is prone to neurological diseases, cardiac problems, cancer, and spinal injuries, is a high impact-rendering driver for the growth, over the forecast period. This population is expected to avail the best possible treatments, increasing the life span. Growing geriatric population is anticipated to be a high impact rendering driver for durable medical equipment market.
Implementation of strategies for reducing length of hospital stay shifts the focus to home healthcare. The increasing demand for home healthcare for post-surgical recovery and other long-term ailments is anticipated to help in reducing the length of stay. This method reduces all the hassles hospitals have to go through inpatient management and reduces the cost to the patient. Thus, the shifting focus towards home care is boosting the purchase of specialized long term care equipment, thereby helping the industry growth.
The rising number of healthcare settings, especially in developing regions is fostering the growth of DME market. For instance, in 2014, Saudi Arabia government allocated USD 28 billion in health and development sectors. Allocation of these funds is anticipated to create expansion of more than 130 hospitals and raise 17 new hospitals. In 2012, Kuwait Ministry of Health and Public Works announced a grant of USD 4.4 billion to replace and expand nine operating hospitals, which are expected to provide additional 5,400 beds, 150 operating rooms, and 500 outpatients' clinics. These expansions are expected to create avenues for the manufacturers.
The personal mobility devices spearheaded product segment in 2015
Segmentation on the basis of product includes; personal mobility devices, bathroom safety devices and medical furniture, and monitoring devices.
Personal mobility devices consisting wheelchairs, scooters walker & rollators, cranes & crutches, and door openers held substantial share in 2015. The introduction of technological advancements on the grounds of cost effectiveness patient comfort and portability is projected to fuel the growth of this segment.
Home healthcare is anticipated to exhibit lucrative growth over the forecast period.
The end-user segment consists of hospitals, nursing homes, and home healthcare. Hospitals led end-use segment in 2015, this can be attributed to high volume of patients and greater financing capabilities.
On the other hand, home healthcare is anticipated to be fastest growing segment in coming eight years. The rapidly growing demand for home healthcare services can also be attributed to the growing workforce pertaining to this field and is expected to serve as a key driver. The growth of home healthcare as a cost-effective alternative to expensive hospital stays is expected to serve as a vital driver throughout the forecast period.
North America is the largest regional market owing to well-planned reimbursement system
North America is the largest regional segment in global durable medical equipment market in 2015. Growing geriatric population well planned reimbursement network, sophisticated healthcare system, and presence of leading DME manufacturers contributed towards the growth of this region.
Asia-Pacific is expected to witness lucrative CAGR of more than 7.0% over the forecast period. Key factors attributing to substantial growth include growing R&D expenditure by the government and private agencies in order to improve diagnostic and therapeutic areas in the region. Economic development in growing countries such as India, China, and Japan coupled with favorable government initiatives pertaining to the development of healthcare infrastructure and reimbursement policies are further expected to fuel industry growth.
The DME market players are focusing on new product launches which is anticipated help in product penetration
Some of the key players for the DME market include Invacare Corporation, Sunrise Medical, ArjoHuntleigh, Hill Rom, Inc, Stryker Corporation, Medline Industries Inc., Drive Medical, GF Health Products Inc., and Carex Health Brands, Inc. New product developments, collaborations, mergers and acquisitions are the key initiatives undertaken by players in this industry.
For instance, in February 2016, ArjoHuntleigh launched a new online sling selector tool to find the most suitable solutions as per patient-specific requirements for the lift system.