Industry Insights
Global ECG equipment market was valued at over USD 4.0 billion in 2014 and is expected to witness a CAGR of over 5.9% over the next seven years. Key growth contributing factors of the ECG device market include high incidence rate of heart diseases necessitating the need for continuous monitoring, funding to hospitals to improve patient care, and industry players' focus on innovating error-free and improved workflow capabilities devices.
According to the WHO, in 2012, around 17.5 million people died due to cardiovascular diseases (CVDs) representing 31% of global deaths. In addition to this, the CDC statistics state that every year around 610,000 people die from heart diseases. The coronary heart disease alone costs over USD 109 billion every year.
U.S. ECG equipment market, by product, 2012 - 2022 (USD Million)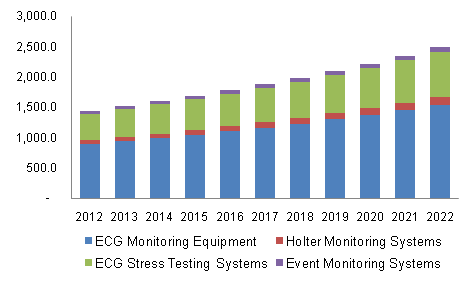 The change from acute intervention in the medical profession to preventive care has supported the growth of ECG diagnostic care market significantly. Hence, early diagnosis for targeted treatment is the need of the hour, which the ECG device can help with. In February 2015, doctors and paramedics staff in Roseville introduced a state-of-the-art 12-lead ECG, and the designed device is anticipated to save patients' time in receiving the treatment from the time he is admitted.
Apart from the shift in trend for preventive care and technology advancement, many industry players and organizations are funding in order to improve patient care through faster diagnosis. In March 2014, Excellus BlueCross BlueShield announced to grant USD 120,000 to Mohawk Valley Heart Institute to speed up diagnosis of individuals experiencing heart attacks. The funding includes seven 12-lead ECG software and modems in ambulances.
Type Insights
In terms of product, monitoring equipment dominated the ECG equipment market with revenue of over USD 2,400 million in 2014. The technological advancements with low power circuits enabled the development of better, accurate, and portable devices. Technology advancements in monitoring devices with wireless technologies, algorithms, and enhanced connectivity capabilities have increased the demand for this segment.
The monitoring devices facilitate connectivity, enabling hospital information system to be networked across various locations for real-time patient information and quick diagnosis. In April 2014, AliveCor received approval from the FDA for over-the-counter use. This customized ECG offers monitoring, data collection, and sending the data to a family doctor or buying consultation at a minimal price over USD 12.0.
In January 2014, researchers at Scripps Translational Science Institute (STSI) concluded that next level of heart rhythm monitoring was ZIO Patch. The new iRhythm technology was better than bulky holter monitoring as the data of two weeks was collected and analyzed.
Regional Insights
North America ECG device market accounted for about 42% revenue share in 2014. This is attributed to technological innovations and increased funding for researches. In August 2015, InfoBionic, the U.S. based firm along with Safeguard Scientists raised USD 8 million to commercialize Mome Kardia. Mome Kardia is a remote patient monitoring system based on cloud technology that can be worn around the neck.
Moreover, industry players in North America are expanding their presence in other developing nations to capture major market share. For instance, in October 2015, iNeedMD Holdings, Inc. signed a distribution agreement with Clifton Africa Ltd. The one-year distribution agreement is worth USD 1.5 million.
Europe follows North America owing to the technological breakthrough such as insertable cardiac monitors. In February 2014, Medtronic launched its FDA approved Reveal LINQ. The upgraded version of Reveal XT offers patient heart monitoring for three years with 20% more data memory than its previous version.
Asia-Pacific is expected to witness the fastest growth with a CAGR of 7.3% from 2015 to 2022. Aging population and increasing incidences of cardiovascular diseases across Asia are the major reasons for the booming industry. In September 2015, Miracor Medical launched PiCSO Impulse System in Asia with distribution support from Medical Technology Est.
Competitive Insights
Key players with significant ECG equipment market share include GE Healthcare, Philips Healthcare, Schiller AG, Nihon Kohden, CardioComm Solutions, Inc., and Johnson & Johnson. In May 2015, CardioComm Solutions, Inc. launched HeartCheck PEN. This Bluetooth wireless connectivity pen could be connected to data acquisition with Android and Apple smartphones. In addition, in March 2015, Philips launched Efficia ECG100, a cost-effective cardiograph that helps in improving patient care and reducing healthcare costs. Technological advancements along with a shift in trend for preventive care are expected to make this industry lucrative over the forecast period.