Industry Insights
Global electrolytic manganese dioxide market size was estimated at 202.7 kilo tons in 2014. Growing battery demand, particularly in emerging countries such as India, China, and Vietnam, is expected to drive EMD market growth. It is utilized in electrodes that are essential components of batteries. EMD is used in electrodes for alkaline, lithium ion, and zinc carbon batteries. Lithium ion batteries are observed to offer extended duration of power storage and are used in portable consumer instruments including iPods, calculators, artificial pacemakers, digital diaries, and wrist & stop watches, and toys.
U.S. electrolytic manganese dioxide market revenue estimates and forecast, by application, 2012-2022 (USD Million)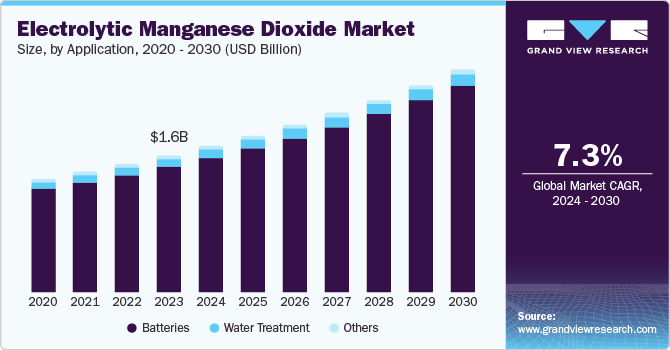 The U.S. mineral policy promotes the development of private sectors for mineral extraction and processing in the region. Favorable legislative norms are expected to drive the domestic production and further reduce reliance on imported minerals. Technological innovations could lead to cost-effective production and boost monetization of such initiatives. Increasing electric vehicle (EV) demand is anticipated to have a positive effect on the EMD industry growth over the forecast period. EV industry is characterized by increasing acceptance of electric and hybrid vehicles coupled with government incentives for EV technology promotion.
Overdependence on Asian imports primarily sourced from China has led to various antidumping and increasing export duty in mature economies including the U.S. The industry is experiencing an oversupply scenario, which has led to a closure of various manganese mines. Companies such as Delta EMD have already announced to discontinue operations from 2016. Aforementioned factors are anticipated to hinder EMD industry growth over next seven years.
Application Insights
Batteries were the largest application segment and accounted for over 90% of volume share in 2014 and are expected to grow at a CAGR of 5.1% from 2015 to 2022. North America electrolytic manganese dioxide market is anticipated to witness rapid growth over the forecast period on account of growing battery demand in electric vehicles. Increasing battery demand in emerging economies such as India, and China is anticipated to drive the global EMD market in near future.
The alkaline batteries have witnessed increasing demand over past few years. These are the most widely used battery types with major consumption in the U.S., UK, and Switzerland. These batteries have the highest market penetration. Alkaline batteries are designed for long-lasting performance and can be used in electronic products such as remote controls, clocks, and radios.
High run-time makes these batteries ideal for digital cameras; hand held games and MP3 players. Alkaline batteries are observed to offer more energy and lesser chances of electrolyte leakage. The Wind and solar power systems require batteries with high energy density for charging during low power consumption and for discharging during peak energy demand.
Lithium ion batteries are estimated to be the fastest growing battery systems used in high-energy density and light weight applications such as notebook computers and cellular phones. Growing EV and electric components industry can be attributed to increasing battery demand over past few years.
Water treatment accounted for over 6% of total revenue share in 2014 and is expected to grow at a CAGR of 5% in terms of value over next seven years. EMD is employed in electrodes for water treatment plants as it separates out the waste from the water. Growing water treatment industry, particularly in Asia Pacific, is anticipated to drive demand over the foreseeable future.
Regional Insights
North America dominated the global industry, accounting for over 40% of total volume share in 2014. The market in the region is anticipated to lose share on account of growing demand in Asia Pacific region. EMD is majorly employed in cathodes of batteries for power production. Growing primary and secondary battery demand particularly for electric vehicles in the region is anticipated to drive industry growth over the forecast period.
Asia Pacific accounted for over 30% of global revenue share in 2014 and is expected to witness the highest growth over the forecast period on account of rising demand in battery application along with high potential in the rechargeable segment. Growing primary battery demand in electronic products is anticipated to drive industry penetration in the region over the next seven years.
China was the largest EMD producer and exporter in 2014 and accounted for over 90% of the total share in terms of capacity. Growing primary and secondary battery manufacturing industries in the nation is expected to drive industry growth over the forecast period.
India is anticipated to be the fastest growing region in Asia Pacific, owing to rising consumption in battery segment. Favorable government initiatives including the 'Make in India' and easing FDI flow in various industrial sectors is expected to provide lucrative opportunities for industry participants for future investments.
Competitive Insights
Global EMD market in 2014 experienced a flat volume and falling price due to fierce competition despite reduced international Mn ore price. Electrolytic manganese dioxide market is highly fragmented in nature. Top six companies including Xiangtan Electrochemical Scientific Ltd., ERACHEM Comilog, Tosoh Corporation, Delta EMD Ltd., and Cegasa, Tronox Ltd. accounted for over 50% of the total market revenue share in 2014.
Xiangtan Electrochemical Scientific Ltd. captured over 12% of the total industry in 2014. Xiangtan Electrochemical was the first company to initiate domestic production and replace imported battery grade EMDs. Technological innovations undertaken by the company include adopting titanium anode, developing Hg-free alkaline battery grade EMD and utilizing low-grade manganese carbonate as raw material. The company has adopted various strategies in capacity expansion and product lines for enhancing its position in industry.
Other companies including Tosoh and ERACHEM are also involved in enhancing the production capabilities and new product development to increase their global reach. Some of the key strategies employed by other companies include M&A, diversification, and divestment.