Industry Insights
The global electronic adhesives market size was estimated at USD 3.28 billion in 2014. Soldering systems are substituted by electronic adhesives owing to enhanced conductive and thermal properties. Rising importance of compact devices such as CDs, flash drives, and communication drives are anticipated to drive specialty coating materials demand.
Miniaturization of electronics is expected to drive the industry growth over the foreseeable future. The trend to replace PCBs with multi-chip modules is a major factor driving product demand. PCBs are laminated plastic boards that utilized these adhesives in bonding conformal coatings, surface-mount components, wire tacking and encapsulating components.
U.S. electronic adhesives market revenue by product, 2012 - 2022 (USD Million)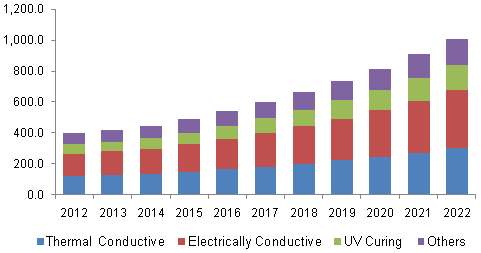 Innovative semiconductor technologies used in industrial and consumer applications is anticipated to have a favorable impact and increase product application scope. Major applications of solid state devices include information processing devices that comprise lighting & displays and smart cards based on LEDs and OLEDs.
High installation costs for laminating & packaging machinery and product assembly are expected to hinder electronic adhesives industry growth. Rising R&D investments regarding microelectronic devices are expected to create new avenues for future development. Development of microelectronic systems such as chemical detectors, explosive detectors, flexible sensors, and imaging devices can be used for detecting security threats.
Product Insights
Electrical conductive adhesives products consumed 448.5 kilo tons of the global demand in 2014. These are considered as a replacement for traditional tin-lead solders. Cost effectiveness and better efficiency are the primary factors that are expected to drive the product demand over the forecast period.
Thermal conductive adhesives containing silicone, epoxy or acrylics generated revenue worth USD 1,001.2 million in 2014. The product is anticipated to witness average growth over the next seven years on account of rising demand from numerous applications including power semiconductors and chip scale packaging.
UV curing adhesives are anticipated to be the fastest growing product segment over the next seven years on account of rising demand for medical devices. This particular segment is expected to growth at a CAGR of over 12% from 2015 to 2022.
Application Insights
Surface mount devices were the largest application and generated revenue worth USD 1,329.8 million in 2014. This is anticipated to be the fastest growing application segment over the forecast period. Rising electronics manufacturing capabilities in Europe and Asia Pacific is expected to drive this segment growth over the forecast period.
Conformal coatings accounted for over 24% of the global market share and are anticipated to witness stagnant growth rate over the forecast period. The high requirement for protecting circuit boards from corrosion and abrasion is a major factor contributing demand in the segment. These coatings also provide significant protection from external stress which is also estimated to enhance product penetration.
Potting and encapsulation are anticipated to witness rapid growth over the forecast period owing to the significant requirement in applications including relays, automotive power trains, and fly-back transformers. Technological advancements coupled with increasing demand for consumer electronics including mobile phones and video games have furthered industry penetration in this segment.
Regional Insights
Asia Pacific was the largest regional consumer owing to large scale manufacturing of surface mount devices and conformal coatings. This trend is anticipated to continue over the forecast period owing to growing electronics sector in economies such as India, China, Taiwan and South Korea. India and China dominate electronic adhesive production. The regional market generated revenue worth USD 1,670.8 million in 2014.
Europe accounted for over 25% of the global share in 2014. MEA and North America markets are estimated to witness stagnant demand owing to declining downstream demand. Central & South America is anticipated to grow significantly on account of favorable government policies to increase electronics production in countries such as Brazil and Mexico.
Competitive Insights
Henkel AG & Co, Dow Chemicals, and Hitachi Chemicals dominated the global electronic adhesives market share accounting for over 50% of overall demand in 2014. Other companies operating in the industry include HB Fuller, Kyocera Chemical Corp, 3M Company, Mitsui Chemicals LG Chemical Limited, and Indium Corporation.
Major companies are investing heavily in product development and enhancing distribution efficiency. Companies are also involved in M&A and strategic collaborations with biotechnology companies to venture into sustainable product innovation.