Industry Insights
The global ENT devices market size was valued at USD 15,704.0 million in 2014 and is expected to grow at a CAGR of 5.0% over the forecast period. Rising life expectancy due to, the presence of sophisticated healthcare infrastructure and rising disposable income levels has led to a rapid growth in the geriatric population base thereby, triggering growth in target disease incidence rates. Growing prevalence of aging-related disorders such as hearing loss and decrease in functioning levels of ear, nose, and throat, is expected to drive the ENT devices industry over the forecast period.
U.S. ENT devices market, by product, 2012 - 2022 (USD Million)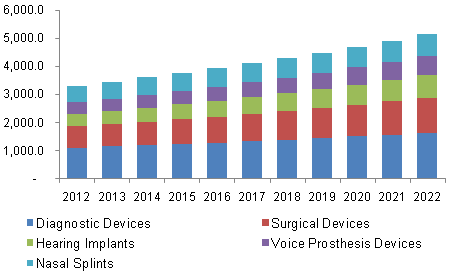 The increase in age also leads to decrease in immunity levels making people more prone to infections such as a sore throat due to streptococcus infection. According to the Action on Hearing Loss Information, over 10 million people in the UK or one out of every six persons suffered from hearing loss. Out of these, 6.4 million people belonged to the age group of 65, and above and 800,000 million people suffered from profound or severe deafness.
Rising levels of healthcare awareness among healthcare professionals and patients, increasing adoption rates of hearing aids and impairments due to the development of aesthetic products and growing trend for nasal correction procedures are expected to boost the growth of the market over the forecast period. Technological advancements and the adoption of user-friendly material in manufacturing are some other factors likely to boost the ENT devices industry growth over the forecast period.
Product Insights
Product segments analyzed in this market include diagnostic devices, ENT surgical equipment, hearing aids, hearing implants, voice prosthesis equipment, and nasal splints. In 2014, hearing aids accounted for the largest share at over USD 5.0 billion. Growing prevalence of hearing disability and hearing loss which warrants the use of the latest technology to enable audiologists to better understand and treat these disorders and the introduction of technologically advanced and user-friendly devices are the factors attributing for its high share.
Hearing implants is expected to grow at the fastest rate over the forecast period due to the introduction of technological advancements, rising awareness among the target customer base, and improved healthcare infrastructure in developing economies. For instance, CS10 manufactured by Sound World Solutions is integrated with Bluetooth and iPhone and is designed to amplify sound for nonhearing impaired consumers via its customization app. It is used to provide the users enhanced listening experience when using the device during business meetings, phone calls, family gatherings, movies, and in theaters and while watching television. Provox 2 by Atos Medical Inc and Bloomsinger advantage by Inhealth Technologies are new advanced indwelling patient-friendly voice prosthesis equipment added by the companies to their wide range of voice reconstruction equipment.
Regional Insights
North America ENT devices market was the largest with revenues estimated at over USD 4.0 billion in 2014. The market is driven by the presence of sophisticated healthcare infrastructure, favorable government initiatives, and presence of high awareness levels of patients and practitioners. Europe also enjoys a high degree of product penetration especially, in segments such as hearing aids owing to, the presence of high patient awareness levels and sophisticated healthcare infrastructure.
Asia Pacific market is expected to grow at the fastest CAGR of 6.5% during the forecast period due to the presence of target disease population, expansion of distribution network of key market players in this area, increasing concern among people for ear, nose, and throat disorders and rising level of disposable income.
Major international brands such as Widex and Belton are setting up their retail stores in India due to increasing purchasing power of the patients and the number of retail chains in India and China. The prices of ear, nose, and throat medical equipment are expected to reduce in near future and thus, leading to an increase in the adoption of such products.
Competitive Market Share Insights
Companies dominating ENT devices market share include Sonova Holding AG, William Demant Holding A/S, Widex A/S, Siemens Healthcare, Cochlear Limited, Starkey Laboratories Inc., Rion Co., Ltd., Welch Allyn, GN ReSound A/S, and Atos Medical AB.
The introduction of technologically advanced medical equipment, such as Phonak Audeo V by Sonova, bone-anchored hearing aids (BAHA) by Nobel Biocare, and micro hand instruments by Stema Medizin are expected to fuel ear, nose, and throat (ENT) market growth. This industry provides a wide scope for development of safe, user-friendly, and cost-effective treatment options to the patients.