Industry Insights
Enteral feeding refers to the delivery of nutrients directly to the stomach via the use of a feeding tube. Enteral feeding is administered to patients who cannot eat normally owing to diseases such as oral cancer, gastrointestinal injuries, and disorders etc. The growing global geriatric population base and growing prevalence of chronic diseases such as diabetes, severe pancreatitis, and other gastrointestinal diseases and increasing incidences of preterm births are some of the factors expected to drive market growth over the next six years. Aging heightens a patient's susceptibility towards Parkinson's disease and other nervous disorders. With the global percentage of population over the age of 65 years expected to grow from 7% in 2000 to 16% by 2050, enteral feeding devices are expected to witness increased penetration over the forecast period. Furthermore, the growing prevalence of patients with diabetes mellitus requiring enteral nutrition is expected to have a positive impact on the market. The global enteral feeding devices market was valued at USD 1,813.7 million in 2013 and is expected to grow at a CAGR of 6.0% during the forecast period to reach USD 2,720.8 million by 2020. Unmet medical needs in emerging markets such as Brazil, India and China and the introduction of new products enabled with technological advancements are expected to serve this market as future growth opportunities.
Product Insights
The overall enteral feeding devices market is categorized into six product segments namely giving sets, enteral feeding pumps, gastrostomy tubes, low profile gastrostomy devices, percutaneous endoscopic gastrostomy devices and nasogastric tubes. The enteral feeding pump dominated the market in terms of share in 2013 at over 60% majorly on account of its high usage rates in developed regions such as North America and Western Europe.
Enteral Feeding Devices market revenue share by product, 2012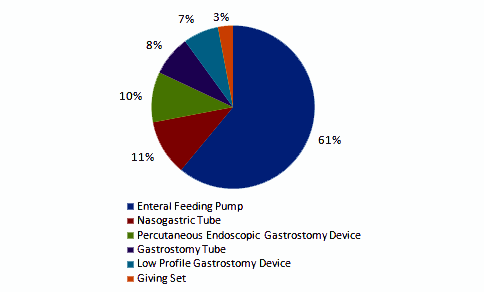 Moreover, the enteral feeding pumps segment was followed by nasogastric tubes in terms of revenue share and its global market was valued at USD 196.6 million in 2013. These tubes are used in a medical procedure called nasogastric tubation, which involves the use of a tube for enteral feeding or nutrition via the nasal route.
Regional Insights
Key regions accounted for in this study include North America, Europe, Asia-Pacific and RoW. Europe held the largest share of the market in 2013 at approximately 35.0%. The presence of a large geriatric population base especially in the Western European region, growing prevalence of pre-term births and the introduction of industry-friendly regulations such as the implementation of ISO standards for small bore connectors are some of the major drivers of this market. However, the Asia-Pacific enteral feeding devices market is expected to grow at the fastest CAGR of 6.7% from 2014 to 2020 owing to drivers such as the presence of high unmet medical needs in emerging markets with constantly improving healthcare infrastructure and healthcare expenditures such as India and China. In addition, the presence of a large geriatric population base in Japan is expected to elevate the demand for enteral feeding devices in this region.
Competitive Insights
The global enteral feeding devices market is oligopolistic in nature with four major players namely Abbott Nutrition, Nestle, Danone and Fresenius accounting for over 75% of the revenue share. Product innovation, development of technological advancements and the entry into emerging Asian and Latin American markets in an attempt to capitalize on the untapped opportunities are two of the primary growth and sustainability strategies adopted by the market players. Abbott Nutrition dominated the market in terms of revenue share in 2013 at over 30.0%. Some of the other players of this market include Kimberly-Clark Corporation, Conmed Corporation, Covidien Plc, Cook Medical, Amsino International Inc., Boston Scientific Corporation, Moog Inc. and others.