Report Overview
The global ethyl levulinate market value was USD 8.8 million in 2014 and is projected to grow at a CAGR of 3.6% from 2015 to 2022. Increasing R&D investments aimed at developing potential ethyl levulinate applications is expected to create ample opportunities for industry participants.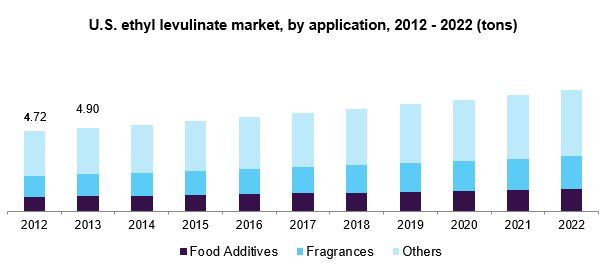 Ethyl levulinate is derived from the esterification of ethanol with levulinic acid, which is a versatile building block for various chemical manufacturing. Increasing demand for bio-based solvents among the manufacturers is expected to widen the scope for market over the next seven years. Favorable regulatory framework and multiple R&D initiatives are expected to benefit the overall demand in the near future.
In addition, ethyl levulinate applications such as fragrance and food flavors have witnessed a positive trend in the recent past and are projected to continue over the next few years. Such positive growth can be attributed to factors such as rising disposable income and shifting consumer trends for these applications, particularly in the emerging economies.
Prolonged exposure to ethyl levulinate may cause lung damage, eye irritation, coma, narcosis, dizziness and behavioral changes. Such negative effects expose the industry to multiple regulations, thus hindering demand growth in the long run. Moreover, major raw materials such as levulinic acid are considered costly when used in the commercial market. This may impose a significant threat to industry participants. Research initiatives to develop cheaper raw materials are projected to aid the market over the next seven years.
Recent technological advancements show that ethyl levulinate can also be produced directly from furfuryl alcohol derived from biomass using eco-friendly solid catalysts. Technological initiatives are being taken to use ethyl levulinate as a 100% biodegradable neat fuel in the near future. Such niche applications are anticipated to benefit the overall market over the next seven years.
Ethyl levulinate market is still in its nascent stage and is characterized by a positive outlook over the next few years owing to multiple application opportunities across diverse industries. As the market develops and attains maturity, product cost will decrease due to factors such as commercialization of cheaper raw materials, economically feasible production methods, economies of scale attained by manufacturers and wider acceptability across multiple industries.
Moreover, changing consumer preferences towards bio-based products has raised demand for ethyl levulinate raw materials such as levulinic acid and furfuryl alcohol. Levulinic acid used for producing ethyl levulinate has been recently adopted by agricultural industry owing to applications in pesticides coupled with fertilizers. However, ethyl levulinate has been considered a hazardous substance under OSHA 29 CFR 1910.1200. Such regulations are presumed to negatively impact the market demand for ethyl levulinate over the forecast period.
Application Insights
Major applications include food additive and fragrances. Other applications include kerosene replacement in gas turbines, resins, plasticizers, research projects and diesel miscible fuels. Ethyl levulinate consumption by research lab and institutions as laboratory chemicals dominated the global demand in the recent past and is projected to continue this trend in the near future.
Multiple research initiatives are aimed at developing novel applications and are projected to offer significant opportunities for growth & development. Strong demand for applications such as fragrance and food additives are presumed to play a key role in shaping the global market over the forecast period.
Other applications such as research applications, resins and plasticizer are expected to witness a rapid growth in the near future. Massive research initiatives taken by the regional governments and industry participants are projected to positively impact the global market by developing novel applications and cheaper raw materials. Growing demand for food additives particularly in the developing regions are presumed to assist the global market in the near future.
Regional Insights
Asia Pacific ethyl levulinate market dominated the global industry and accounted for over 30% in 2014. The region is expected to maintain the same trends over the forecast period. Robust demand from food additive and fragrance industries, particularly in emerging countries such as India and China, is expected to significantly complement demand growth in these regions. Economies such as China, Brazil and India are presumed to lead their respective regional markets.
In North America, strong growth from end-use industries such as fragrance is presumed to positively impact the regional market in the near future. Increasing research initiatives taken by both government and industry participants is expected to play a critical role in shaping the future regional market.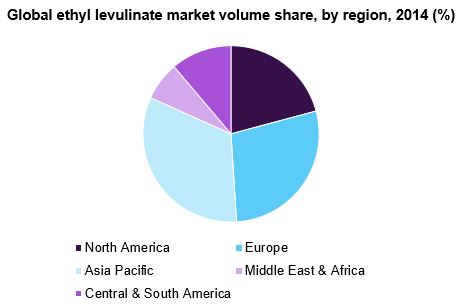 Central & South America and the Middle East & Africa are characterized by key trends such rising disposable income, increasing population and shift in consumer preferences towards fragrances & premium food products resulting from changing lifestyles. These factors are expected to critically affect the regional demand and in turn, impact the regional as well as global market over the forecast period.
Ethyl levulinate Market Share Insights
Global market is characterized by few manufacturers and displays oligopolistic nature. Potential applications such as biodiesel additive is projected to critically influence the market. Manufacturers are focused on developing novel applications and cost-efficient raw material procurement.
Major companies include Oakwood Products Inc., Tokyo Industry Co., Ltd., Alfa Aesar, Sigma-Aldrich Corporation, Ventos, Vigon International, Perfumer's World Ltd, Penta Manufacturing Company, M&U International, Lluch Essence S.L, Indukern Flavor & Fragrance Ingredients Division, Fleurchem Inc., Elan Incorporated, CTC Organics, Berje, Inc, Bedoukian Research and Advanced Biotech Inc.
Ethyl Levulinate Market Report Scope
| | |
| --- | --- |
| Report Attribute | Details |
| Market size value in 2019 | USD 10.5 million |
| Revenue forecast in 2022 | USD 11.8 million |
| Growth Rate | CAGR of 3.6% from 2019 to 2022 |
| Base year for estimation | 2018 |
| Historical data | 2013 - 2017 |
| Forecast period | 2019 - 2022 |
| Quantitative units | Revenue in USD million and CAGR from 2019 to 2022 |
| Report coverage | Revenue forecast, company ranking, competitive landscape, growth factors, and trends |
| Segments covered | Application, region |
| Regional scope | North America; Europe; Asia Pacific, Central & South America, Middle East & Africa |
| Country scope | U.S., Germany, France, U.K., China; India; Brazil; UAE |
| Key companies profiled | Oakwood Products Inc., Tokyo Industry Co., Ltd., Alfa Aesar, Sigma-Aldrich Corporation, Ventos, Vigon International, Perfumer's World Ltd, Penta Manufacturing Company, M&U International, Lluch Essence S.L, Indukern Flavor & Fragrance Ingredients Division, Fleurchem Inc., Elan Incorporated, CTC Organics, Berje, Inc, Bedoukian Research and Advanced Biotech Inc. |
| Customization scope | Free report customization (equivalent up to 8 analysts working days) with purchase. Addition or alteration to country, regional & segment scope. |
| Pricing and purchase options | Avail customized purchase options to meet your exact research needs. Explore purchase options |
Frequently Asked Questions About This Report