Industry Insights
Europe aerosol container market size was USD 1,043.5 million in 2014. Increasing demand for these products owing to its superior barriers properties which protect the product from UV radiation in medical, personal care and food products is likely to increase market share. Also, increasing use of metal products primarily from personal care sector is expected to be a key driver for Europe aerosol container market growth.
Aluminum, steel, PEN, ABS, HDPE, and silica are key raw materials used for manufacturing of aerosol container for its application in various end-use industries. Metals are extensively used owing to their properties such as high resistance to UV light and durability. In addition, it can also be molded, printed and shaped according to the specification of the manufacturer; thus, demand is expected to witness positive growth over the projected period.
Growing demand for personal care products in emerging economies such as Thailand, India and Brazil is expected to have a positive impact on Europe aerosol container production, since it is the largest exporter of aerosol containers in terms of volume. Furthermore, the presence of large FMCG multinational corporations in the regions is expected to drive demand over the next seven years.
Europe aerosol container market revenue, by product, 2012-2022 (USD Million)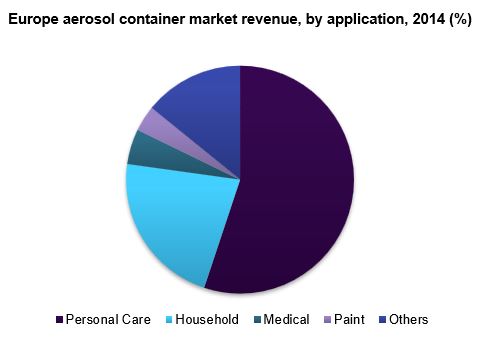 Product Insights
Metal was the largest product segment and is expected to witness significant growth, growing at a CAGR of over 3.5% from 2015 to 2022. Raw materials such as aluminum and tin steel are increasingly being used owning to the superior barrier properties and light weight design. Furthermore, these can be printed and molded in a variety of design forms without compromising on its structural integrity is likely to promote Europe aerosol container market growth.
The plastic segment was valued at over USD 8.0 million in 2014. Rising use of plastics containers in personal care and food packaging owing to its low cost is expected to fuel demand. Furthermore, growing use of bio-PET in manufacturing these products is expected to have a positive impact on market growth owing to lower environmental impact
Application Insights
Aerosol containers used for personal care product packaging in Europe was valued at over USD 500 million in 2014. The increasing use of the product in manufacturing antiperspirants, hairsprays, after shaves, deodorants, and other cosmetics products is expected to propel demand over the forecast period. In addition, use of these products in personal care applications in U.K., Germany, and France owing to extensive use by working population is expected to contribute to market growth in personal care applications.
Medical application is expected to witness the fastest growth among other applications, growing at a CAGR of over 5.0% from 2015 to 2022. Growing use of aerosol in pressurized metered-dose inhalers (pMDIs) for asthma inhalation is expected to play an important role in increasing market penetration. Furthermore, environmental benefits associated with the use of glass container, since it can be recycled endlessly without losing its purity and quality is likely to propel demand over the next seven years.
Country Insights
The UK was the largest aerosol container manufacturer, accounting for over 25% of regional volume in 2014. Growing consumer awareness regarding benefits of the aerosol container coupled with increasing application scope in end-use industries including personal care, household, food & beverage, and pharmaceuticals is expected to propel production volumes over the forecast period. Rising demand for these products owing to their light weight and corrosion resistance properties is expected to propel demand over the forecast period.
Germany demand was valued at over USD 200.0 million and is anticipated to witness significant growth owing to the rising demand for personal care and household sector. The presence of large FMCG companies such as Beiersdorf and Reckitt Benckiser in the region is expected to have a positive impact towards market growth. Furthermore, growing industrialization is Germany coupled with rising pharmaceutical research by companies is likely to open new avenues for aerosol container demand, which in turn is expected to propel production over the next seven years.
France accounted for over 12.0% of the global volume share in 2014. Rising concerns regarding personal care and hygiene have led to increased demand for personal care products in the economy. Sluggish demand from pharmaceutical industry due to rising use of generic medicines is expected to restrict product market over the forecast period. France is a major producer of paints and has been exporting to economies including Poland, Turkey, and Russia. In addition, rising demand for paint from various applications, especially construction, is expected to propel ultimately production of aerosol containers in the region.
Competitive Market Share Insights
Key market participants include Ardagh Group S.A., TUBEX Holding GmbH, Nussbaum Matzingen AG, Perfektup Amb.San.ve Tic.A.S., Ball Corporation, Redalluminio snc di Redaelli P. e C., Plastipak Holdings, Inc., Crown Holdings Inc., Alltub Italia S.R.L. and Arnest Group. Companies such as TUBEX Holding GmbH Ball Aerocan, Alltub and Ardagh with their brands Febreze "Vanilla", Paco Rabanne, Wellaflex, Febreze Coastal escape, FA Men Xtreme and Nivea – Styling mousse, respectively use aluminum containers extensively in personal care and household products.