Industry Insights
The Europe industrial air filtration market is expected to be primarily driven by the enforcement of occupational health and safety regulations. Favorable government regulations create and drive the demand for products that help limit emissions. The IPPC Directive, also known as the industrial emissions directive aims at creating a level playing field in the industrial air filtration industry.
Europe industrial air filtration market by product (USD Million), 2012 - 2020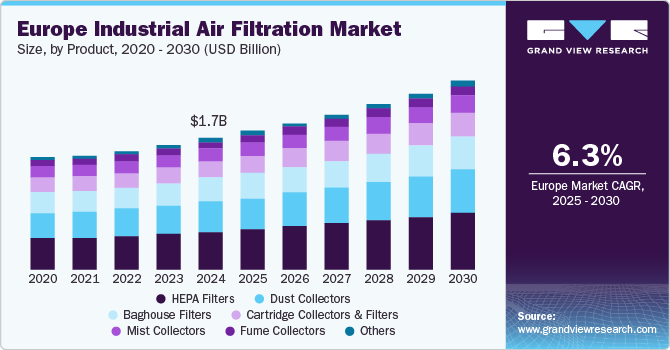 Surging demand for products that deliver high-performance and improved efficiency, while at the same time reduce energy consumption, is also expected to favorably impact the market over the forecast period. Furthermore, resource scarcity, growing environmental awareness, rapid urbanization and changing demographics are also expected to fuel market demand. High-efficiency is a key requirement for any industrial air filtration system. Additionally, filter media performance is also crucial in any industrial air filtration system, and therefore, manufacturers emphasize on developing more efficient solutions without compromising on other filtration requirements.
The emergence of new raw materials including, small fibers coupled with advancements in the non-woven technology offers avenues for the market growth over the forecast period. Manufacturers focus on R&D initiatives so as to innovate in the field of nanotechnology and small fibers. Relocation of numerous European heavy industries to Eastern European regions offers significant opportunities to the EU companies to export their technologies.
Industrial air filtration systems are technically complex devices and mainly rely on complex mechanisms in order to perform their function efficiently. Several new technologies are employed in an effort to enhance the performance and quality of industrial air filtration systems and in a few cases to reduce the product cost. The most notable areas wherein technological advancements are pursued include reduction of biological contaminants in the filter media and reduction in pressure drop.
Product Insights
Industrial air filtration products encompass High-Efficiency-Particulate Air (HEPA), dust collectors, mist collectors, baghouse filters and cartridge filters. HEPA filters exhibit high efficiency and are widely used to control microbes and allergens in healthcare facilities, laboratories, and manufacturing facilities. ULPA filters are typically used in the microelectronics manufacturing industry. HEPA and ULPA filtration systems utilize low-efficiency filters as pre-filters so as to capture particulates before the air reaches final filtration stage, which enables improved filter life.
Application Insights
The industrial air filtration market is also expected to witness growth owing to increasing demand across several industries including power, cement, pharmaceutical, metal, etc. The power sector, particularly nuclear industry plays a pivotal role in power generation and defense power. Air filtration is the main component for nuclear installations such as power generation units, nuclear energy research facilities, fuel processing installations and waste management. In addition, growing demand for industrial air filtration systems owing to stringent environmental norms demands responsibility from operators in terms of reducing radioactive pollution.
Industrial air filtration systems are being adopted across several application areas owing to stringent government regulations and the need to achieve energy efficiency. Air filtration systems remove a variety of contaminants from an airborne environment. The effectiveness of a particular filtration system depends upon the nature of the contaminant. Further, the type of filtration system to be used depends on the suitability of application.
Regional Insights
Germany accounted for a considerable share of the market in 2013. HEPA filters are expected to witness growth in the regional market over the forecast period. Italy and the UK are also expected to contribute to market growth over the next few years. This can be attributed to high demand across application areas.
Competitive Insights
The Europe industrial air filtration market is highly competitive with a few key players including Donaldson, Clarcor Inc, Camfil, etc. New product development and innovations to achieve energy efficiency across industries is expected to be a core business strategy. Manufacturers are increasingly reshaping their global manufacturing footprint, by taking measures such as low-cost off-shore production and a change in sourcing strategies. On account of which companies are increasingly shifting their manufacturing operations in Eastern Europe, including Slovakia, the Czech Republic, and Poland. The aforementioned locations benefit significantly owing to their proximity to the markets in Austria and Germany.