Industry Insights
Europe oilfield equipment market size was valued at USD 16.39 billion in 2014. Growing crude demand has been prompting exploration & production companies in Europe to get involved in extensive drilling activities in onshore and offshore locations. Rising number of crude field production in the region owing to deep water discoveries in the North Sea is expected to drive overall demand over the forecast period.
Manufacturing companies have been shifting their focus on developing a complete solution for crude producers to maximize their revenues and gain the competitive advantage over other industry participants. In addition, companies have been extensively involved in R&D to develop shale gas extraction technologies owing to decreasing production from fields.
Declining crude prices in the recent years have drastically impacted Europe oilfield equipment and service market. In 2015, there was around more than 4.7% decline in global machinery revenues. Lower prices are forcing its producers to shut their short-term projects and focus only on long term projects. This is resulting into fall in machinery demand.
In addition, offshore drilling contractors in Europe have started cutting costs and are reducing new capacity additions to minimize their losses. Equipment rental industry participants including Transocean are either accepting rig prices quoted by the buyer or postponing the deliveries in order to overcome the losses caused owing to decreasing crude prices.
UK oilfield equipment market revenue by product, 2012-2022 (USD Million)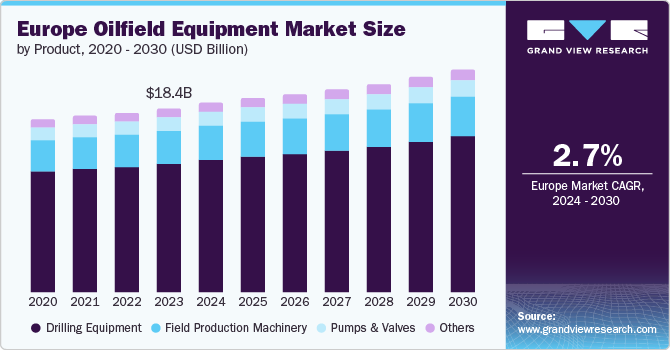 All these factors are resulting in fall in machinery revenues. According to industry professionals, crude prices are expected to recover after 2017 which also means machinery revenues are expected to drive after a period of two years. But as crude price fluctuations are difficult to predict, it is difficult to anticipate its impact on equipment revenues over the forecast period.
Product Insights
Drilling equipment segment possesses the highest market penetration and is on the high growth rate-high penetration side as piercing fields require a maximum number of machines including rigs, bits, and pipes which are extremely expensive in nature. Therefore, the segment generated maximum revenues as compared to other segments.
The market is expected to continue its dominance over the forecast period on account of energy development activities in Norway, Russia, and the UK. In addition, directional & horizontal drilling technology is expected to maximize further profits.
European government initiatives to develop shale gas in the region are expected to drive further drilling equipment market segment over the forecast period. Field production machinery segment is expected to grow at lower CAGR over the forecast period owing to less technological advancement in the segment.
The machinery includes lifting device and well heads. Pumps and valves segment is expected to grow at a medium CAGR of 1.5% from 2015 to 2022. Technological advancement in the segment is expected to emerge as a major market driver.
Others segment is expected to witness high growth as the segment consists of well surveying devices and machinery. The segment is expected to grow at significant rates owing to enhancing downhole and wire line measurement techniques.
Regional Insights
Russia was the leading market on account of the highest number of oilfield development activities. The country is one of the major crude producers in the world. In 2014, Russian Federation produced around 10,838 thousand barrels of oil per day according to BP statistics.
As oil production activities are directly proportional to field machines demand, the country covered maximum share in the overall market. This trend is expected to continue over the forecast period.
Norway is expected to grow at the highest CAGR owing to growing offshore field development activities on account of the presence of North Sea. UK is also expected to grow at high CAGR and generate significant revenues owing to increasing offshore activities as compared to onshore.
Competitive Insights
Major industry participants manufacturers based in Europe include Zenith Oilfield Technology, SBS Oilfield Equipment GmbH, Atlas Copco, Schoeller-Bleckmann Oilfield Technology GmbH, Foster Wheeler AG, KSB AG, Sandvik AB, Vallourec, Sulzer Limited, Technip SA, and Tenaris SA.
There is a high degree of integration by Aker Solutions which is specialized in manufacturing, distributing and energy business. Europe is continuously working on strengthening its distribution network within the region as well as outside the region.
A Large number of rental companies is based in Europe, which includes Transocean. The company is a major rig rental supplier which provides rigs to energy producers on a rental basis.