Industry Insights
The global fire safety equipment market size was valued at USD 22.37 billion in 2014. Favorable government regulations influencing the usage of these devices are estimated to drive demand over the forecast period. The industry is saturated in nature due to the presence of several mandatory applications and ongoing projects across the commercial and industrial sector.
Implementation of building safety codes and renovation activities against fire protection is estimated to positively influence industry growth. For instance, the Code of Design for Building Fire Protection & Prevention in China forms a part of the National building standards. These standards are developed by the state agencies with the help of municipal agencies and designers, which are expected to play a crucial role in boosting the market growth.
U.S. fire safety equipment market share by solution, 2012 – 2022 (USD Million)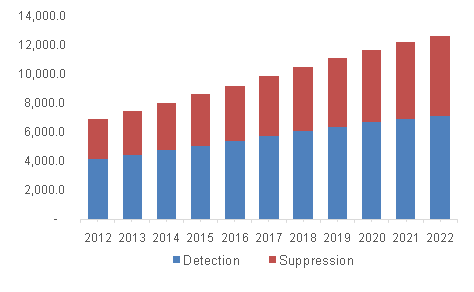 Growing awareness in combating fire hazards improved HMI solutions along with substantial growth in building of infrastructure is projected to offer lucrative growth opportunities for the industry.
Organizations across the globe are increasingly spending for safety & security of infrastructure and reducing human losses. However, high initial investment for equipment installation coupled with increasing replacement &maintenance services is projected to curb industry growth.
U.S. fire safety equipment market share by solution, 2012 – 2022 (USD Million)
Solution Insights
The industry can be categorized on the basis of solution into detection and suppression. Detection devices accounted for over 60% of the revenue share in 2014 and is estimated to maintain its dominance over the forecast period.
An increasing number of manufacturing activities across developing regions such as China, Middle East & Africa are estimated to drive demand for suppression solutions over the next seven years. Advances in technology including water mist technology, wireless alarm systems, smoke detectors and the increasing integration of fire detection into building management is expected to provide momentum for the market over the forecast period.
Legislative requirements from different countries including National Fire Protection Association, USA and Building Code of Australia have mandated the installation of detection devices thereby boosting the demand for these devices.
Product Insights
The fire detection market can be classified into detectors and alarms. Detectors include heat, smoke, and flame. Smoke detectors accounted for over 50% of the detectors share in 2014. Stringent juridical requirements by different countries such as Building Code of Australia and National Fire Protection Association (NFPA) have mandated the installation of detection devices, thereby leading to their increased adoption in commercial buildings.
The fire suppression equipment market has been further classified into extinguishers and sprinklers. Fire extinguisher safety equipment accounted for over 60% of the suppression revenue share in 2014. It comprises a gas, water, and dry chemical powder extinguishers.Stringent regulations enforced by safety authorities demanding a certain number of extinguishers to be deployed across commercial, industrial and residential sectors is estimated to increase demand.
Fire sprinklers industry amounted for over USD 3 billion in 2014 and is expected to stimulate industry development. These products help in reducing the emission of greenhouse gasses from buildings and also reduces the usage of water by rescue services to control fire.
Application Insights
Application sectors analyzed in the study include industrial, commercial and residential sectors. The industrial segment comprises of oil & gas, manufacturing, transportation, and energy & power sectors. It accounted for over 45% of the overall revenue share in 2014.
Fire-prone sectors including oil & gas, manufacturing, energy & power emphasize on the installation of full proof protection and prevention systems, further driving demand across the industrial sector. Growing demand for encouraging safety environment in the potentially dangerous industry is anticipated to boost the demand globally.
Commercial sector includes healthcare, institutional, retail, BFSI, government, telecom & IT and hospitality. Sectors such as retail & healthcare are offering prominent opportunities for the equipment manufactures to penetrate across these sectors. The major reason driving demand across the commercial applications such as hospitals, institutions & government offices is the formulation of stringent norms by the government for the installation of protection equipment across buildings.
Regional Insights
North America fire safety equipment market accounted for over 40% of the global revenue share in 2014. Stringent government regulations coupled with a high degree of awareness among the owners regarding health and safety is estimated to fuel demand.
Residential construction is estimated to grow substantially across Europe owing to new building start-ups and improved consumer confidence, thereby driving demand across this region.
Asia Pacific fire safety equipment demand was valued at over USD 3.0 billion in 2014 and is anticipated to witness significant growth owing to the rising demand in building the infrastructures led by South Korea, China, and Australia.
Increasing awareness among the population for security, fire safety and asset management is expected to drive demand across the region. The industry is estimated to witness significant growth across China owing to the government requirements of state-owned enterprises for operating more efficiently from a financial perspective, continued privatization of the construction industry and increased health and safety regulations.
Competitive Market Share Insights
Key industry participants include Gentex Corporation, Halma PLC, Hochiki Corporation, Honeywell International, Inc., Johnson Controls, RobertBosch GMBH, Siemens AG, TYCO, and United Technologies Corporation (UTC). Vendors are focusing on modernization and revamping of equipment for enhanced safety.
Other potential players include Cooper Wheelock, Napco Security Technologies, Nittan Company Ltd, and Space Age Electronics.