Industry Insights
Technological improvements and increasing use in application segments is expected to drive the flow sensors market over the forecast period. Flow sensors enable to measure liquid and gas flow quality. Technologies such as ultrasonic, thermal, and coriolis are expected to gradually replace traditional flow sensors over the next six years. These sensors have evolved in reliability, sensitivity, versatility, and compactness owing to enhanced application needs.
Global Flow Sensors Market by application, 2012 – 2020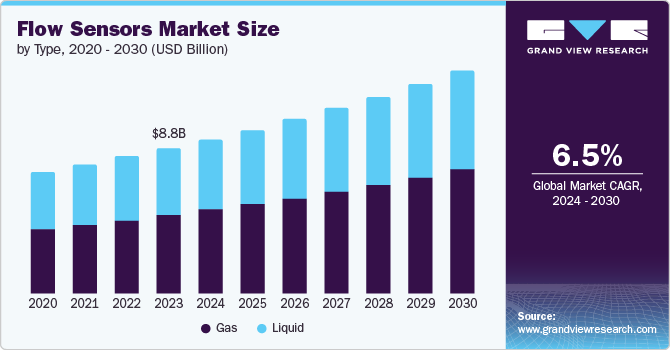 Increasing demand for smart flow sensors, which have two-way communication and self-diagnosis capabilities are expected to favor market growth. Additionally, the introduction of microcontroller based sensors has also provided new avenues for market growth. The flow sensors market is highly competitive and price sensitive, which may hinder market growth over the forecast period. Timely supply of raw materials and other equipment is a crucial factor for market growth.
Application Insights
Flow sensors have considerable demand in various applications such as automotive, environmental, consumer electronics, process industries, and medical. The automotive flow sensors market is expected to witness growth over the forecast period. They are used for secondary air injection control, engine control, and exhaust gas recirculation, etc. Additionally, they are also used in automobile HVAC application, electronic engine immobilizers, and fuel cells. Process industries are expected to be the key application segment over the forecast period. This consists of power, energy, food processing, and mining. Flow sensors are increasingly used in the oil & gas industry, chemical plants, pulp & paper industry, and water treatment plants, etc. Process industries need rugged and robust sensors as they are used in harsh environments. Additionally, there is also increasing demand for multi-phase sensors in the oil & gas industry. The quest for alternate and new energy sources is also expected to contribute to the oil & gas industry. They are also used in medical processes such as respiratory applications, inhalers, maintaining blood flow and anesthesia machines, etc. In artificial ventilation, continuous monitoring of gas flow and volume is crucial to delivering precise amount of gas to a patient with the aim to reduce risks.
Regional Insights
Asia Pacific is expected to be the key regional market over the forecast period owing to emerging markets such as China, India, and Japan, etc. Europe is expected to grow slower than the overall market owing to stagnant economic growth. Developed markets are expected to invest in new technologies, which can measure gas and liquid flow with more efficiency and accuracy.
Flow Sensors Market Share Insights
Key market players include Analog Devices, ABB, Delphi Automotive, Siemens AG, Freescale Semiconductor, Honeywell International, and Siemens AG. Analog Devices Inc. offers both analog & digital flow sensors and serves a wide range of industries including automotive, communication, consumer electronics, medical and industrial, etc. Honeywell International offers a wide range of flow sensors with advanced chip design, microstructure technology, and manufacturing techniques. They also offer sensors with low power consumption, enhanced response time, and a variety of port styles to provide greater application flexibility.
Obtaining raw materials and parts of sufficient quality in a timely manner and necessary quantities are critical for market participants. Therefore, they select reliable suppliers. However, supply limits or issues could arise owing to major supply chain disruption such as an accident or any natural disaster. In such cases, changing suppliers, switching to different parts or securing additional suppliers may have a negative impact on the player's financial condition and operating results.