Industry Insights
Fluorotelomers are primarily fluorocarbon based telomers or oligomers, manufactured by telomerization. Fluorotelomers find applications in fire fighting foams, food packaging, stain resistance, and textiles. Fluorotelomers are also applied to food contact papers to enable them to be resistant to absorbing oil from fatty or fried foods. Fluorotelomer coatings find uses in microwave bags, fast food packaging, confectionery and box packaging. The global market for fluorotelomers is still perceived to be at a nascent stage with the significant untapped potential to be unlocked, especially in substitution applications for other fluorochemical compounds. In terms of environmental impact, fluorotelomer products are non-toxic, do not bio-accumulate in animals, do not concentrate up the food chain, and in general are not harmful to organisms. In terms of degradations fluorotelomers do not break down to PFOS (Perfluorooctanyl Sulphonate) but rather into fluorotelomer sulphonate which although is persistent, it is neither bio-accumulative nor toxic in nature. Fluorotelomer demand is expected to be driven by growing demand from application markets including fire-fighting foams and textiles, coupled with a favorable regulatory scenario, encouraging the replacement of harmful fluorocarbons.
Product Insights
Key fluorotelomer products include fluorotelomer alcohols, acrylates, iodides among others. Fluorotelomer alcohols, such as dominated the global market, accounting for over 32% of total volume demand in 2013.
Fluorotelomer market volume share, by product, 2013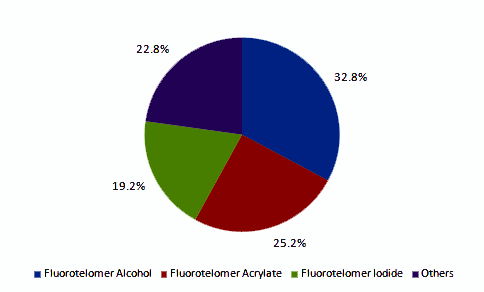 Fluorotelomer iodides such as TEAC 4, TEAC 6 and TEMAC 6 are expected to be the fastest growing segment over the next six years.
Application Insights
Major fluorotelomer applications include fire fighting foams, food packaging, stain-resistant, and textiles. Foams and textiles dominated the global market, accounting for over 67% of the total fluorotelomer demand in 2013. Increasing textile applications for fluorotelomers are expected to present industry participants with significant opportunities over the next six years and expected to grow at a brisk rate. Other emerging fluorotelomer applications include metal plating industry, paper for glossy magazines, photographic industry and semi-conductors which are presently the subject of R&D.
Regional Insights
North America and Asia Pacific dominated fluorotelomer consumption, accounting for over 68% of global volume in 2013. With leading position in the manufacturing of textiles, carpets, and surfactants, Asia Pacific is expected to be the fastest growing market for fluorotelomers, at an estimated CAGR of 12.9% from 2014 to 2020.
Competitive Insights
The global fluorotelomer market is highly regularized and technology centric. DuPont dominates the market, being a pioneer for fluorotelomer technology. Other notable companies operating in this market include Fluoryx Inc., Wilshire Technologies, Fluorous Technologies Inc. and TCI Chemicals.