Industry Insights
The global flush mount photo album market size was valued at USD 3.35 billion in 2014. The market is poised for high growth throughout the forecast period on account of growing preference towards theme-based weddings and increased demand for photojournalism.
The value chain comprises members such as online ordering and layout customization platform providers, raw material suppliers, album producers, and professional photographic service providers. Creativity, aesthetics, marketing strategies, innovation, and craftsmanship enhance the value associated with the end-deliverable by each player.
The growing trend among newly married couples and professionals for contemporary, stylish, and fashionable demonstration purpose is envisioned to drive industry growth over the forecast period. Weddings have now become an opportunity for young and newly married couples to express their self, longing, and dreams. They attempt to imprint their personality and imagination on their wedding albums.
Very often, friends and family are dispersed all across the globe, deeming it infeasible for them to view wedding pictures. In such cases, e-albums hold an upper hand over traditional as they help in creating the same experience, albeit in the virtual world. Although e-albums are not expected to replace traditional products; they can pose a considerable challenge to market growth.
The flush mount photo album growth is largely driven by proliferation of computerized layout design. Emerging contemporary trends such as matted albums with borders of each page are expected to increase industry growth. The freedom and flexibility offered by these products associated with design, such as multiple images on a page, larger photographs, computer-aided graphically designed pages, and added design elements such as texts or monograms are presumed to drive market growth.
North America flush mount photo album market revenue by end-use, 2012-2022, (USD Million)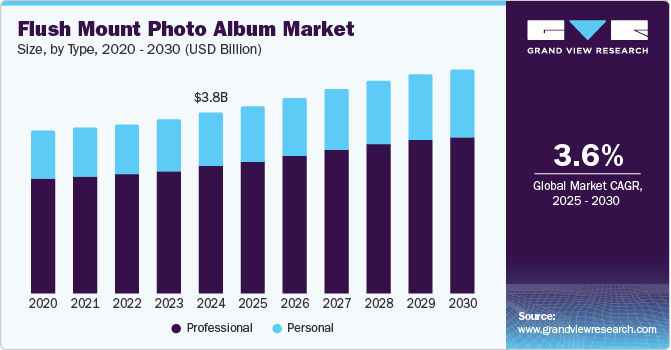 Additionally, the benefits associated with custom flush mount albums, such as unbendable thick pages, choice of paper finishes, binding in real leather and cover materials, magazine style design, and variety of sizes are expected to increase market demand over the next seven years.
End-use Insights
Although these albums were traditionally available only with professional photographers and graphic designers, customers have started making their own albums to reduce costs and choose their own layouts, thereby opening new avenues for market growth. Professional end use is expected to remain the leading platform over the next seven years, accounting for over 65% of the overall market in 2014.
The flush mount photo album market growth is largely driven by proliferation of computerized layout design. Contemporary trends, such as matted and flush with the borders of each page are expected to increase industry growth. The possibility to combine pictures and texts and magazine-style graphical design on the computer makes these a preferred choice for narrating stories.
Regional Insights
A sizeable amount of sales is expected to originate from the Indian and Chinese markets, where a considerable budget is dedicated solely to wedding-related expenses. Flush mount albums represent a relatively untapped segment in these regions and possess substantial growth potential.
Asia Pacific is anticipated to surface as a profitable region for this market. Around 1.5 million photos are clicked in India in approximately 12,000 wedding ceremonies ensuing in the country every day. All these wedding ceremonies have tremendous potential to derive demand for multiple albums and associated merchandise.
Contemporary culture of theme weddings has revealed new outlooks for those associated with the wedding industry. Weddings in India have become more organized over the time with dynamic business segments getting involved in it. Wedding ceremonies thereby are bound to emerge as a lucrative segment for all the stakeholders thus engaged in it including the photo album merchants.
Competitive Market Share Insights
Majority of players in the market offer products and services to both end-use individuals and professionals. Many companies such as Nations Photo Lab, Advanced Photo Lab, Asuka Book, Midwest Photographic Resource Center, and WHCC provide different services and products for its professional customers. These companies follow a differentiated pricing strategy for wholesale and bulk purchasing for professional customers.