Industry Insights
Global furfural solvent market size was USD 59.9 million in 2014. The industry is characterized by rising preference for biodegradable solvents in petroleum refining & butadiene extraction applications.
Technological advancements have paved the way for innovative solvents produced from renewable agricultural by-products such as furfural, which in turn has generated higher demand for non-toxic, low VOC (volatile organic compound) content products in several end-use industries.
The introduction of furfural solvents into agricultural formulations has revolutionized pesticides, fungicides, herbicides, and other synthetic chemical compounds, replacing environmentally detrimental products and boosting consumer safety and health as well.
These solvents have also found their way into other applications including paints & coatings, pharmaceuticals, textiles, resins, and metals owing to their high compatibility, versatile nature, non-toxic &biodegradable nature. Furfural by itself is used as a solvent, along with several of its derivatives such as tetrahydrofuran (THF), methyltetrahydrofuran (MeTHF), tetrahydrofurfuryl alcohol (THFA) and furfuryl alcohol as well.
U.S. furfural solvent market revenue by application, 2012-2022, (USD Million)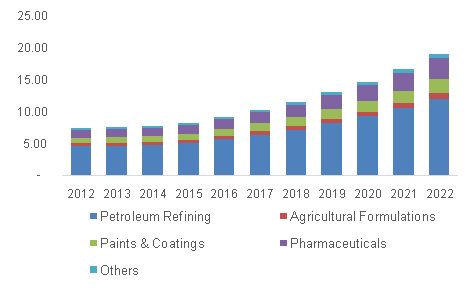 Furfural is primarily manufactured using agricultural wastage, such as sugarcane bagasse and corn cobs, which are rich in pentosan sugars. These products are often derived as a direct result of grain milling & processing, which are later hydrolyzed by strong mineral acids such as sulfuric or phosphoric acid.
However, the yield from conventional processing technologies such as the Quaker Oats process is extremely low- below 50%, leading to high market prices despite low raw material costs. Furfural as a solvent is also subject to legislations & regulations by agencies such as the European Commission, REACH, and ECHA regarding its usage in lubricant refining, pharmaceuticals, and even agriculture.
Another major factor influencing production landscape is the availability of corn and other agricultural commodities since most of these products are increasingly being utilized for biofuel production. Hindrances in terms of raw material procurement shall also influence pricing trend over the future.
China is likely to remain the dominant producer and consumer in solvent applications, owing to tremendous capacity and expanding end-use industries. However, developed regions such as Europe and North America are also likely to generate high demand on account of regulatory pressure encouraging the application of bio-based and renewable chemicals in several industries.
Application Insights
Major application segments for furfural solvent include petroleum refining, agricultural formulations, paints & coatings, and pharmaceuticals. Globally, petroleum refining occupied the largest market share among all applications. It is particularly used in lubricating oils and butadiene extraction in petroleum refineries and accounted for over 57% of the overall volume in 2014.
Increasing demand for bio-based solvents in numerous drug formulations, medicinal intermediates, and even for cleaning medical devices & equipment is likely to boost product demand in this sector. Pharmaceuticals are very likely to emerge as another fast-growing segment with CAGR of 17.2%.
Other niche segments are increasingly utilizing furfural solvents owing to its low toxicity, high compatibility & heat resistance, and biodegradability. The growth of major end-use industries in emerging economies such as China, India & Brazil, coupled with increasing sustainability concerns is likely to drive product demand in numerous applications.
Regional Insights
On the basis of regions, the report segments global industry into North America, Western Europe, Central & Eastern Europe, China, Rest of Asia Pacific, and Rest of the World. China emerged as the leading market and accounted for nearly 65% of the overall volume in 2014. Positive outlook on petrochemicals, paints & coatings, and pharmaceutical sectors shall drive China growth.
North America and Western Europe collectively accounted for over 16% of the overall volume in 2014. These regions are characterized by high demand in pharmaceuticals, agricultural formulations, and petroleum refining. Standardized environmental norms, particularly restricting usage of hazardous chemicals, in these regions shall also provide growth impetus.
India and Southeast Asia markets are also expected to register above average growth rates mainly due to rapidly growing pharmaceutical, chemicals, and related end-use industries. Excluding China, Rest of Asia Pacific currently accounts for approximately 10% of the overall market share and is expected to grow at a CAGR of 17.6% over the forecast period.
Competitive Insights
The global industry is characterized by increasing technological innovations to improve yield, such as the development of cellulosic ethanol production technology by the University of Pennsylvania. Strategic alliances, process improvisation, pricing, and value chain integration are other vital factors that determine competitiveness among companies.
Key companies operating in the global market include Transfurans Chemicals, Harborchem (Illovo Sugar Ltd.), Teijing North Furfural Co., Goodrich Sugar & Chemical Ltd., and Alchem Chemical Co., Linzi Organic Chemical Inc., Xing Tai Chunlei Furfural Alcohol Ltd., Penn Specialty Chemicals, BASF, The Good Scents Co. and Furfural Espanol S.A.