Industry Insights
The global gamma oryzanol market size was 11.5 kilotons in 2014. The industry is anticipated to witness significant growth in near future on account of increasing product demand across various application industries including sports & dietary supplement, cosmetics, pharmaceuticals, and animal feed.
Widespread acceptance of nutritional food products coupled with increased consumer awareness regarding natural ingredients is anticipated to steer industry penetration over the forecast period. This can be attributed to health benefits associated with rice bran oil that forms an essential natural source for gamma oryzanol.
Sports nutrition products play an important role in athletes' diet as it enhances their muscle growth and physical performance. Regular intake of a balanced diet comprised of carbohydrates and nutrients forms an essential part of athlete training. Sports supplements that enhance body endurance and increase muscle mass for intensified strength training are expected to gain significance over the forecast period.
U.S. gamma oryzanol market volume by application, 2012 - 2022 (Tons)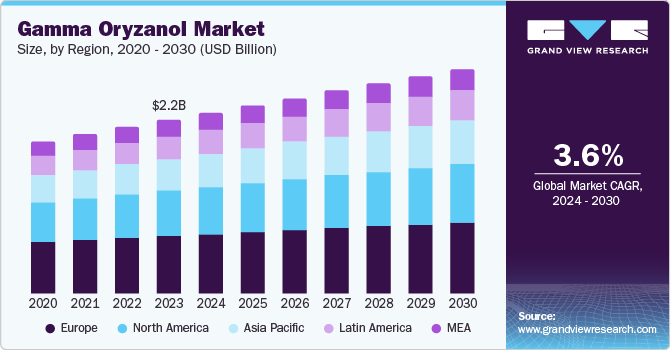 Increasing participation in recreational activities is expected to drive market penetration of sports supplements over the forecast period. Favorable initiatives such as athletic scholarship and membership schemes are further estimated to drive youth participation in physical activities.
Gamma oryzanol contains ferulic acid that stimulates hormone function and enhances muscle growth in the body. Increasing consumer awareness towards sports supplements and their associated benefits are expected to drive product demand over the forecast period. Growing consumer responsiveness towards adequate nutrient intake is anticipated to play a significant role in driving industry growth over the next six years.
Side effects of over dosage have urged regulatory agencies such as the U.S. FDA and EU to revise their standards for food supplements. The Dietary Supplement Health and Education Act of 1994 (DSHEA), under the FDA standard 21 CFR Part 111, defines and regulates the use and manufacture of dietary supplements. Stringent regulations regarding product registration and laboratory environment for manufacturing to improve product quality are expected to increase production costs. Another factor contributing to high cost is the low yield from rice bran oil.
Various rice bran oil manufacturers have collaborated with R&D centers and universities for conducting research on potential application scope and enhancing yield rate of gamma oryzanol. Increasing R&D spending for developing new applications and minimize production cost is expected to have a positive influence over the next seven years. Recent innovations to enhance yield rate of gamma oryzanol are estimated to drive further investments in R&D initiatives and offer ample opportunity for new entrants.
Application Insights
Sports supplement was the leading gamma oryzanol application segment with a net demand of over 4,970 tons in 2014. Increasing consumer awareness towards health benefits associated with supplements is expected to play a significant role in industry growth. Shifting preferences towards lifestyle management, weight reduction, and wellbeing has urged consumers to include these supplements in their food routine.
Gamma oryzanol holds immense potential, particularly in the cosmetic and pharmaceutical sectors. The industry is expected to witness the highest growth in the cosmetic sector. Increasing concern towards aging skin symptoms including wrinkles, depigmentation, and adverse impacts of ultraviolet rays are expected to drive gamma oryzanol market growth in the cosmetic segment over the forecast period.
Another major application includes feed for horses and dogs. Increased participation in racing events has urged the requirement of horses with enhanced muscle and bone strength. Surging feed additives demand that enhance lean body mass and muscle performance in horses is expected to drive the product demand in the animal feed industry over the next seven years.
Regional Insights
Europe gamma oryzanol market dominated the global industry and accounted for over 30% of total volume in 2014. Countries including the UK and Germany are anticipated to dominate the product demand in the regional market. Shifting consumer preference towards sports supplements and convenient lifestyle is expected to drive penetration in the region over the forecast period.
Asia Pacific is estimated to witness exponential growth in terms of market penetration over the next seven years. The regional industry is estimated to grow at an estimated CAGR of 5.8% in terms of value from 2015 to 2022. Major end-use industries including sports supplement and animal feed additives are shifting their manufacturing base to countries such as India, China, Thailand, and Vietnam, owing to low labor costs.
Central & South America and the Middle East are niche markets with significantly low demand projections in 2014. Central & South America gamma oryzanol market is anticipated to witness above average growth on account of significant developments in the animal feed and sports supplement industries. Additionally, growing consumer disposable incomes in economies including Brazil and Argentina are expected to drive nutraceuticals demand over the forecast period.
Competitive Insights
The majority of the manufacturers are concentrated in the Asia Pacific and Europe. This can be attributed to technological know-how along with the easy availability of rice bran oil in these regions. Key industry participants operating in the global gamma oryzanol market include Oryza Oil & Fat Chemical Co., Ltd., KangCare Bioindustry, Lamotte Oils, Tsuno Rice, Xi'an Realin Biotechnology, Jining Ankang Pharmaceutical, Honson Pharmatech Group, Shanghai Freemen LLC, Chromadex Inc., and Sunrise Nutrachem Group Co. Ltd.
Integrating rice bran oil production with downstream derivatives including oryzanol has been observed as one of the major strategies adopted by these players. Another factor contributing to industry competitiveness includes long-term partnerships with end-use sectors to achieve high-level product differentiation and cater to the niche industry segments.