Industry Insights
The global cancer genomics market size was valued at USD 9,216 million in 2014 and is expected to grow at CAGR of 17.3% over the forecast period. Growing demand for diagnostics coupled with availability of technologically advanced and cost-efficient diagnostic technology is expected to fuel the market growth in the coming years.
U.S. genomics in cancer care market share, by technology, 2012-2022 (USD Million)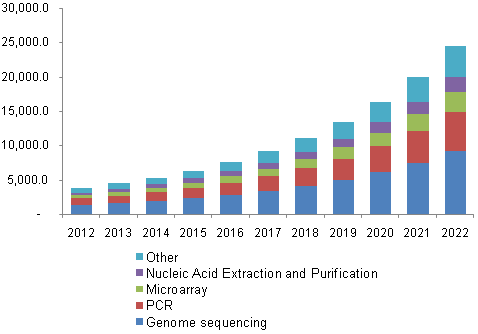 Rising investments in the biotech & pharmaceutical industry and increasing R&D activities for the development of novel treatment therapies are the factors attributing to the growth of genomics in the cancer care market. In addition, growing demand for personalized medicine is expected to drive the demand over the forecast period.
Technology Insights
The genomics in cancer care market is segmented on the basis of technology into genome sequencing, polymerase chain reaction (PCR), microarray, nucleic acid extraction & purification and other technology including bioinformatics & flow cytometry. Genome sequencing dominated the overall market in terms of revenue share at over 24.1% in 2014, owing to associated benefits such as accurate diagnosis and effective results. For example, cancer whole genome sequencing helps in discovery of novel cancer-associated variants, such as single nucleotide variants (SNVs), structural variants, and copy number changes. It also helps in comparing normal & tumor DNA.
It is expected to be the fastest-growing segment due to extensive utilization in diagnostics and rising awareness pertaining to technological advancements in genomics. It is observed that results obtained through genome sequencing are 95% accurate. Growing demand for rapid, cost-effective, flexible, and high through output technique is expected to increase the penetration rate for genomics.
PCR and microarrays are also expected to show positive growth in the coming years owing to increasing biotechnological applications in diagnostics and introduction of technologically advanced instruments for performing these processes. The convergence of breakthroughs in genomics, and the development of microarray devices to measure an analyte in the body tissues and blood, is anticipated to present this segment with future growth opportunities.
Products Insights
Product segment includes consumables, instruments, and services. The instrument market dominated the overall industry in 2014 in terms of revenue share at over 33.4% as they are an indispensable component in cancer treatment. Technological advancements such as digitalization of PCR instruments, advanced sequencer & analyzers for cancer genotyping are the factors contributing towards the segment growth.
Increasing demand for consumables used in cancer genomics such as sample preparation kits, reagents, and biomarkers is the factor responsible for the fastest growth of it in the coming years. The consumables segment is expected to gain a market share of 42.0% in 2022 due to its wide applications in cancer management.

Services offered by genomic companies are cancer risk assessment, genetic susceptibility testing, genetic counseling, and others. The segment is anticipated to grow exponentially over the forecast period due to increasing patient's awareness pertaining to the availability of diagnostic & treatment options.
Application Insights
It is most commonly used for cancer diagnostics. The increasing prevalence of cancer and rising demand for rapid, accurate, and sensitive molecular diagnostic techniques are factors anticipating this market growth. According to the data published by WHO, it has been estimated that in 2012, worldwide cancer incidences (cases per year) were nearly 14.1 Million, which includes 7.4 million male and 6.7 million female patients. Furthermore, the world Age-Standardized (AS) incidence rate shows that there are nearly 205 new cases for every 100,000 men in the world, and 165 for every 100,000 females. The aforementioned factors are expected to propel growth.
End-use Insights
Genomics used for research studies, academic research, clinical procedures, and hospitals. As of 2014, the research segment held the largest market share of 34.1% due to wide applications in the detection, and increasing demand for accurate diagnostics. Increasing demand for tumor profiling for patients is anticipated to drive market growth over the forecast period. Advancements in screening techniques enable accurate disease prognosis and stratification for appropriate treatment, which is expected to further augment growth opportunities for this segment.
Regional Insights
North America dominated the overall industry in terms of revenue in 2014 at over 33.6%. A higher level of awareness pertaining to cancer genomics and growing biotechnology industry are the factors attributing to the largest market share of this region. Asia-Pacific, on the other hand, is expected to register considerable growth over the forecast period due to the flourishing genomics market coupled with the presence of untapped opportunities, government support and continuously developing healthcare infrastructure.
Competitive Market Share Insights
Some key players of this industry include Illumina, Inc, Affymetrix, Agilent Technologies, Roche Diagnostics, Cancer Genetics Inc., Beckman Coulter Inc., Bio-Rad Labs, Danaher Corporation, Sigma Aldrich Corporation, Pacific Biosciences, Quest Diagnostics, Luminex, Abbott Molecular Oxford Gene Technology., PerkinElmer, Qiagen, GE Healthcare and Thermo Fisher scientific. The market is competitive in nature and companies are following strategies such as collaborative agreements and mergers and acquisitions to gain a competitive advantage over the competition.