"Higher thermal stability of CMC is expected to trigger the demand over the forecast period"
The global ceramic matrix composites (CMC) market size exceeded USD 1.80 billion in 2015 and is projected to witness significant market growth. High temperature stability in addition to lower weight and high strength has increased the product popularity.
High electrical conductivity and thermal stability have made these composites very useful in various electronic and thermal management applications where high efficiency is required. Applications such as electronics, thermal management, aerospace, and defense are also utilizing ceramic compounds for improved performance and sturdy structures.
U.S. Ceramic Matrix Composites (CMC) Market Revenue By Product, 2014-2024 (USD Million)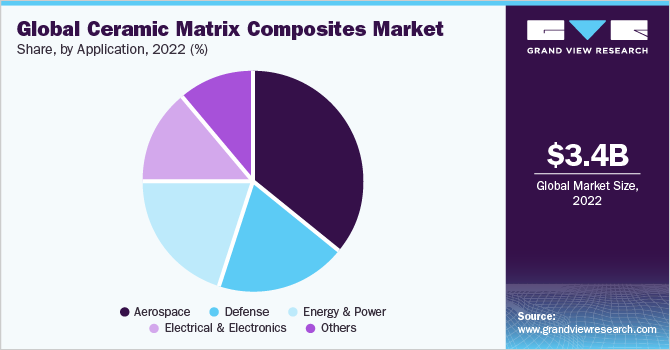 Ceramic matrix compounds are anticipated to replace conventional alloys and other metal components as they can function with little or no cooling due to their higher thermal stability. Exorbitant demand from aerospace industry is expected to propel the ceramic matrix composites market.
The cost of these composites greatly influences by the cost of ceramic fibers. Unlike carbon fibers, wherein mass production has led to decrease in prices in case of carbon matrix compounds, the production volumes of silicon carbide and alumina are still small, and only a few key players in the Europe and North America dominate the market. The production being energy intensive adds up to the high raw material prices, thus increasing the overall price.
High prices limit their applications to niche segments. They are mostly used in aerospace, defense and electrical & electronics and thermal management applications. Various multinational companies are investing in the developing regions to cater to the increasing need for these compounds from different applications.
GE Aviation, one of the largest manufacturers of jet and marine engines has invested in the development of ceramic matrix composites for manufacturing of aircraft engines. Efficient and profitable processes will play a fundamental role in the standardization of these components for serial production. Further, key players in the industry will also focus on the cost efficient generation of the matrix, which currently requires costly batch processes at high temperatures.
"Oxide composites expected to gain popularity owing to no oxidation at high temperature, high fracturing toughness, and low-cost production process"
Silicon carbide matrix composites are estimated to dominate the global ceramic matrix composites market with a demand of 1,020.1 kilotons in 2015. SiC compounds are commercially developed, and their higher oxidation resistance than carbon matrix composites have made them attractive for aerospace applications.
Oxide matrix composite has been the most recent development. Improved properties of oxide compounds such as no oxidation, high fracturing toughness in addition to the less expensive production process are expected to trigger its demand for aerospace, defense, and energy & power applications. Oxide matrix compounds are supposed to have the fastest growth over the forecast period.
"High temperature stability and better thermal shock resistance will probably trigger CMC demand for aircraft component production"
Aerospace was the major application industry with demand valued at USD 773.6 million in 2015. Excellent properties such as dynamic load resistance, high temperature stability, greater flexibility, good thermal shock resistance are expected to drive their demand for manufacturing aircraft components.
Energy and power are projected to emerge as the fastest growing application segment for CMC materials. Ceramic compounds, owing to their high temperature stability coupled with greater oxidation resistance and ability to withstand radiation, makes it suitable for fission as well as fusion type nuclear reactors.
Defense segment is another application industry which is expected to have remarkable demand for CMCs in upcoming years. Excellent impact strength coupled with high thermal stability makes these composites suitable for manufacturing bulletproof armor and insulations in small arms weapons platforms.
"High penetration in aerospace and defense sectors is responsible for North American market development"
North America ceramic matrix composites market led the global industry on account of their high penetration in aerospace and defense sectors. The growth in this region attributes to earlier research and developments for manufacturing these compounds.
Asia Pacific is foreseen to be the fastest growing industry. Growing aerospace and defense sectors in the region along with increase in spending on new power stations, nuclear power plants, etc. is expected to foster the industry growth. Rising expenditure in defense sector for establishing self-sustainment by India and China is also considered responsible for the high regional growth. Asia Pacific is estimated to witness the fastest growth at an estimated CAGR of 14.3% from 2015 to 2024 in terms of value.
"GE Aviation announced its plan to set up SiC-based CMC production units at Huntsville, U.S."
Key players have their patented technology for ceramic matrix composites production, and few players borrow the proprietary technologies. For example, NASA is using technology developed by Pratt & Whitney for developing ultra high bypass ratio geared turbofan engine. CMC producers use the patented technologies to gain competitive advantage.
Dedicated research is undertaken by top industries to understand the composite's behavior based on its structure. Results obtained from simulation software's will help improve the performance of these compounds and widen their application base. Key players operating in the global CMC market include General Electric Company, 3M Company, CoorsTek, Inc., Applied Thin Films, Inc., CeramTec International, COI Ceramics, Inc., Ube Industries, Ltd., SGL Carbon Company, etc.