Industry Insights
Global oil & gas separation equipment market size was valued USD 6.38 billion in 2014. Growing petroleum industry, particularly in the Middle East & Africa and North America, is anticipated to drive the market over the forecast period. Increasing E&P activities in the U.S., Indonesia, Venezuela, China, Nigeria, and Canada has been the major factor contributing to increased separation techniques requirement over the past few years.
Most of the fluids extracted from these reserves require onsite treatment and pre-processing before sending to offsite processing facilities and refineries for effective transportation. Increasing onsite processing requirements along with large unexplored hydrocarbon reserves in regions such as the North Sea and the Gulf of Mexico are expected to drive processing industry, which in turn is expected to fuel their demand over the forecast period.
U.S oil & gas separation equipment market revenue by product, 2012 - 2022 (USD Million)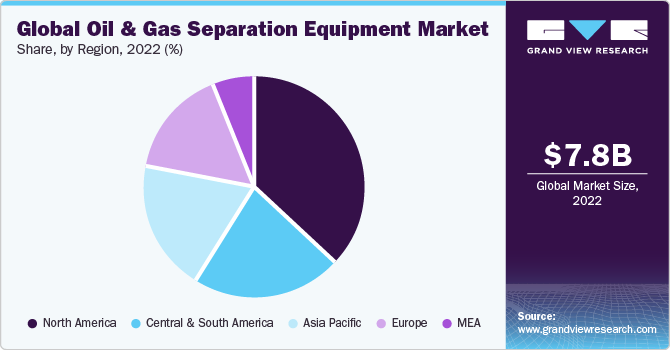 Stringent regulations regarding disposal and reuse of produced water for several applications have mandated onsite processing of formation fluids. Increasing TDS content in produced water may further impose serious environment impacts. Hence, there is a growing liability of oil & gas producers to treat judiciously formation fluids before disposing or reusing the waste stream. This is expected to drive oil & gas separation equipment market growth over the forecast period.
Product Insights
The three-phase separator was the largest product segment and accounted for over 40.8% of the total demand in 2014. These separators have added advantages over two-phase separators in terms of optimum pressure and liquid sealing. Increasing production in associated oil & gas wells coupled with high priority for produced water treatment is estimated to drive three-phase separators to demand over the forecast period.
The two-phase separator is anticipated to witness average growth in terms of demand over the forecast period. These separators are installed at oil field to separate the good fluids into gas and total liquids. These are used for primary treatment of formation fluids mainly in onsite facilities mainly for high gas to oil ratio (GOR) reservoir characteristics.
The scrubber is expected to witness rapid growth in terms of demand over the forecast period. It removes traces of liquid droplets from gas streams to protect downstream equipment from damage and failure. It is also used as downstream equipment for gas condensed liquids. Stringent government norms for maintaining flare gas quality and maximum suspended particulate matter content in pipeline fluids is estimated to impact positively market expansion over the next few years.
Regional Insights
In terms of region, the North America dominated globally in 2014 and is expected to remain the largest regional market over the forecast period. North America oil & gas industry is characterized by heavy capitalization of assets in both onshore and offshore reserves. Rising shale plays and coal bed methane production in the region is anticipated to bolster their demand over the forecast period. Increasing offshore E&P along with new explorations in Baken oilfields is expected to fuel market growth over the next few years.
Asia Pacific is anticipated to witness the highest growth over the foreseeable future owing to rising E&P activities in countries such as China, Indonesia, Taiwan, Malaysia, Vietnam, and India. These activities are expected to bolster product demand over the next seven years. Increasing government initiatives to exploit hydrocarbon reserves sustainably by providing financial aid in terms of FDI and tax benefits particularly in China and India is anticipated to drive market penetration in these regions over the next few years. Large unexplored hydrocarbon reserves along with the discovery of shale reserves in China are projected to fuel the market over the forecast period.
Europe is expected to witness moderate growth rates in near future on account of stringent regulatory scenario in the region regarding air quality and processed stream quality. Major oil and gas production are centered in Norway, UK, and Russia. Latin America is anticipated to project significant growth over the forecast period owing to surging processing equipment requirement particularly in petroleum-rich economies including Venezuela, Brazil, and Argentina.
Competitive Insights
Companies dominating oil & gas separation equipment market share include Worthington Industries, Alfa Laval, Amacs, Burgess-Manning, Inc, ACS Manufacturing Inc., Godrej Process Equipment, Honeywell, ATLAS Oil & Gas Process Systems Inc, Valerus, eProcess Technologies Pty. Ltd, HAT International, Fenix Process Technologies, and Doyle Dryers LLC.
The industry is moderately fragmented with the presence of several local and small-scale participants. Major companies are increasing their product offerings and investing heavily in R&D for developing multi-functional equipment with high complexity to handle a wide assortment of fluids. This is anticipated to enhance their industry preference and hence increase their share over the foreseeable future.