Industry Insights
Global green building materials market size was estimated at USD 157.24 billion in 2014. Growing demand for these components owing to various environmental and economic benefits such as lower water requirements, maintenance cost, and operating costs is expected to drive demand over the forecast period.
Green buildings prevent the use of toxic paints containing lead, thereby providing optimum indoor air quality. Furthermore, these products offer abundant natural lighting thereby reducing electricity bills which in turn reduces the overall expenditure.
Abundant raw material availability coupled with a large number of manufacturers is expected to cater to the growing demand for green building materials. However, this trend is expected to see new market entrants which in turn are expected to increase industry rivalry that will improve product quality and lower product cost.
The raw materials used for manufacturing these components include the use of wood, bamboo, clay, cement, concrete, straw, plaster, paints & coatings and others. Companies such as DuPont, BASF, and PPG Industries are the major raw material suppliers in the market. Also, the market is characterized by the presence of small and medium level enterprises responsible for the supply of raw materials such as wood, bamboo, and clay to manufacturers.
Rising consumer awareness regarding benefits of residing in green buildings such as lower maintenance and operating costs is expected to propel demand for these components over the forecast period. Supportive regulations related to the use of these materials in construction coupled with growing construction industry particularly in developing economies are expected to have a positive impact towards market growth.
North America green building materials market revenue by application, 2012-2022, (USD Billion)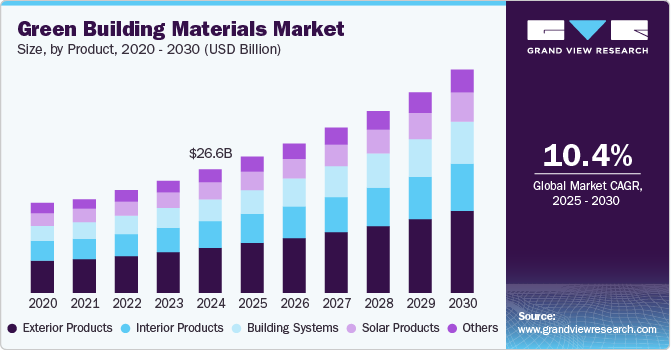 Product Insights
Structural green building materials were valued at USD 101.51 billion in 2014. Structural products contain over 90% of recycled content which provides superior durability and reduced emissions at lower costs. Construction industry growth, particularly in developing economies is expected to have a positive impact towards market growth.
Interior materials accounted for the second largest share, contributing over 17% of global revenue in 2014. Rising consumer awareness regarding environmental benefits of the components coupled with the superior aesthetic appeal is expected to drive demand for the components over the forecast period. In addition, these components provide enhanced natural lighting as well improved indoor air quality which is expected to augment growth over the next seven years.
Application Insights
Insulation was the largest application segment which was valued at USD 35.63 billion in 2014. Insulation is one of the primary components of green buildings owing to its ability to reduce the energy usage. As a result, it lowers the overall energy cost as well as reduces the carbon emissions impact. Spray polyurethane foam is the most widely used insulations used to decrease energy consumption.
Roofing application was the second largest segment, contributing over 19.5% of the global market revenue in 2014. These products are manufactured using recycled materials including rubber, slag, sludge, stone granules and corrugated mixed paper. Growing popularity of non-toxic recycled rubber roofing is expected to drive demand over the forecast period owing to its superior durability and weather-ability.
Regional Insights
North America contributed to the largest share, contributing for over 35.5% of the global revenue share in 2014. Supportive regulatory policies and building codes favoring the use of these products in the construction and renovation of buildings is expected to drive demand over the forecast period. Furthermore, growing consumer awareness regarding environmental and economic benefits of the products is likely to augment growth.
Asia Pacific is expected to witness the fastest growth, growing at a CAGR of 12.0% from 2015 to 2022. Construction industry growth in the region presents large opportunities for manufacturers to cater to the demand. Infrastructure development, particularly in India, China, and Indonesia is expected to have a positive impact towards growth. China and India are included in the top five countries with the maximum number of LEED certification in the world. This presents huge potential for manufacturers to exploit the increasing demand for green building materials.
Competitive Insights
Key players in the green building materials include PPG Industries, E. I. du Pont de Nemours and Company, Forbo International SA, Interface Inc., Kingspan Group Plc, Lafarge, BASF SE, Owens Corning, National Fiber, RedBuilt, LLC, CertainTeed Corporation, Binderholz GmbH, Bauder Limited, and Alumasc Group.
Large raw material suppliers are forward integrating into green building material manufacturing on account of growing demand and infinite growth prospects. Customized materials and components by consumer preference are expected to be the way forward which in turn is anticipated to propel demand. Furthermore, the regional dominance of manufacturers is expected to decrease owing to growing demand for imports. This trend is expected to continue over the next few years and is likely to augment growth.