"Subsidies for green material production resulting in higher demand for green cement"
The global green cement market size was USD 19.26 billion in 2015 and is expected to witness significant growth over the forecast period owing to stringent environment regulations, government initiatives to improve tax conditions and subsidies grants for green materials production.
The market is expected to witness various technological developments over the forecast period on account of the emergence of different new technologies such as LC3 and Ferrocrete which will improve the effectiveness of green cement over the next eight years. Environmental degradation and rising greenhouse gas emission in the atmosphere has led several international agencies affiliated with the UN, and other organizations prescribe more use of green cement.
U.S. green cement market volume, by applications, 2013 - 2024 (Kilo Tons)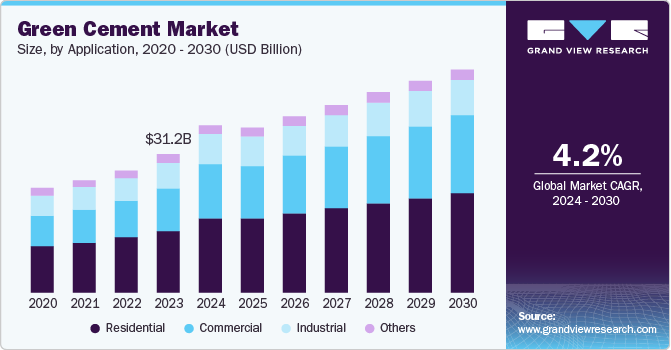 The increasing use of fly ash and limestone in various cement compositions will eventually help in reducing carbon emissions and will be responsible for reducing the overall cost of production. The application sectors such as the residential and commercial construction will witness a rise in the level of penetration over the next couple of years
Renewable Fuel Standard Program are recent examples of EPA which focusses on safeguarding the environment and maintaining the ecological balance. This has resulted in improving the demand for green cement over the forecast period. High adoption rate in North America and Europe owing to the presence of strict regulations will promote product market over the forecast period.
Emerging economies such as India and China, on the other hand, are expected to witness rapid penetration in green cement market, owing to the increasing construction activities along with increasing disposable income, need for building new highways and bridges and other infrastructures. Rapid growth in transport, water, energy, social infrastructure, hospitals, schools, government accommodation, defense infrastructure, and natural resources will promote growth.
Asia Pacific will experience tradeoff between development and sustainability. During the forecast period, the developing countries are anticipated to witness stringent regulations, which will boost the green cement market.
"Residential sector expected to be the largest consumers of green cement"
Residential was the dominant sector and accounted for 44.6% of the overall revenue in 2015, and will witness growth as the product provides protection against extreme weather conditions, high durability, and high compressive strength. Growing population in urban areas with increasing need for greener solutions for buildings is expected to drive the market growth over forecast period
The industrial sector will witness growth at a 6.6% CAGR in terms of revenue from 2016 to 2024 as a result of increasing awareness among the manufacturing and power sector companies to adopt energy-saving green solutions to reduce their overall production costs. Furthermore, growing use of green cement in industrial constructions as it solidifies, stabilize & encapsulate radioactive & metallic wastes will propel growth. Longer life and abrasion resistance properties of green cement are anticipated to drive the demand from the industrial sector over the forecast period.
"Stringent environmental regulation to promote green cement market growth in Europe"
Asia Pacific accounted for 21.3% of the overall volume making it the third largest market in 2015, and will experience significant rise owing to the growth of the construction and infrastructure sectors in China, Thailand, India, South Korea, and Taiwan. Rapid urbanization coupled and government initiatives are expected to propel expansion of the product over the next eight years. Prevalence of stringent regulations in Europe related to greenhouse gas emissions and focus on reducing the carbon footprint has been a major factor for high adoption rate of green cement in the region.
Latin America is expected to experience considerable revenue growth at a CAGR of 8.1% from 2016 to 2024 in light of growing building and construction sector over the forecast period.
"Green cement industry is categorized by extensive R&D activities"
There are essentially two types of players, first, who produce green cement exclusively such as CeraTech and second, who are already established in Portland cement business but now use recycled industrial waste to provide better and more ecological cement. Key industry participant such as LafargeHolcim, Calera Corporation, Specialty Minerals Inc. and Greer Lime are involved in the processing of ground limestone. Companies such as Navrattan Blue Crete Industries Pvt. Ltd, Anhui Conch Cement, Kiran Global Chems Limited and China National Building Material Company Limited (CNBM) are engaged in incorporating green cement development and new technology development to improve the overall efficiency of the green cement.
Other players such as The Turner Group, Clarke Group, and Austin Group hail from application industries. They are involved in building the green constructions and using the manufactured green cement from key market players.