Industry Insights
The global gynecology devices market size was valued at USD 10,984.1 million in 2014. Introduction of minimally invasive procedures such as laparoscopy and high definition imaging devices such as 3D endoscope is primarily boosting market growth. In addition, rising prevalence of diseases, such as uterine fibrosis andsexually transmitted diseases (STDs), associated with female reproductive organsare anticipated to support market growth during the forecast period.
According to the United Nations, the global female population accounted for more than 3.64 billion in 2015. Every woman visits a gynecologist at least once in her lifetime either for pregnancy or other complications related to menstrual cycle. The growing number of patients is likely to drive market growth during the forecast period.
China Gynecological Devices Market, By Product, 2012 - 2022 (USD Million)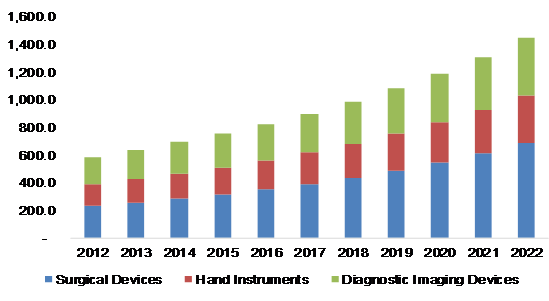 Moreover, healthcare agencies are now promoting routine-checkups for early cancer detection and other gynecological conditions. For example, The American Cancer Society recommendsannual breast cancer screening with mammography for women aged between 40 to 44 years. Increase in routine check-ups has helped these devices gain usage rates.
Furthermore, the introduction of user friendly and technically advanced products has augmented the adoption of surgical procedures such as laparoscopy, ablation, endoscopy, and female sterilization. To conclude, the availability of technically advanced products coupled with rising adoption of surgical procedures is steering the global gynecological devices market towards experiencing swift growth.
Segment Insights
Based on the product type, the global market is segmented into surgical devices, hand instruments, and gynecological imaging devices. Surgical devices captured largest market share in 2014 owing to rising use of endoscopy devices and female contraceptives.As a result, surgical devices segment was valued at USD 8,720.6 million in 2014 and is expected to reach USD 17,073.3 million by2022.
Availability of technically advanced products is resulting in widening of the application of endoscopes in gynecology. Hysteroscopes, laparoscopes, resectoscopes, and endoscopic imaging are the common applications of endoscopes in gynecology. Growth in hysterotomy, hysterectomy, and laparoscopy procedures is pushing the growth of the endoscope market. Furthermore, user-friendly products are fueling the adoption of these devices since, these are minimally invasive procedure enabled.Thus, endoscopy accounted for the largest market share of around 54% in 2014.
Hand instruments accounted for the smallest market share in 2014 and are anticipated to witnessslow growth during the forecast period. Low product cost and application of these instruments in other surgical methodsalong with gynecology are some major factors anticipated to challenge growth.
Regional Insights
North America dominated the global market with a revenue share of 40.6% in 2014. High adoption rate of advanced technology and the presence of large market players in the region are some factors accounting for its large revenue share. The region is expected to maintain its dominance throughout the forecast period, mainly due to the growth in the number of new detectedcases.
Government and healthcare agencies in North America are promoting routine check-ups to lower mortality ratesassociated with breast and cervical cancer patients since, early detection increases treatment success rates.
Asia Pacific is anticipated to witness lucrative growth during the forecast period. Growth in the inflow of patients owing to the rapidly booming medical tourism industry is expected to serve as the highest impact rendering driver.
Moreover, the presence of a large pool of skilled professionals, cheaper labor cost, and advance manufacturing facilities haveresulted in the shifting of manufacturing facilities to China and India. As a result, the overall manufacturing cost of these devices have reduced. Therefore, manufacturers are now able to offer their products at lower cost.
Competitive Insights
The global market is highly fragmented marked with the presence of many local players. Some leading players operating in the global market include Medtronic plc, Richard Wolf GmbH., Cooper Surgical, Inc., Stryker Corporation, Hologic, Inc., Boston Scientific Corporation, Karl Storz GmbH& Co. KG, and Ethicon, Inc.