Industry Insights
The global high-k and ALD/CVD, metal precursors market is poised for a quantum shift over the forecast period as the metal-organic compounds are gaining an edge with low thermal stability properties. Intensive R&D alleviates the need for copper metallization procedures which is expected to drive the deposition of first-row transition-metal films and copper from metal-organic precursors in microelectronics device business.
The ALD progress of the noble metals such as rhodium, ruthenium, palladium, iridium, and platinum is projected to be an active research area. Rising demand of several thin film materials for new industrial applications can also be attributed to the rapid development of the technology. Over the next few years, precursors that cross multiple applications have long-term viability. For example, materials such as Tantalum (Ta) and Germanium (Ge) will be needed in multiple generations. However, other materials may obsolete with new generations. Need for innovation in order to meet new integration schemes to develop precursors with long-term viability may boost market growth.
Global high-k and ALD/CVD metal precursors market by technology, 2012 - 2022 (USD Million)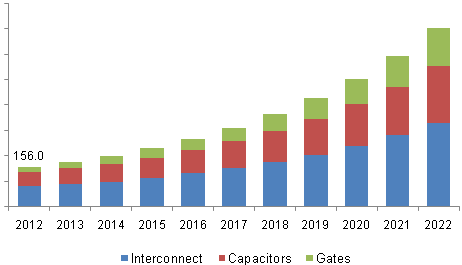 The selection and design of appropriate metal-organic precursors are crucial for successfully develop new CVD processes. Buyers prefer insulators with high dielectric constants as they play several critical roles in modern semiconductor devices, including capacitors that store memory bits in DRAM, decoupling filter capacitors protecting microcircuits from insulating gates and undesired noise from channels in transistors.
There has been considerable development in the field of atomic layer deposition owing to the escalating demands of the semiconductor industry as well as the application of ALD to non-semiconductor arenas. The atomic layer conformity and control of the ALD film thickness have substantiated gas diffusion barriers and fabrication of photonic bandgap materials. The identity of the deposited film has been significantly extended on account of molecular layer deposition of organic precursors.
Technology Insights
The high-k and ALD/CVD metal precursors market can be segmented on the basis of technology into interconnect, capacitor, and high-k gates. High-k precursors are mostly used for gate and capacitors, and metal precursors are used for electrode and interconnect layer. ALD is studied a potential technique to deposit high-k memory capacitor dielectrics, high-k gate oxides, metals, ferroelectrics, and nitrides for electrodes and interconnects. Interconnect is a fabrication technique that uses copper (Cu) or aluminum (Al) for patterning metals as well as to introduce barrier metal layers to isolate the silicon from potential damage. High-k dielectric layers are increasingly prevalent in certain electronic components or devices such as advanced Metal-Insulator-Metal (MIM) capacitors, DRAMs, organic thin film transistors OLEDs and non-volatile memories.
High-k metal gate technology is used for transistor scaling. The combination of high-k dielectric and metal gate technology provides a significant reduction in gate leakage when it is downscaled to a thickness of 1.0 nm and below. Semiconductor manufacturers implement HkMG stacks within the Metal Oxide Semiconductor Field Effect Transistors (MOSFET) used in digital CMOS technology, in order to continue device scaling 45nm and below nodes. Latest technology introduced by Intel includes enhanced channel strain, hafnium-based & high-k gate electric and dual work-function metal replacement gate.
Regional Insights
The Asia-Pacific region is estimated to continue leading the high-k and ALD/CVD metal precursors market. Factors such as above-average semiconductor content of the equipment, continuing transfer of worldwide electronic equipment production from China are expected to influence market dynamics over the forecast period. Increasing demand for semiconductors from the BRIC economies due to increasing end-use electronic product demand along with low cost, portability, and variety offered by high-k dielectrics may significantly boost high-k and ALD/CVD metal precursors market growth. Major trend favoring the U.S. nanotechnology and microelectronics industry is the growing complexity of semiconductor manufacturing along with transition and scaling to 450mm wafers processing. The industry is implementing multifaceted architectures based on 3D stacked ICs, new processes, and materials demanding complex co-development, co-design and joint development agreements.
Competitive Insights
The global high-k and ALD/CVD, metal precursors market comprises companies such as Air Liquide, Air Products & Chemicals (AP), Praxair, SAFC Hitech and Dow Chemical. Voracious need for rapidly accessing and storing data has prompted the need for materials with higher dielectric values.
Various companies such as ATMI and Air Liquide use their chemicals in large area display (plasma, OLED, LCD) production for etch of Cu interconnect. Increasing interest in 3D devices and patterning materials is driving consumer demand. Dow currently manufactures TMG and other MO precursors in North Andover, while the packaging is done in Taiwan. Developing an integrated infrastructure is expected to be a critical success factor for gaining market share.