"The increasing adoption of HPGR in the mining and cement industry is expected to propel the market growth"
The global High Pressure Grinding Roller (HPGR) market is anticipated to witness a robust growth owing to the increase in the adoption of the mining and cement industry. As grinding consumes a majority of the energy required in the overall mining process, companies dealing with the mining sector are expected to focus on adopting energy efficient solutions in their workflow.
The increasing operational cost due to mining taxes and the growing cost of energy are anticipated to drive the market growth over the forecast period. HPGRs are being increasingly used for hard rock mining applications. Technological advancements in HPGR, such as wear abatement, enable the successful implementation of HPGR in extremely rough ores.
North America High Pressure Grinding Roller Market By Application, 2012 - 2022 (USD Million)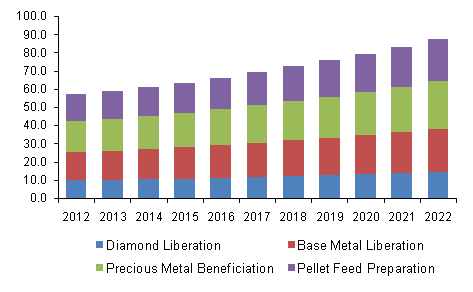 HPGR provides flexible crushing solutions, as it is suitable for both new installations and upgrades in the mining and construction industry. Moreover, it is a highly energy-efficient technology for comminution and involves the short-term exposure of raw materials such as iron ore to a very high pressure.
However, environmental regulations related to mining sites, such as the Surface Mining Control and Reclamation Act, 1977, restrict the high pressure grinding roller market growth over the forecast period.
"The 2 x 1,900 kW - 2 x 3,700 kW power rating segment is expected to witness the highest adoption over the forecast period"
The HPGR market can be segmented based on power rating as 2 x 100 kW - 2 x 650 kW, 2 x 650 kW - 2 x 1,900 kW, 2 x 1,900 kW - 2 x 3,700 kW, and 2 x 3,700 kW, and above. The 2 x 1,900 kW - 2 x 3,700 kW power rating segment is predicted to witness significant growth and is projected to reach 37.1% by 2022 (in terms of revenue). The increasing adoption in large mining sites and low ore grades is anticipated to impel the growth in the 2 x 1,900 kW - 2 x 3,700 kW segment.
The demand for 2 x 100 - 2 x 650 kW segment is expected to be driven by the use of rollers in smaller mining projects for achieving energy efficiency.
"The base metal liberation segment is energizing the industry growth opportunities"
The industry has been segmented based on application as base metal liberation, diamond liberation, pellet feed preparation, and precious metal beneficiation. The HPGRs are majorly operational in diamond mines and iron ore. When HPGR is used in combination with ball mills or as a standalone grinding device, it offers benefit such as fineness, improved throughput, and quality of the ultimate product in iron ore pellet feed preparation. The HPGR comminution solution is anticipated to show tremendous growth owing to its better liberation of large, rare and high-value diamonds, as well as small ones, with minimal damage.
Base metals such as nickel, zinc, copper, and lead are widely used in various industrial and commercial applications. Copper as a base metal is widely used in infrastructure and electrical applications, whereas nickel and zinc are used in iron ore extraction and refining.
The demand for gold is anticipated to grow owing to its financial, cultural, and emotional value. With an increase in the demand for low emission, energy efficient, and low-cost solutions, the market presents a significant opportunity for this technology in precious metals and minerals mining sector.
"The non-ferrous metal processing segment growth is driven by its low power requirements"
The market by type segment includes ferrous metal and ferroalloys processing, and non-ferrous minerals processing. Non-ferrous metals include precious metals such as silver, gold, and copper that need an optimum extraction index. The HPGR technology provides a scope for lower power requirement, throughput optimization, increased availability, and less wearability in non-ferrous metal processing.
The non-ferrous minerals processing segment is anticipated to be major type over the forecast period. The segment was valued at USD 193.9 million in 2015 and is expected to expand at a CAGR of 5.9% over the forecast period. Ferrous metals and ferroalloys processing involve the extraction of iron and its minerals such as ferromanganese, ferrochrome, ferronickel, ilmenite, and ferroniobium. The non-ferrous metals extracted in mineral processing include silver, gold, platinum, lead, copper, pyrite, zinc, and tin.
"The large-scale infrastructural development projects in Asia Pacific are impelling the demand for HPGR in this region"
The Asia Pacific high pressure grinding roller market accounted for over 30% of the overall revenue share in 2015. This region is anticipated to remain the key market opportunity over the next seven years. The growth would be mainly driven by infrastructure development and manufacturing activities along with the increasing mining activities in China, Australia, and India. China has emerged as one of the largest gold markets and is anticipated to drive gold mining activities in the near future.
The mining industry may witness increased operating cost owing to the high cost of labor and mining taxes. These factors may affect the demand for HPGR in the Asia Pacific region. The expansion of Brownfield iron ore project and increase in Greenfield mining activities is anticipated to favor the Asia Pacific regional growth.
"ThyssenKrupp International Solutions AG and the Köppern Group are the major players in the industry"
The key players in the global high pressure grinding roller market include ABB Ltd., FLSmidth & Co. A/S, SGS S.A., KHD Humboldt, Köppern Group, Metso Oyj, Outotec Oyj, ThyssenKrupp Industrial Solutions AG (Polysius AG), and CITIC Heavy Industries, Co., Ltd. (CITIC HIC).
Metso Oyi's HRC is used for crushing hard rock with relatively low moisture content. This product is used in various applications such as iron ore, diamond, copper, platinum, gold, molybdenum, and industrial minerals. ABB Ltd. offers variable-speed drive system and provides a high throughput, operational flexibility, minimizes roller wear, and ensures the lowest operational and capital cost.
Thyssenkrupp Industrial Solutions AG is focused on providing its customers with benefits such as high throughput rate, low operating expenses, short delivery and commissioning times, and metallurgical advancements. These factors are, in turn, helping the company strengthen its brand in the HPGR market space.