Industry Insights
The global horizontal directional drilling market size was estimated at USD 5.12 billion in 2014. High growth of the telecommunication industry and increased prominence of the environment-friendly trenchless technology are expected to drive demand. With the advancement of telecom technologies such as 4G and 5G, the demand for cellular towers' installation and transmission systems has increased to provide services to all. This requirement is expected to have increased the use of horizontal directional drilling in the deeper installation of cellular towers and laying transmission lines for cellular transmission.
North America horizontal directional drilling market by end-use, 2012-2022, (USD Million)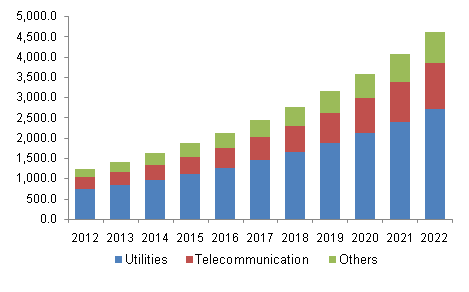 Moreover, demand from utilities such as electricity distribution and natural gas distribution is presumed to have increased the HDD industry growth owing to convenience and environment safety associated with HDD as opposed to traditional technology. The telecommunication sector is expected to outpace the demand as compared to other end-use over the forecast period. Increasing demand for faster and secure means of voice and data transmission has led to directional drilling market growth in the telecom segment.
With growing population and a higher rate of urbanization, the need for efficient power and natural gas distribution is increasing. Power and gas companies are seeking innovative ways to reduce the distribution cost and improve the efficiency of distribution. HDD technology incorporates trenchless drill technique that allows more control and precision and reduces environmental impacts with lesser disruption of traffic. It allows for installation of conduit and pipelines without the need for deep excavations. Moreover, these machines require shorter completion times, thereby reducing overall cost.
Lack of skilled operators and contractors devoid of exposure to HDD is expected to challenge industry growth. Operators must be skilled in selecting drill heads, reaming devices, and drill fluid compatible with the conditions encountered on the job. They should be acquainted with the usage of tracking devices and interpret results in order to make necessary adjustments. However, such skilled operators are difficult to find and hence contractors are increasingly seeking out experienced rotary drill operators and providing them on-the-job training to qualify them to operate the horizontal directional drill equipment.
End-Use Insights
HDD technology is now an integral part of pipeline construction projects. The innovative trenchless HDD technology with its environmental and economic advantages is mainly applied for crossings underneath rivers and traffic ways, flood protection dams, foundations of buildings or infrastructure objects, topographic obstacles such as mountain zones, city areas, and rock ridges.
The industry can be classified on the basis of end-use into utilities, telecommunication, and others. Utilities end-use accounted for over 55% of the overall revenue in 2014. It includes power, gas, and water distribution. HDD rigs of varying types and sizes are also used for pipeline installation projects of varying depths, lengths, geology, curves, as well as environmental and technical conditions. HDD is used for installing underground pipes, cables, and conduits for the aforementioned applications. It provides trenchless drill techniques to avoid permanent damages to the environment.
Poised to grow at a CAGR of close to 15% from 2015 to 2022, telecommunication is expected to emerge as the most lucrative application segment. The surge in optic fiber and telecommunication lines to address growing demand for high-speed broadband is expected to favorably impact industry growth.
Regional Insights
North America horizontal directional drilling market contributed to over 30% of the overall revenue in 2014. Increased macroeconomic outlook with rising consumer spending is expected to encourage HDD industry participants to expand the number of equipment and service outlets in the U.S. Rising capital investment, and non-residential construction expenditure are anticipated to boost sales in this region.
Growing at an estimated CAGR of close to 15% from 2015 to 2022; Asia Pacific HDD market is estimated to witness considerable growth owing to low labor cost and high infrastructural development in regions such as India, China, and Singapore. Moreover, due to higher telecommunication industry penetration in these regions, the use of HDD in laying transmission lines for telecom provides leverage to the industry and is expected to increase market growth significantly. The growth can also be attributed to factors such as rising per capita income and solid gains in fixed investment expenditures.
After the European economic slump and debt crisis, investment in new construction and expansion of infrastructure has offered essential momentum leading to the revival of industry growth. Demand for new construction coupled with replacement of obsolete construction is anticipated to drive the industry in this region. However, British Drilling Association has prescribed safety standards for HDD equipment, non-compliance to which results in legal complications.
Competitive Market Share Insights
Key companies incorporated in HDD market include Southeast Directional Drilling, Ferguson Michiana, General Electric, Midwest Underground, UEA, Nabors Industries, Vermeer Corporation, Vision Directional Drilling, and Ditch Witch. These players are focusing on developing equipment and providing solutions that help to reduce environmental impact and power consumption. Moreover, these players are developing new innovative, versatile equipment that would prove useful in more than one application.
In order to facilitate easy monitoring of the drilling process and feedback of various parameters such as drill position, manufacturers have started focusing on the development of software apps compatible with Android as well as iOS. For instance, Vector Magnetics developed an HDD tool called VM Driller Display, which helps in monitoring vital drill-related information in real time, such as the magnetic probe tool face angle in real time.
Crescent's WinSERVE field survey software provides advanced calculation capabilities to the driller with real-time insight into the downhole environment. This data aids the team in the diagnostics of potential problems and makes time-critical adjustments for optimizing drill performance.