Industry Insights
The global hydraulic fracturing market was valued at USD 42.83 billion in 2015. Increasing E&P in unconventional oil & gas reserves especially in the shale basins is expected to remain a key factor driving market growth. Escalating demand for primary energy in power generation, transportation, and household activities has led to increased consumption of oil & gas in major economies across the globe.
Global hydraulic fracturing market revenue, by technology, 2014 - 2024 (USD Million)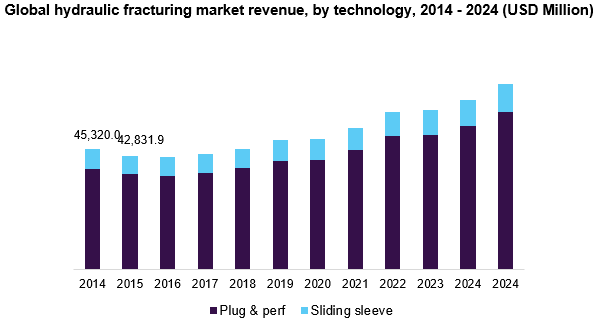 Major oil & gas producers around the world have been experiencing a decline in production levels owing to depleting conventional reserves. Declining petroleum production levels is expected to widen the demand-supply gap. Hydrocarbon extraction from the unconventional reserves has increased manifolds using horizontal drilling in combination with hydraulic fracturing techniques.
Shifting trends towards developing unconventional reserves including shale, tight gas, tight oil, and coal bed methane (CBM) is anticipated to drive hydraulic fracturing market growth over next few years. Application of such advanced extraction techniques has also aided E&P companies to increase the yield in low profitable regions such as deep and ultra-deep seas and the Arctic regions. The majority of the future fracking demand is expected to come from emerging economies including China, Argentina, Brazil, Mexico, Algeria, and Russia owing to increasing horizontal drilling projects in unconventional hydrocarbon fields.
According to the Energy Information Agency (EIA), E&P activities in unconventional resources, such as shale gas and tight oil are expected to gain momentum over the next few years. This is anticipated to extend depletion of conventional reserves further by another few years due to the shift towards exploring alternate hydrocarbon reserves. Aforementioned factors are expected to positively impact hydraulic fracturing market growth over the forecast period.
Stringent regulations and safety mandates by various national governments and regulatory bodies such as EPA and REACH owing to the potential environmental risk is expected to hinder the industry growth. Moratoriums and bans from several regional agencies of France, Romania, Tunisia and Bulgaria against hydraulic fracturing are also expected to remain a major challenge for industry participants.
Hydrofracking operations are closely related to the crude oil prices as well. Low crude oil prices over the past two years have drastically hindered oil production in tight and shale reservoirs especially in the North America. Acquisition of continuous source of water for fracturing along with its waste disposal concerns also poses a threat for industry participants. To minimize the environment risk, major companies have been developing innovative technologies which utilize less or no water.
Technology Insights
Plug & perf and sliding sleeves are two primary technologies used for simulation in multi-stage fracturing. Plug & perf was the most dominant hydraulic fracturing technique and accounted for over 80% of the global revenue in 2015. The technique is widely used for hydrofracturing cased holes and is expected to witness moderate growth over the forecast period.
Sliding sleeve technology is still in development phase and is increasingly used in open-hole and naturally fractured formations. These two technologies are used either individually or in a combination depending upon some of the principal factors including overall cost, quality of fracture required, formation type and pore capacity. The technology segment is anticipated to grow at an estimated CAGR of 9.4% from 2016 to 2024.
Sliding sleeves technique takes less time when compared to plug & perf for fracking which can result in lower costs. Plug & perf is the conventional technology preferred for its ease of accessibility for fracking in horizontal wells. Some companies use a combination of both, plug & perf and sliding sleeves on the same wellbore, a practice known as 'hybrid frac' for optimized results. Failure of either of the two technologies on the same wellbore can help mitigate the impact on fracturing operations.
Using waterless fracturing techniques to explore unconventional petroleum reserves is expected to provide lucrative opportunities for the industry participants for future innovations. Waterless fracking can involve the use of propane, nitrogen or carbon dioxide. GasFrac Energy Services started using waterless fracturing technology using propane. Similarly, other companies including Canyon, Halliburton, and Marathon Oil have been using nitrogen gas & pressurized foams and guar mix as a fracking medium in several basins.
These technologies use less or no water and are expected to help operators and oilfield service companies to address environmental legislations imposed by various governments. Technological advancements to mitigate the associated environment risks and degradation are anticipated to provide key hydraulic fracturing market participants lucrative opportunities for future investments.
Material Insights
Proppants were the major materials segment used for hydrofracking. The segment generated revenue exceeding USD 9.05 billion in 2015. Proppants are further classified as sand, ceramic and resin coated sand. Resin coated sand is widely used to improve packing and holds the proppant to its place without flowing back to the wellbore.
Raw sand is the most widely used proppant type on account of its easy availability and low cost. Raw sand is used typically in most pressure conditions in a wellbore, but it is difficult to use in wellbores with high closure pressures. Resin coated sand are expected to increase their market share owing to their cost advantages over ceramics and better performance over use of raw sand.
Other materials used for hydraulic fracturing along with proppants include chemical additives, surfactants, solvents and corrosion inhibitors. Major chemicals employed for this purpose include methanol, hydrochloric acid, sodium chloride, magnesium peroxide, tetramethyl ammonium chloride, and ethylene glycol.
Application Insights
Unconventional hydrocarbon reserves including shale, tight oil & gas, and CBM dominated the global hydraulic fracturing industry accounting for over 75% of the total revenue in 2015. With the advent of the shale boom in the the sector emerged as the largest application segment. Hydraulic fracturing revenue generated in shale gas segment is expected to grow at a CAGR of 9.8% from 2016 to 2024 to reach a net worth of USD 27.35 billion by 2020.
According to IEA estimates, production of natural gas is expected to grow over next few years and shale gas is expected to be a major contributor to this growth. Tight oil, also known as shale oil, is also anticipated to be a chief source of heavy crude oil in the next few years. Hydraulic fracturing industry is anticipated to witness stable growth in tight gas and coal bed methane (CBM) basins over the next few years.
Increasing E&P in CBM basins particularly in the U.S., China, Russia, Australia and Indonesia is expected to be a major contributor to hydraulic fracturing market growth over the forecast period.
Regional Insights
North America dominated the global demand and accounted for over 85% of total revenue in 2015. The U.S. and Canada together accounted for the lion's share in the global hydraulic fracturing industry. Availability of key resources including technology, skilled manpower and government aid coupled with increasing E&P activities in unconventional reserves may be attributed to high market penetration in these regions.
Asia Pacific holds immense potential for the industry growth over the next few years. Availability of large technically recoverable shale and CMB reserves in China, Indonesia, and Australia along with large investments through FDI channels in the hydrocarbon sector in these nations is expected to create lucrative opportunities for the industry participants to explore the untapped potential in the unconventional hydrocarbon reserves in these regional markets.
Hydraulic fracturing industry is expected to witness considerable growth in countries including Russia, Argentina, Poland, and Algeria over the forecast period on account of rising investigations for developing the large available unconventional hydrocarbon reserves.
Competitive Insights
The global hydraulic fracturing market is moderately consolidated owing to the presence of large number key industry participants across the value chain. Major companies operating in the industry comprises multinational conglomerates including E&P companies, oilfield service corporations and individual equipment, proppants, and microseismic companies. The global market is dominated by oilfield service provider companies including Halliburton, Schlumberger, BJ Services and FTS International, which together accounted for over half of the global revenue in 2015.
Other participants having a significant stake in the industry include Weatherford International, United Oilfield Services, Cudd Energy Services, Calfrac Well Services, Trican Well Services Ltd, Tacrom Services S.R.L and Superior Well Services.